An interview with Ivan Basso, October 24, 2008
Ivan Basso: Focusing on the bike
Italy's Ivan Basso returns to the professional peloton after serving a 16-month ban for his relations with Operación Puerto's Eufemiano Fuentes. Can this quiet yet determined rider overcome his critics, his shame and one certain competitor to achieve his goal of winning the 2009 Giro d'Italia? Gregor Brown of Cyclingnews finds out.
Ivan Basso. Resplendent in green.
Photo ©: Roberto Bettini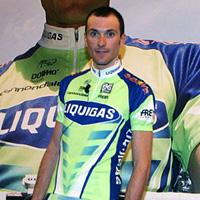 Ivan Basso emerged as his country's best hope to win the Tour de France following the death of Marco Pantani in 2004. The soft spoken rider from Varese had his first significant win in the U23 World Championships in Valkenburg in the same year that Pantani won the Tour in 1998. However, like his ill-fated compatriot, Basso rose to the heights of the sport before crashing down in doping controversy. Unlike Pantani, he's survived the "guilt and embarrassment" of being caught up in Operación Puerto and is now seeking redemption in a new career with Team Liquigas. He will ride his first race with his new team in Sunday's Japan Cup.
Team Liquigas signed Basso in April of this year and is allowing him to race at the first moment possible following a suspension for doping. He will line up at the Japan Cup – one of the last major races of the year – only two days after the end of his suspension. After missing nearly two full seasons of racing, he is looking forward to getting back into competition and is hoping for a positive reception in Japan.
"In April of 2007 it started to be difficult; how to live with the guilt, the embarrassment. It started to be an unreal situation for a person who was not used to all of this..."
-Ivan Basso recalls his summer of 2007 when he was under investigation by CONI.
"My only race there was the Tour of Japan when I was young – as an under 23 rider with the national team – but I have never raced the Japan Cup," he said to Cyclingnews. "The Japanese people are very friendly with me and I am sure we will have a great week there, especially the day of the race. I expect there will be a lot of fans there."
Basso will follow the Japan Cup with a short break and then return to hard training in preparation for his 2009 mission – the Giro d'Italia. It will have been three years since he last won the Giro and he has been out of competition most of that time.
Returning with Armstrong
Will we be seeing Basso in pink again?
Photo ©: Sirotti

Basso's journey will parallel Lance Armstrong's own return to the sport. Both riders are coming back after long breaks, and will launch their 2009 season overseas – Armstrong in Australia, Basso in Argentina at January's Tour de San Luis. One would expect that Basso would prefer not to have to face his former rival once more, but to the contrary, he is eager to test himself against Armstrong – even if the American's presence might rain on his Giro d'Italia parade.
Basso showed early promise in stage racess while riding for Giancarlo Feretti's Fassa Bortolo squad, but blossomed under Bjarne Riis, the Team CSC's Team Manager, who directed his charge to a stage win and two podium places in the Tour de France in 2004 and 2005. He was one of few riders who could challenge Lance Armstrong in the mountains, and after his mother was diagnosed with cancer, he bonded with the seven-time champion, who allowed Basso his only Tour stage win before setting off on a "no gifts" stage winning spree.
Seemingly hand-picked by Armstrong to become his successor after the Texan's retirement, Basso discovered previously lacking time trial abilities which propelled him to victory in the 2006 Giro d'Italia. However, his life changed before the start of the 2006 Tour when Puerto erupted, and it is only now, over two years later, that he back in the game.
In the days leading up Team Liquigas announcing Basso's return, the news was dominated by Armstrong's decision to race the Giro d'Italia in May, but he is undeterred by Armstrong's competing ambitions for the 2009 Giro.
"I think Lance is a big champion. He will come back to win, for sure. It gives me more motivation for the race, to try to beat him for the first time. I know it is difficult, I know he strong like a 'cannibal' and it is really 'mission impossible,' but I want to try."
Mixed emotions
Serving time
"I have a really quiet life and when you have a normal life like this you don't become crazy," Basso said of his time away from racing. "It is important that you feel good and that you have your health. It is most important that my son and daughter feel okay, and my wife – not the money."
The Italian cycling federation (FCI) suspended Basso in June 2007. The first part his suspension he went on his bike simply to clear his mind.
"In April of 2007 it started to be difficult; how to live with the guilt, the embarrassment. It started to be an unreal situation for a person who was not used to all of this – dealing with a prosecutor, a CONI hearing.
"In the second phase of my suspension my bicycle was a companion. It helped me and I would go ride with friends for two, five... up to eight hours. What ever was needed to feel better. Then, in the winter of 2007, I had to do a health check. I went to the Mapei centre and talked to Doctor Sassi. The idea to start training – and not just fun rides – started at that point.
"I started training and in the following weeks my values were going up and up. At the end of April [2008] I found a team, from there to here the days flew by – I rode the mountain passes, did tests on the track, tried out new materials – and I am here now."
Past teams
Basso rode under famed managers Giancarlo Ferretti, Bjarne Riis, Johan Bruyneel. Now, he will follow the orders from Italian Roberto Amadio at Team Liquigas.
2008-2009: Liquigas
2007: Discovery Channel
2004-2006: Team CSC
2001-2003: Fassa Bortolo
2000: Amica Chips
1999: Riso Scotti
Basso will wait until June to decide if he will race the Tour de France, but his decision might be made for him. The Amaury Sport Organisation (ASO) could choose not invite Team Liquigas to its race due to Manuel Beltrán's doping case at this year's edition.
"I am a rider and I don't think about this, it is work for the team manager and not me. I hope in the future that I can give back to the big races what they have given to me. The Giro and the Tour de France have given to me a lot of happy moments, a lot of emotions."
Basso's focus on the immediate future and the smaller races is absolute. He confirmed his desire to win the Giro's maglia rosa, but would not talk much about racing for the maillot jaune of the Tour. It is a race that brings back mixed emotions, and he prefers to delay worrying about it.
"We are not in June, we are in October. ... I don't want to speak about the big races now; I need to arrive step by step. I need to ride the Japan Cup and then Argentina, California... I need to start to re-find the feelings for the big race. I have a dream to take it all back.
"In the next years I want to give back to the races, like the Tour de France, all the emotion the races have given to me. I will ride my bike – respecting the values and rules – and we will see."
Dark moments
The "values and rules" were put into question in 2006. In May, Spanish Guardia Civil raided the offices of Doctor Eufemiano Fuentes to find documents and bags of blood while Basso was dominating the Giro d'Italia. Early information linked Basso to the Spanish Doctor under code name Birillo.
The link became so convincing that CSC's Team Manager, Bjarne Riis, sent Basso home on the eve of the Tour and suspended him. Basso did not race again in 2006 and joined Discovery Channel for 2007.
He continued racing in 2007, but the Italian Olympic Committee (CONI) were busy sharing information with the Guardia Civil. Basso admitted to CONI's head prosecutor, Ettore Torri, during hearings that he extracted blood for Fuentes, but that he never re-injected it. He was sacked by Discovery – his last race was Vuelta a Castilla y León, March 30 – and he was unable to defend his 2007 Giro title. The Italian cycling federation (FCI) disciplinary commission served him a two-year ban that was reduced to 16 months for time already spent out of competition.
Last month, as Basso prepared to make his way back into the sport, German newspaper Süddeutsche Zeitung linked his ex-teammate Fränk Schleck to Fuentes via monetary transfers. Schleck admitted that he sought "training advice," but did not use the services paid for once he realised Operación Puerto was exposed.
"I am not a policeman and I am not able to make comments about this. I have paid my costs," said Basso. "No" was his answer to us when asked if he knew Schleck, who sought help from Fuentes in the same early-2006 period, had also contacted the same doctor or his associates. You don't know anything of the others? "No," he repeated.
Moving on
Ivan Basso is all smiles
Photo ©: Andrea Hübner

Basso dolefully served his suspension – from June 15, 2007 to October 24, 2008 – while other rumoured Fuentes clients continued to race or vanished quietly. A rider who admitted to "attempted" doping only after CONI had his back to the wall with compromising evidence, and yet has paid his price perplexes cycling enthusiasts.
Not timid enough to turn tail and run from the public eye, Basso is also not an outspoken person like David Millar, who redeemed himself by becoming a champion for the anti-doping movement. This leaves Basso one road to regain his image, and that is through results on the bike.
"I think the only way to get back credibility is to come back and win again, and let everyone control you to say 'this guy is completely clean.' I am not a political person – I am a rider. Someone else does the rules and I need to ride my bike – that's it," he said.
Basso feels he had his punishment – he served a sporting suspension, went without a paycheck and escaped jail time under Italy's criminal law with a settlement of €10,800. He insists that he is racing clean, and has made his training data available to the public via the mapeisport.it web site.
"That is life, when you do something bad you have consequences. These are old things and those consequences are over – I have only nice days in front of me."
For more information on Ivan Basso's case, see:
Basso and Scarponi suspended
McQuaid blasts Basso for 'lies'
Basso: "It was only attempted doping"
Basso: "I am Birillo"
Basso admits involvement in Operación Puerto