Barry Wicks and Jeremy Powers get a taste of Belgian mud at the Euro 'Cross Camp
Photo ©: Joseph Sales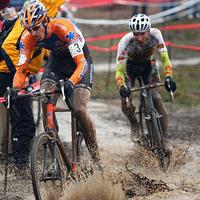 Across the pond: Euro 'cross camp VI diary
For its sixth consecutive year, the Euro 'Cross Camp will travel to Izegem, Belgium for two weeks from December 20, 2008 to January 3, 2009, with some of America's most promising cyclo-cross talent. Euro 'Cross Camp Director and US National Team Coach Geoff Proctor selected 19 male riders to take on some of the toughest courses and strongest riders abroad and to prepare for the World Championships in late January.
The camp has helped the careers of racers like current US National Champion Ryan Trebon, Jeremy Powers and Jamey Driscoll. Read these diaries for hints of who may emerge from this year's crop of three elite, eight U23 and eight junior racers as America's future 'cross stars? Coach Proctor and his riders will take turns contributing diary entries.
Belgium, December 31, 2008
The Fox
By Troy Wells
Troy Wells of Team Clif Bar races in Vegas
Photo ©: Jon Devich

So another euro 'cross camp has come and it is in its last couple days as I write. I feel as if I had my best euro 'cross race of my career on Sunday night in Diegem, Belgium.
Besides the race, I have to tell you about Chris De Vos, AKA "The Fox." He is the head Soigneur at the USA cycling house here in Izegem. Fox does a lot more than your normal soigneur, he keeps me and the rest of the crew entertained. He also drives around an 18-wheeler truck in the morning as if it's a sports car.
"Fox" basically just messes with me over the course of the day. From pouring a water bottle on me during massage to telling me with my haircut I look like some comic from the 1930s. Just do not have him pin your number on you or you will not make it to the start line.
"He is on Facebook more than a 13-year-old girl or Danny Summerhill."
- Wells on "The Fox"
After Zolder and Loenhout, he rushed us out of the venue after the race only sit in traffic for the next hour moving at one km/h. Then once we get on the highway and have to pee, he just drives right by the rest area. He tells us to drink less after the race so we wouldn't have to pee so bad.
I always forget how much traffic the races over here end up producing. It is like trying to leave a football game in the states.
With his new Blackberry Storm purchase, he is on Facebook more than a 13-year-old girl or Danny Summerhill for that matter. Also his Storm is set up with the Yeah Baby! Austin Powers text alert.
However, he burns me many DVDs to help me pass the time. He makes my time over in Euroland go by much faster. Coming back this year after a year off from the camp, it was like seeing a friend I haven't seen for two years.
My last race is on Thursday in Baal. Some guys are racing on Friday in Sint-Niklaas. On Friday I'm on the plane back to the Denver, Colorado, and than I head to Mexico for some time on the beach.
I wish everyone a fun New Years Eve. I will be kicking it at the house trying to get ready to give it one last go in Baal.
Below is a complete roster and racing schedule for this year's camp.
Elite men
Brian Matter, 30
Matt Shriver, 28
Troy Wells, 24
U23 men
Will Dugan, 21
Jeremy Ferguson, 18
David Hackworthy, 19
Andrew Llewellyn, 18
Bjorn Selander, 20
Danny Summerhill, 19
Nick Weighall, 21
Junior men
Cody Cox, 17
Joe Dombrowski, 17
Eric Emsky, 17
Manny Goguen, 17
Cody Kaiser, 16
Gavin Mannion, 17
Zach McDonald, 17
Morgan Ryan, 18
Chris Wallace, 16
Racing schedule
December 21: Uitbergen
December 26: Heusden-Zolder World Cup (CDM)
December 28: Superprestige Diegem (C1)
December 30: Azencross / Cross des as, Loenhout / Wuustwezel (C1)
January 1: Grote Prijs Sven Nys, Baal (C1)
January 2: Grote Prijs De Ster, Sint-Niklaas (C1)