Barry Wicks and Jeremy Powers get a taste of Belgian mud at the Euro 'Cross Camp
Photo ©: Joseph Sales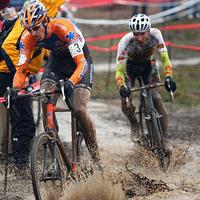 Across the pond: Euro 'cross camp VI diary
For its sixth consecutive year, the Euro 'Cross Camp will travel to Izegem, Belgium for two weeks from December 20, 2008 to January 3, 2009, with some of America's most promising cyclo-cross talent. Euro 'Cross Camp Director and US National Team Coach Geoff Proctor selected 19 male riders to take on some of the toughest courses and strongest riders abroad and to prepare for the World Championships in late January.
The camp has helped the careers of racers like current US National Champion Ryan Trebon, Jeremy Powers and Jamey Driscoll. Read these diaries for hints of who may emerge from this year's crop of three elite, eight U23 and eight junior racers as America's future 'cross stars? Coach Proctor and his riders will take turns contributing diary entries.
Belgium, December 29, 2008
Having a laugh
By Bjørn Selander
Selander at USA Nationals
Photo ©: Mitch Clinton

Yesterday was the World Cup in Zolder, Belgium, so most of the riders kept the Z's rolling a little while longer this morning trying to get as much rest as possible. The weather here in Belgium has been very unusual so far, with quite a few days with not even a cloud in the sky. The weather has been getting colder, from the first days we were here, 50°F, to now low 30°s [0°C], but I find it hard to complain since I am coming from -12°F in Wisconsin.
Today was a relax, recover, massage kind of day where all you get to do is lay around and not feel bad being lazy. The training today for most was just to get out and keep the legs moving.
My teammate Dave Hackworthy, AKA Dirty D, and I went out riding together. We headed down towards Roselaere. It is a nice city not to far away from Izegem and there is a great shopping street. As we were about to turn back, we noticed some trails and I quickly hit them up before heading back.
"I got a massage from the retired police officer Herman."
- Selander settled into the 'cross camp
Later, I got a massage from the retired police officer Herman. This guy is awesome, he is a legend in Belgium for his police work, and everyone knows and loves him because he never gave tickets. He also told me that I would be on the top step of the podium in Diegem. Keep in mind that he doesn't speak barely any English so it was just him doing all the motions of a winner.
The rest of the day was spent relaxing in my room listening to Summerhill cracking up watching home videos of him.
So far, the camp has been going great and since we have a lot of down time we get laughs and entertainment from everybody, some more than others. Andrew Llewellyn is one of our main entertainers, he is hilarious from his stories about driving over roundabouts to just about anything that comes out of his mouth.
Tomorrow, December 28, we will race in Diegem, a very fun course especially for the professionals who race at night. Thanks for reading, hope you enjoyed it.
Below is a complete roster and racing schedule for this year's camp.
Elite men
Brian Matter, 30
Matt Shriver, 28
Troy Wells, 24
U23 men
Will Dugan, 21
Jeremy Ferguson, 18
David Hackworthy, 19
Andrew Llewellyn, 18
Bjorn Selander, 20
Danny Summerhill, 19
Nick Weighall, 21
Junior men
Cody Cox, 17
Joe Dombrowski, 17
Eric Emsky, 17
Manny Goguen, 17
Cody Kaiser, 16
Gavin Mannion, 17
Zach McDonald, 17
Morgan Ryan, 18
Chris Wallace, 16
Racing schedule
December 21: Uitbergen
December 26: Heusden-Zolder World Cup (CDM)
December 28: Superprestige Diegem (C1)
December 30: Azencross / Cross des as, Loenhout / Wuustwezel (C1)
January 1: Grote Prijs Sven Nys, Baal (C1)
January 2: Grote Prijs De Ster, Sint-Niklaas (C1)