Barry Wicks and Jeremy Powers get a taste of Belgian mud at the Euro 'Cross Camp
Photo ©: Joseph Sales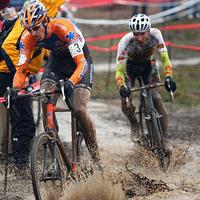 Across the pond: Euro 'cross camp VI diary
For its sixth consecutive year, the Euro 'Cross Camp will travel to Izegem, Belgium for two weeks from December 20, 2008 to January 3, 2009, with some of America's most promising cyclo-cross talent. Euro 'Cross Camp Director and US National Team Coach Geoff Proctor selected 19 male riders to take on some of the toughest courses and strongest riders abroad and to prepare for the World Championships in late January.
The camp has helped the careers of racers like current US National Champion Ryan Trebon, Jeremy Powers and Jamey Driscoll. Read these diaries for hints of who may emerge from this year's crop of three elite, eight U23 and eight junior racers as America's future 'cross stars? Coach Proctor and his riders will take turns contributing diary entries.
Belgium, December 27, 2008
Zolder World Cup
By Will Dugan
Will Dugan (l) descends
Photo ©: Will Dugan

"Madagascar", "Chronicles of Narnia: The Lion, the Witch and the Wardrobe" and "Harry Potter and the Chamber of Secrets"–these are the recovery movies after today's Zolder World Cup. It was a very tough day out there. I started towards the back in 43rd position and was a little hesitant to be aggressive in the start since it was my first race ever in Europe, let alone a World Cup.
Others who were supposed to start behind me crept up in front of me on the outside and I didn't argue. I thought the elbow-throwing might be a little heavier over here, so I decided I'd let it play out over the course of the hour.
The start wasn't as fast as I thought it might be, but the laps were fast. Man, the first two laps were SO fast. I was in for it and I suffered a hell of a lot. The only thing I wanted to do was go hard and fight for every spot. I even managed to crawl my way back up to a group of four with four laps to go and by the end I lost all but one of them who got by me in the last 1/4 lap.
The racing attitude is a little different here. People want to fight for every spot and just about every turn. It's a sprint to and from every turn for an hour. I was racing for 39th in my group and I attacked the Brits like I was racing for first. That's all there was to it. I hope I'm a little more aggressive next time in the first couple of laps and that I gradually improve.
At this point, I think the training and racing here at this camp will only help me. My training was at such a low volume until this point that I hope I only get faster. The biggest contest is against your own head here: how to you keep the fight at 100% every race, every turn.
I've got some other blog entries that can be found here:
http://www.velocipedesalon.com/forum/showthread.php?p=55433&posted=1#post55433
Stay tuned.
Photography
For a thumbnail gallery of these images, click here
Images by Will Dugan
Below is a complete roster and racing schedule for this year's camp.
Elite men
Brian Matter, 30
Matt Shriver, 28
Troy Wells, 24
U23 men
Will Dugan, 21
Jeremy Ferguson, 18
David Hackworthy, 19
Andrew Llewellyn, 18
Bjorn Selander, 20
Danny Summerhill, 19
Nick Weighall, 21
Junior men
Cody Cox, 17
Joe Dombrowski, 17
Eric Emsky, 17
Manny Goguen, 17
Cody Kaiser, 16
Gavin Mannion, 17
Zach McDonald, 17
Morgan Ryan, 18
Chris Wallace, 16
Racing schedule
December 21: Uitbergen
December 26: Heusden-Zolder World Cup (CDM)
December 28: Superprestige Diegem (C1)
December 30: Azencross / Cross des as, Loenhout / Wuustwezel (C1)
January 1: Grote Prijs Sven Nys, Baal (C1)
January 2: Grote Prijs De Ster, Sint-Niklaas (C1)