Barry Wicks and Jeremy Powers get a taste of Belgian mud at the Euro 'Cross Camp
Photo ©: Joseph Sales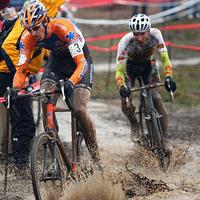 Across the pond: Euro 'cross camp VI diary
For its sixth consecutive year, the Euro 'Cross Camp will travel to Izegem, Belgium for two weeks from December 20, 2008 to January 3, 2009, with some of America's most promising cyclo-cross talent. Euro 'Cross Camp Director and US National Team Coach Geoff Proctor selected 19 male riders to take on some of the toughest courses and strongest riders abroad and to prepare for the World Championships in late January.
The camp has helped the careers of racers like current US National Champion Ryan Trebon, Jeremy Powers and Jamey Driscoll. Read these diaries for hints of who may emerge from this year's crop of three elite, eight U23 and eight junior racers as America's future 'cross stars? Coach Proctor and his riders will take turns contributing diary entries.
Belgium, December 27, 2008
Preparing for the World Cup
By Chris Wallace
USA's Chris Wallace racing in Belgium
Photo ©: Chris Wallace

Getting settled into things here in Izegem, Belgium, has actually been surprisingly smooth as this is my first time overseas. It all started last Friday with my flight out of Kansas City, after a lot of plane and airport time I was on the ground in Belgium with my bag and both bikes. Once at the host house I quickly built up my bikes, everybody went for a ride and I was fast asleep later that night. The next day was our first race in a small town near Gent. It was just a very small local race where about 30 started in the juniors race. All of Americans started last row except Eric due to his UCI points. The first-half of my race was spent trying to get to the front. I rode with one other rider for about the last-half and he beat me in a sprint finish which made me end up fourth.
The days since then have involved training in the morning and recovering the rest of the day, which equals a lot of time on the laptop. We juniors have been highly involved in competing with each other on internet games. The computer gaming will take up hours of our time with the competitive nature that all of us have. There have also been many trips to the infamous "Wall," a giant vending machine where you can buy almost anything, only a few blocks away.
"All of us hope to represent our country well."
- Wallace thinks about the World Cup
Tomorrow for most of us is the World Cup in Zolder. Everybody was quite excited to receive their overly tight USA long sleeve skinsuits last night and all of us hope to represent our country well. This week has been just one big long preparation for the race and the week ahead. We are twisting our training to fit the racing schedule and adjusting the way we are used to eating.
Today, Christmas Day, was a relatively quiet day due to a major race being tomorrow and because the Belgians do all of their be celebrating on Christmas Eve. We were treated to a big Americanised Christmas dinner made by the housekeeper Els.
Merry Christmas
Photography
For a thumbnail gallery of these images, click here
Images by Chris Wallace
Below is a complete roster and racing schedule for this year's camp.
Elite men
Brian Matter, 30
Matt Shriver, 28
Troy Wells, 24
U23 men
Will Dugan, 21
Jeremy Ferguson, 18
David Hackworthy, 19
Andrew Llewellyn, 18
Bjorn Selander, 20
Danny Summerhill, 19
Nick Weighall, 21
Junior men
Cody Cox, 17
Joe Dombrowski, 17
Eric Emsky, 17
Manny Goguen, 17
Cody Kaiser, 16
Gavin Mannion, 17
Zach McDonald, 17
Morgan Ryan, 18
Chris Wallace, 16
Racing schedule
December 21: Uitbergen
December 26: Heusden-Zolder World Cup (CDM)
December 28: Superprestige Diegem (C1)
December 30: Azencross / Cross des as, Loenhout / Wuustwezel (C1)
January 1: Grote Prijs Sven Nys, Baal (C1)
January 2: Grote Prijs De Ster, Sint-Niklaas (C1)