Barry Wicks and Jeremy Powers get a taste of Belgian mud at the Euro 'Cross Camp
Photo ©: Joseph Sales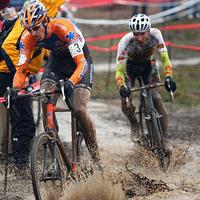 Across the pond: Euro 'cross camp VI diary
For its sixth consecutive year, the Euro 'Cross Camp will travel to Izegem, Belgium for two weeks from December 20, 2008 to January 3, 2009, with some of America's most promising cyclo-cross talent. Euro 'Cross Camp Director and US National Team Coach Geoff Proctor selected 19 male riders to take on some of the toughest courses and strongest riders abroad and to prepare for the World Championships in late January.
The camp has helped the careers of racers like current US National Champion Ryan Trebon, Jeremy Powers and Jamey Driscoll. Read these diaries for hints of who may emerge from this year's crop of three elite, eight U23 and eight junior racers as America's future 'cross stars? Coach Proctor and his riders will take turns contributing diary entries.
Belgium, December 23, 2008
And It Begins
By David Hackworthy
The best way to get around in Belgian towns
Photo ©: David Hackworthy

As the racing in the states came to a halt, ending with the National Championships in Kansas City, for me and the others attending the Cross Camp, the season continues here in Izegem, Belgium.
This being my first time to the camp and racing in Europe for that matter, everything was very much new to me. Not knowing what to expect I could only imagine what the two weeks in the heart of cyclo-cross had in store. The trip was instantly put to a standstill when my flight was delayed from Minneapolis, causing me to arrive a day and a half later then expected. However, I was not the only one with flight trouble, the majority of the group also dealt with the frustration of flying overseas with two bikes on top of the bad weather causing flight delays.
After finally arriving in Belgium, I was fortunate enough to leave the Brussels Airport with both my bikes and bag, unlike some of the others. The experience that I had been waiting for over the past weeks had finally arrived.
Since I arrived late, I unfortunately missed our first scheduled race. Although it was a just a local race in a nearby town, it definitely would have been nice to experience the high intensity European level of racing before the Zolder World Cup this Friday. That leaves me with four days to settle in here in Belgium before I take on my first race.
Today being my first day at camp, Bjorn Selander, Andrew Llewellyn and I went training this morning. Completely out of my element, I had not a clue where I was for the entire ride, let alone a sense of direction with the typical gloomy grey days that take place much too often in Belgium. Luckily for me, Bjorn did. Unlike home in Wisconsin where I just ride out of town and ride through more often than not farm fields and rural roads where I am rarely passed by a car., today's ride consisted of riding from city to city on skinny one lane farm roads, or on the city streets, winding every which way through and around the cities until finally arriving back to Izegem.
The first day in Belgium brought new experiences in addition to the new adventure of experiencing cyclo-cross racing at its best. In the following days I look forward to finding my roots here in Belgium in preparation for the Zolder World cup.
Photography
For a thumbnail gallery of these images, click here
Images by David Hackworthy
Below is a complete roster and racing schedule for this year's camp.
Elite men
Brian Matter, 30
Matt Shriver, 28
Troy Wells, 24
U23 men
Will Dugan, 21
Jeremy Ferguson, 18
David Hackworthy, 19
Andrew Llewellyn, 18
Bjorn Selander, 20
Danny Summerhill, 19
Nick Weighall, 21
Junior men
Cody Cox, 17
Joe Dombrowski, 17
Eric Emsky, 17
Manny Goguen, 17
Cody Kaiser, 16
Gavin Mannion, 17
Zach McDonald, 17
Morgan Ryan, 18
Chris Wallace, 16
Racing schedule
December 21: Uitbergen
December 26: Heusden-Zolder World Cup (CDM)
December 28: Superprestige Diegem (C1)
December 30: Azencross / Cross des as, Loenhout / Wuustwezel (C1)
January 1: Grote Prijs Sven Nys, Baal (C1)
January 2: Grote Prijs De Ster, Sint-Niklaas (C1)