An interview with Oscar Freire Gomez, April 2, 2006
Spain's man for the spring
The cheeky grin of Oscarito...
Photo ©: Bert Geerts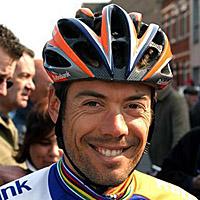 Rabobank's Spanish sprinting sensation Oscar Freire Rabobank is a three-time road world champion, and looked to set to take world's title number four on home turf last year before injury halted his season very early. Having mostly recovered from those injuries and hoping to have a good spring, Freire could be a handful for his rivals during April. Cyclingnews Hernan Alvarez spoke with Freire to get the full story following his 'comeback' victory in Brabantse Pijl late last month.
Freire won last year's edition of Brabantse Pijl as part of an early season that included a stage wins at Challenge Illes Balears and the overall at Tirreno-Adriatico; all looked good for a strong season, culminating in a fourth world title in Madrid in late September. But injury struck him hard and he spent the remainder of 2005 recovering from complications around the sensitive saddle region, and as he well knows, recuperation from that type of injury can't be rushed.
Freire isn't a stranger to injury - throughout the immensely talented sprinter's career he's had to deal with back problems and the like, setbacks that haven't stopped him being one of the most accomplished fast men in the pro peloton; despite his diminutive build he's a feared sprinter that's easily capable of leaving riders such as Petacchi and McEwen in his wake. He's hopeful that can once again be the case in 2006, and making it back-to-back wins in Brabantse Pijl is a good way to start that comeback.
Cyclingnews: How was your preseason?
Oscar Freire: It was tough because I still had some discomfort and it was a big effort for me to start training, but I think that now I've reached a good level. But it hasn't been easy.
Looking a bit tired
Photo ©: Sirotti

CN: Where were your training camps?
OF: We had them in Alicante [Spain] because in Holland it was very cold but in Alicante we had good weather and good roads. All the riders know the region very well and I think it is the best region to train in the month of January.
CN: And there you feel more at home, right?
OF: Yes, it's far from my homeland [in Cantabria] but, it's Spain and the language factor always helps.
CN: How was Brabantse Pijl?
Freire was strong
Photo ©: Luc Claessen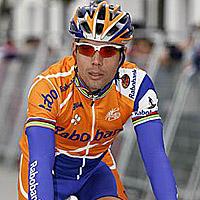 OF: It was good - when you win it's clearly good news for any rider. I think that because I had spent so much time out with injuries it's especially good and now I've start finding the same strong condition I had in former years. I think little by little I'm starting to get to an acceptable level of competitiveness.
CN: And Milan-San Remo?
OF: I think that in Milan-San Remo I lacked that competitive edge because I'd spent a lot of time off the road - I think that Tirreno [Adriatico] helped me get fit. The fact of being inactive meant that I still lacked that rhythm of racing. In a race like Milan-San Remo I think you need to feel very good, and I don't think I felt good approaching the sprint. I protected myself well during the whole race but I saw that I wasn't at the level I had been in former years over the final metres.
CN: Did Filippo Pozzato's win there surprise you?
OF: No, I think that San Remo is a race in which there can always be surprises and attacks in the last metres and the last kilometres. I don't think it's a surprise to see a rider like Pozzato win Milan-San Remo; he also won a Hamburg classic [HEW Cyclassics] and he's young. He's a rider who's at a very high level already, enabling him to perform well in some very important races. It's clear that he wasn't one of the big favourites [in Milan-San Remo], but he was certainly capable of the win, that's for sure.
CN: In Tirreno-Adriatico where you looked better than in San Remo - was that how you felt?
Celebrating birthday number 30
Photo ©: Luc Claessen

OF: Yes, well...these races were more or to the kind of rider I am. They fit me better because they have little climbs that make sprint different from a completely flat stage. In a flat stage bunch sprint everyone wants to get in and and positioning is very important. In Tirreno's type of finales it's important to have good legs - positioning is less important than in other bunch sprints. That's why I think that race is well suited to my characteristics.
CN: What are your next races?
OF: I'll ride the Vuelta al Pais Vasco and all the classics thereafter; I won't ride the Tour of Flanders this year because I still have some discomfort [from last year's injury] but I'll ride all the rest of the classics.
CN: How are you physically on a scale of 1-10?
An even younger-looking Freire
Photo ©: Tim Maloney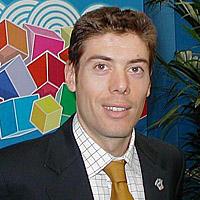 OF: Well, it's difficult to tell. I certainly don't feel as good as last year during the same period of the year, but I'm gradually reaching top shape. To win Sunday's race cheered me up because it's a race that's always difficult; it's almost 200 kilometres and you always need to be in good shape to win a race when it's in Belgium or in Holland.
CN: How is the injury that forced you to have surgery?
OF: Well, there's still some discomfort; this year I'm not going to race the Tour of Flanders because I'd rather not risk it [the injury]. Last year I was pretty inactive all year long and I now I think I should be careful how much I do because I was off the bike for so long. It bothers me a bit, but I'd rather not risk it - I'd rather ride races that are suited to my characteristics like some of the other classics.
CN: In a recent interview you spoke about persistent pains that you've found to have no cure for - that may be a handicap for you...
OF: It's not a handicap, well...I don't think I have the same luck that most other riders, who can always prepare themselves for a race without a problem. I've had to stop many times - it's not easy to start all over again and to be at such a high level then be inactive for almost a year. People think it's easy, but it's not easy at all. I think that if I hadn't had those problems, I would have performed much better during all my professional years. It's clear that some other things happen to others, and these things [injuries] have happened to me. I should think positively and look toward the future.
CN: Talking about the future - how do you see yourself for the world's in Salzburg?
OF: Before reaching there I hope to secure a few wins and to generally stay healthy, unlike last year. Just to watch the race from inside the peloton, not outside it, is something I'm aiming towards.
"I think the classics are not considered as special in Spain because there have never really been riders who have targeted those races."
-Freire on Spain's apparent lack of interest in the Spring Classics
CN: What do you think about the parcours in Salzburg?
OF: I don't know what it will be like yet. I've been told it's a very long circuit, and at the end it'll get hard because the routes at world's always get hard. Logically, if I am like I have been at the other world's [that I've won], I certainly have a chance of taking the win.
CN: The organisers considered shortening the parcours in order to make it more attractive for the spectators, but in the end this idea was aborted. What do you think about it?
OF: I think a World's [men road race] has to be a long race because if it's a short one I think it takes away some of the history of the world championships. I think world's has to be an endurance race, and if they shorten it, some of the emotion of watching riders really slog it out for all that distance is lost.
Always good for a chat
Photo ©: Franklin Tel lo
CN: Do you think you can maintain your great record for the Spanish national team now that Paco Antequera has left?
OF: I don't know if Antequera is going to continue...we still don't know for sure but right now I think the Spanish team has a good vibe. I think it has great riders and it's clear you can't always win, but we'll certainly be the team to watch and that hasn't happened for years. Now I think Spain always starts as one of the favourites and that's because there are riders who have demonstrated that.
CN: Are you willing to ride the 2008 Olympic Games?
OF: Yes! [Laughs] The point is that I like to think of things a lot closer to the present; I'm not quite looking at Beijing yet. Certainly racing at the Olympic Games is always nice. Even if you don't win, I think it's an experience totally different from what you do all year long - there's a host of other sports and that creates a different environment.
CN: How are doing with your new teammate Juan Antonio Flecha?
Who's a happy boy, then?
Photo ©: Sirotti
OF: Very well! I think that thanks to him I got the win at Brabantse Pijl. It helped me a lot. I think he's a very competitive rider who enjoys the one-day races. He's not the typical Spanish rider dedicated to Grand Tours - he's a rider who's eager to win a Tour of Flanders or a Paris-Roubaix. I think that if it's not this year, it will be another one, but he will achieve it. He has the qualities to do so.
CN: We can say that you two make a great duo for the classics in the same team...
OF: It's clear that in the team [Rabobank] there are great riders who can do well in the classics. I think that one will do better one race than the other - for example, [Michael] Boogerd has done very well in Amstel Gold Race, where he's always in the front group. I think Flecha will do very well in the Tour of Flanders and in Paris-Roubaix, and maybe I can do well in some other races - I don't know. I think it depends on how things are at the time.
CN: You said in a previous interview that the classics in Spain have no value and therefore, riders who focus on the classics are not admired. Could it be because these races are no big classics in Spain?
In the world champion's jersey
Photo ©: Bert Geerts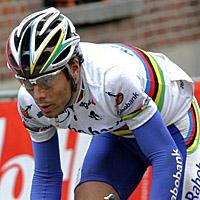 OF: I think the classics are not considered as special in Spain because there have never really been riders who have targeted those races. They have always dedicated themselves to the Grand Tours. I think that tradition, especially after [Miguel] Indurain's triumphs, make people in Spain value the three-week races more than the one-day races. But this doesn't happen in the rest of Europe.
In my team they value to the Grand Tours, but they also value the one-day races. It seems in Spain one-day races don't exist. But I don't mind; I'm in a foreign team, and I've never had any trouble racing outside [Spain]. I think for me that was a wise move, better than if I would have stayed in Spain - I've certainly been able to do things my way in foreign teams.
CN: Perhaps this point of view has changed in the last few years with your wins...
OF: It's changed because some riders has seen that there are chances [to win races] outside Spain. But if you stay in Spain, it's going to be very difficult to win one-day races; if you want this, you should go to a foreign team.
CN: Nowadays, Tom Boonen is your biggest rival?
OF: Well, it depends on the race. There are many races - it's clear that it's him in the northern races, but in Milan-San Remo it wasn't just him, there were many other riders who were rivals. I think it depends on each race and each moment. In some races it can be [Paolo] Bettini, in other races can be [Alessandro] Petacchi or any other rider. I think that he [Boonen] is a great rider - it's not that just he who races well, there are a lot more!
CN: Do you want to stay at Rabobank for much longer?
Winning Brabantse Pijl
Photo ©: AFP

OF: It's clear that I'm alright in this team. The idea is to do well this season in order to negotiate an even better contract.
CN: Your contract with Rabobank finishes this year. If Erik Breukink comes and says to you "Oscar, I want you to stay with us for two or three more years". Would you say yes?
OF: Yes, without a doubt. I think that if he has confidence in me. It's been a very serious team, very well organised and has the mentality that I like for the one-day races. They let me choose my calendar and I ride more or less the races I can do well in, and that's always interesting for the rider.
CN: Which one of the three Grand Tours do you think you'll race?
OF: I hope to race the Tour de France. I had it in my calendar last season and couldn't ride it - if I don't have health problems this year and can do the whole season, I'd like to ride the Tour de France.
At last year's Challenge Illes Balears
Photo ©: Franklin Tello

CN: In previous interviews you've spoken about thorny topics like doping and the image cycling has in relation to doping. Do you think something can be done from your position as an elite rider to change this?
OF: From the riders' position, I don't think so because every time they have less power. I think the only ones that can do something are the teams and the UCI overall...[we should] consider what has been done wrong so far and start doing things right.
CN: I don't know if there's an international riders' syndicate, but maybe that would be a solution?
OF: Yes, but the problem is that riders are in the worst position. I think there are riders like me who don't have problems to say what they think. But there are other riders who are under pressure and who risk a lot. The team puts pressure on them - and in the end the rider has to accept what the team says. I think that's why there's not a movement [of riders] that can be created to do that much. I think that if something could have been done, it had to be done already - now I think the moment has passed, and the riders don't have much power.
Making time for autographs
Photo ©: Ed Tarwinski

CN: When you retire, would you want to take a position in cycling administration or the like?
OF: No, no, I don't think so. I don't really think about what I'm going to do in the future, but you never know what tomorrow brings. I've never thought about it, but I don't think so.
CN: I only ask because you had a meeting with Spain's sport director Jaime Lissavtezky last year, for example...
OF: Yes, I'd reached a point where they treat me like no other sportsman. Cycling is a sport that has been disrupted by all the mass media, the police - by everyone - and I think this went against the sport itself. Let's hope all this passes over and eventually they [the mass media] talk about the sporting news. And even more importantly they give value to the efforts of the riders - not just the news that is harmful to cycling.