An interview with Nicole Cooke, August 22, 2006
A prolific season
After a couple of seasons marred by injuries, Nicole Cooke has been almost unbeatable in 2006. She's also one of the most vehemently anti-doping riders, refusing to inject anything into her body - even vitamins and sugars - and refusing to room with anyone else who does. Ben Atkins caught up with the 23-year-old world number one as she builds up for the end of her season - the last few World Cup races and the World Championships - to reflect on what has so far been a fantastic season for her and her Univega-Raleigh team and how she feels about the less positive stories in the men's peloton.
"It's certainly something I'm very proud of as it puts me alongside some great names in women's cycling."
-Nicole Cooke on becoming the new world number one.
Nicole Cooke (Raleigh - Univega) celebrates
Photo ©: Gerry McManus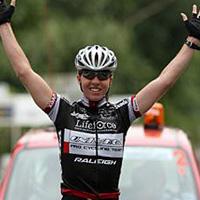 After a fantastic season so far, Cooke can pick out a few specific results for herself and her team-mates that have given her the most satisfaction, "My third win out of the last three times I've ridden Fleche Wallonne is a highlight as it also marked the change in direction of the World Cup," she said. "The Thuringen Tour was a special race for the whole team as it was a race we targeted before the season had even started and every rider rode out of their skin during that week: Jo crashed on stage 2 and had to be restrained by the doctors for her own safety as she was desperate to get back on her bike, or any bike she could get her hands on and feet clipped into, so she could finish the stage and continue in the race!
"Christiane rode a fantastic prologue to take the leader's jersey, which got the team psyched up. Then when it really counted there was some serious work done by Priska, Karin and Emma who all gave so much and played such an important role in the final result…. I was very proud of how we rode and glad to justify all the hard work. Oh, that's not even mentioning the support from my team-mates at home who were not competing in Thuringen…."
Nicole Cooke leads the bunch
Photo ©: Gerry McManus

Cooke refuses to dwell on the ones that got away, despite her competitiveness, "I'm happy with how the season has gone and think that in all my races I made the best decision I could at the time. It's always easy with hindsight to go back and make corrections!" A prolific season has brought an extra - unplanned - bonus, that of world number one, something with which Cooke is very happy, "It's certainly something I'm very proud of as it puts me alongside some great names in women's cycling. But it's not something I'm chasing, if I can ride consistently well and get good results then it's a great bonus."
One previously held title that did elude her was the Commonwealth Games road race in Melbourne. Despite this - surprisingly for some observers - Cooke was really pleased with her bronze medal, "From where I had come from it was a great result. Breaking my collar bone in December '05 was a big knock for me and then against such a strong nation like Australia riding on their home turf they had a big advantage and used it with great skill. There were six-person teams from Australia, England, New Zealand and Canada, each of which could produce worthy medallists. As a lone rider I'm proud of how I rode and rank the Bronze as equal to the Gold from Manchester '02, given the strength in depth against me."
Cooke winning the womens Flèche Wallonne.
Photo ©: Mitch Friedman

Happy with Univega-Raleigh
Towards the end of 2005, it looked very much like Cooke was going to sign for T-Mobile, but at the last minute the deal fell through and she signed for the smaller Univega-Raleigh team. There were many that felt that this team wouldn't be strong enough to support her ambitions - but this couldn't be further from the case, "A lot of that is down to the team manager Thomas Campana who has put a lot of effort into all aspects of the team, we have great staff, great equipment and a strong team spirit amongst all the riders on the team."
Cooke in action
Photo ©: Mitch Friedman

Cooke said that the team has a really good spirit and works together well, "Each rider has a part to play in the overall success of the team and we all take great pride in what we do. There is the opportunity for every rider to get results and to improve. We all get on really well together both on the bikes and off the bikes. That is perhaps part of the reason why we are so successful together and makes for such committed team riding."
Cooke has made the red white and blue British championship jersey her own, as she's won in seven of the past eight years and said she is very proud to wear it. Sadly, the absence of a major international race in the UK prevents her from showing off her colours to her home fans, "I was saddened not to ride the GP Wales World Cup last year but I do hope the opportunity will come again soon. Who knows, with the Tour de France starting in London next year it may not be long before the women's peloton is back in Britain."
A very pleasing bronze medal
Photo ©: Shane Goss

The image of the sport
Sadly, it's difficult to talk about cycling at the moment without mentioning the latest scandals in the men's peloton (the Operacion Puerto investigation and Floyd Landis' positive testosterone sample), but Cooke - who is a passionately clean rider can see some positives, "I think it's good that people are being caught out as cheats and frauds and hope that we are getting closer to a cleaner sport," she said.
Women's cycling has not been affected by drugs scandals to anywhere near the same extent. The image of women's cycling has not been severely damaged according to Cooke, "In the short term I think the public view all cyclists the same but I get the feeling that women's cycling offers a different image and platform compared to men's cycling….
The podium at the national championships
Photo ©: Andrew Kennedy

"There is a healthy image surrounding female cyclists as the women's side of the sport is still developing. We do not have a shady history like that of the men. There's no Tom Simpson taking drugs and then dying in the '60s or a Festina scandal of the '90s or the affair of the Athens Olympic TT Champ. The women's scene does not have the same iconography in the mind of the general public."
Tarnished by the drugs stain
Nicole Cooke lacked team support
Photo ©: Rob Jones

However, as a professional sportswoman, Cooke does feel negative pressure, "Nothing has been said to me personally but I think with Justin Gatlin's drug story coming up so soon after [Floyd Landis' positive drug test], it has got the general public thinking hard about sport and what it stands for. It's good that there is quality analysis in the media of the issues about doping - why weak people do it and how corrupting its influence is.
"Cycling is the greatest of sports and it should live up to that title with some strong leadership at the top showing the way forward. We do not need the fastest ever Tour each year for it to be a great race. We want to praise the man or woman in yellow on the final day of a stage race, not watch them and wonder who will be first [to be disqualified] after the B samples are all tested. I also think there is an onus on the riders [to take responsibility for cleaning up the sport]."
Nicole Cooke wins the second stage
Photo ©: Florian Schaaf

Changing the subject to more positive things, after so much success so far this year, Cooke hesitates to name a specific race that she really wants to win, but hopes for more general success, "I really hope that we can win the individual and team world cup… that would be fantastic."
Preparing for the worlds
Plouay, the location of the next World Cup Race - the GP de Plouay, is a happy hunting ground for Cooke, so she is hoping for a good result there. Perhaps there is some kind of Celtic connection for a Welsh athlete racing in Brittany, "The terrain and the course reminds me of riding at home in Wales so it's probably due to the familiarity. There is a great similarity between the Breton language and Welsh. We have bilingual road signs as well!! Yes it must be something Celtic that stirs the blood."
Nicole Cooke in the time trail
Photo ©: CJ Farquharson

As Cooke is based in Zug, Switzerland, she's had a chance to hop over the border to check out the World's course. As a similar style rider to Paulo Bettini - who's said the course is made for him - Cooke is confident of a good showing this September, "I would like to think so, I'll prepare as best as I can but it will come down to who rides best on the day."
Cooke has also won nearly all of the Time Trials that she has ridden this year (including beating team mate and current World TT champion Karin Thurig) there is a chance she'll go for the double in Salzburg She managed the feat as a junior in Lisbon, "I think I am ready now to ride the my first senior World TT Championship however Karin [Thurig] is a phenomenal athlete and I think she will be the favourite for the TT."
Nicole Cooke in the mountain's jersey
Photo ©: CJ Farquharson

Cooke's main rivals for the medals in Salzburg should consist of the usual suspects, "We'll have to see how everyone is going as we get closer to the event. The German team has won gold in the last two years and the Australians always work well together. Women's cycling has many stars who could easily perform on the day." But she should have a better shot than last year (when she was beaten into second place by a fast sprinting Regina Schleicher) with a full season's racing in her legs, "I hope so, certainly last year my lead up to the championships was not ideal…."
Welsh through and through
The victory salute from a delighted Nicole Cooke
Photo ©: CJ Farquharson

Speaking of competing for her country. Both of Cooke's parents are English, and this desperate English interviewer wondered if there had been any chance of her choosing to be an English - rather than Welsh - athlete. But it was to no avail, "Being born in Wales and having always lived there I could not really imagine riding for England. There was never any question. The first race I won was the Welsh U-12 Cyclo-Cross champs so given the history, the best flag out there and a beautiful national anthem it would be strange for me not to be competing for Wales."
Despite having to ride races like the Commonwealth Games without a team, it seems that Cooke has no regrets about choosing Wales: "I never made a choice, I'm Welsh through and through!" I gave it one last desperate attempt, "Is there any chance of her changing her mind and coming over to race for England?" Cooke's short answer, "Never."
Damn. Sorry England, I tried….
Palmares 2006
Grand Boucle Feminine (including 2 stages)
Thuringen Rundfahrt (including 4 stages)
La Fleche Wallonne (World Cup)
Gran Premio Castilla y Leon (World Cup)
British National Championship (Seventh time in Eight Years!)
Magali Pache time trial
Golden Hour TTT (With Univega-Raleigh Team)
Tour of New Zealand Queen of the Mountains
Commonwealth Games Bronze Medal
World Number 1
World Cup ead of 118 points with three rounds to go
Team World Cup lead of 171 points with three rounds to go