The Ladies Golden Hour - CDM
Denmark, July 30, 2006
Main Page Results World Cup standings
Univega increases Cooke's lead again
By Kristy Scrymgeour
A team with many jerseys
Photo ©: CJ Farquharson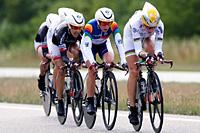 The Univega team continued its success today, using its collective time-trial abilities to win in the eighth round of the Women's World Cup series in Denmark. The victory not only increases Univega's lead in the team's classification, but also increases the already significant lead of Nicole Cooke in the individual standings.
For the first time in the history of the series, the race was in the form of a team time trial. Starting in the town of Århus, the women set out on a 41km out and back course. The terrain was slightly rolling and the roads were smooth. With only three turns to negotiate at the start, the course was not technical and the wind was only slight, not having too much of an effect. At the hald way point the course deviated to do a small loop before turning back on to the same road for the journey home.
Local Team Jylland was the first to start and finish, setting the time to beat at 59'01. As time passed, the marks gradually dropped and about half way through, Team AA Drink set an impressive time of 53'25. The race, however, was still out on the road and the battle was between Univega and Buitenpoort Flexpoint.
UCI President, Pat McQuaid
Photo ©: CJ Farquharson

The Buitenpoort Flexpoint girls started fast and were ahead at the first time check. By the midway point, Univega had fought back and led Buitenpoort by seven seconds. With only seconds between them the whole way home, Univega held on to win by only two seconds. Whilst first and second place were extremely close, they took over a minute on third place AA Drink. Nurnberger and T-Mobile came in very closely behind to take fourth and fifth places respectively.
The final three rounds of the World Cup will take place over three consecutive weekend starting with Plouay on August 26. Cooke now has a 118 point lead over T-Mobile's Judith Arndt going into round 9 and her Univega team has a 171 point lead over Buitenpoort in the Team classification.
Photography
For a thumbnail gallery of these images, click here
Images by CJ Farquharson/WomensCycling.net
Images by Frank Rud Jensen/www.cykel-sport.dk
Results
1 Univega Pro Cycling Team                   52.03
Nicole Cooke
Priska Doppmann
Christiane Soeder
Karin Thürig
Joanne Kiesanowski
2 Buitenpoort-Flexpoint Team                  0.02
Linda Villumsen Serup
Susanne Ljungskog
Annette Beutler
Loes Gunnewijk
Amber Neben
3 Aa-Drink Cycling Team                       1.21
Theresa Senff
Suzanne De Goede
Kirsten Wild
Adrie Visser
4 Equipe Nürnberger Versicherung              1.22
Katherine Bates
Oenone Wood
Trixi Worrack
Eva Lutz
5 T-Mobile Professional Cycling               1.35
Judith Arndt
Ina-Yoko Teutenberg
Amy Moore
Kimberly Baldwin
Kimberly Anderson
6 Bigla Cycling Team                          2.02
Nicole Brändli
Andrea Graus
Monica Holler
Zulfia Zabirova
7 Nobili Rubinetterie Menikini Cogeas         3.40
Olivia Gollan
Miho Oki
Elodie Touffet
Edita Pucinskaite
8 Bianchi Aliverti Kookai                     4.24
Lise Horslund Christensen
Mette Fischer Andersen
Trine Hansen
Dorte Lohse Rasmussen
9 Vlaanderen - Caprisonne - T Interim         4.25
Sofie Goor
Debby Mansveld
Laure Werner
Sharon Van Dromme
Evy Van Damme
10 Vienne Futuroscope                         4.43
Karine Gautard
Nathalie Jeuland
Nikki Egyed
Sonia Bazire
11 Giant Pro Cycling                          5.30
Mei Fang Li
Li Wang
Jing Chen
Pu Xiang Zheng
Yong Li Liu
Yun Mei Wu
12 @Work Cycling Team                         5.31
Loes Markerink
Jaccolien Wallaard
Debby Van De Berg
Liesbeth Bakker
13 Norway                                     5.41
Kristine Saastad
Froydis Meen Warstad
Hege Linn Eie Vatland
Linn Torp
14 Bizkaia - Panda Software - Durango         6.37
Emma Johansson
Maitane Telletxea Lopez
Naiara Telletxea Lopez
Gema Pascual Torrecilla
15 Team Fbuk                                  6.43
Catherine Hare
Helen Wyman
Gabriella Day
Yolandi Du Toit
Line-Rene Ramsrud
16 Team Jylland Fyn                           6.58
Annette Dam
Maria Helena Bornak
Jannie Schmidt
Nikoline Hansen
17 Poland                                     7.22
Malgorzta Jasinska
Monika Krawczyk
Magdalena Zamolska
Aleksandra Wnuczek
Aleksandra Zabrocka
 
DNF Sarah Düster (Ger) Univega Pro Cycling Team                            
DNF Magali Le Floch (Fra) T-Mobile Professional Cycling                    
DNF Tina Liebig (Ger) Equipe Nürnberger Versicherung                       
DNF Anke Wichmann (Ger) Equipe Nürnberger Versicherung                     
DNF Sandra Rombouts (Ned) Buitenpoort-Flexpoint Team                       
DNF Sigrid Corneo (Ita) Nobili Rubinetterie Menikini Cogeas                
DNF Emanuela Azzini (Ita) Nobili Rubinetterie Menikini Cogeas              
DNF Noemi Cantele (Ita) Bigla Cycling Team                                 
DNF Lidia Arcangeli (Ita) Bigla Cycling Team                               
DNF Angela Brodtka (Ger) AA-Drink Cycling Team                             
DNF Natalie Bates (Aus) AA-Drink Cycling Team                              
DNF Maja Adamsen (Den) Bianchi Aliverti Kookai                             
DNF Edwige Pitel (Fra) Bianchi Aliverti Kookai                             
DNF Emma Davies (GBr) Vlaanderen-Caprisonne-T Interim                      
DNF Judith Helmink (Ned) @Work Cycling Team                                
DNF Linda Ringlever (Ned) @Work Cycling Team                               
DNF Arantzazu Azpiroz Azpiroz (Spa) Bizkaia - Panda Software - Durango     
DNF Nekane Lasa Agirre (Spa) Bizkaia - Panda Software - Durango            
DNF Marina Jaunatre (Fra) Vienne Futuroscope                               
DNF Mélanie Bravard (Fra) Vienne Futuroscope                               
DNF Emma Silversides (GBr) Team FBUK                                       
DNF Martyna Rynska (Pol) Polish National Team                              
DNF Johanne T Friestad Bergseth (Nor) Norwegian National Team              
DNF Tone E Walskaar (Nor) Norwegian National Team                          
DNF Maria Kruse (Den) Team Jylland Fyn                                     
DNF Sanne Schmidt (Den) Team Jylland Fyn                                   

World Cup standings
1 Nicole Cooke (GBr) Univega Pro Cycling Team                        354 pts
2 Judith Arndt (Ger) T-Mobile Professional Cycling                   236
3 Susanne Ljungskog (Swe) Buitenpoort-Flexpoint Team                 197
4 Oenone Wood (Aus) Equipe Nürnberger Versicherung                   170
5 Annette Beutler (Swi) Buitenpoort-Flexpoint Team                   166
6 Ina-Yoko Teutenberg (Ger) T-Mobile Professional Cycling            136
7 Trixi Worrack (Ger) Equipe Nürnberger Versicherung                 128
8 Zulfia Zabirova (Kaz) Bigla Cycling Team                           120
9 Christiane Soeder (Aut) Univega Pro Cycling Team                    99
10 Miho Oki (Jpn) Nobili Rubinetterie Menikini Cogeas                 93
11 Loes Gunnewijk (Ned) Buitenpoort-Flexpoint Team                    90
12 Theresa Senff (Ger) AA-Drink Cycling Team                          88
13 Joanne Kiesanowski (NZl) Univega Pro Cycling Team                  87
14 Mirjam Melchers-Van Poppel (Ned) Buitenpoort-Flexpoint Team        75
15 Sarah Ulmer (NZl)                                                  75
16 Edita Pucinskaite (Ltu) Nobili Rubinetterie Menikini Cogeas        74
17 Edwige Pitel (Fra) Bianchi Aliverti Kookai                         70
18 Priska Doppmann (Swi) Univega Pro Cycling Team                     58
19 Amber Neben (USA) Buitenpoort-Flexpoint Team                       57
20 Tina Mayolo Pic (USA)                                              57
21 Katherine Bates (Aus) Equipe Nürnberger Versicherung               55
22 Karin Thürig (Swi) Univega Pro Cycling Team                        53
23 Olga Slyusareva (Rus) Fenixs-Colnago                               53
24 Monica Holler (Swe) Bigla Cycling Team                             50
25 Suzanne De Goede (Ned) AA-Drink Cycling Team                       45
26 Nicole Brändli (Swi) Bigla Cycling Team                            45
27 Olivia Gollan (Aus) Nobili Rubinetterie Menikini Cogeas            41
28 Kirsten Wild (Ned) AA-Drink Cycling Team                           40
29 Kristin Armstrong (USA)                                            35
30 Diana Ziliute (Ltu) Safi-Pasta Zara Manhattan                      34
31 Sofie Goor (Bel) Vlaanderen-Caprisonne-T Interim                   34
32 Svetlana Bubnenkova (Rus) Fenixs-Colnago                           34
33 Adrie Visser (Ned) AA-Drink Cycling Team                           32
34 Modesta Vzesniauskaite (Ltu) A.S. Team F.R.W                       32
35 Linda Villumsen Serup (Den) Buitenpoort-Flexpoint Team             30
36 Rochelle Gilmore (Aus) Safi-Pasta Zara Manhattan                   27
37 Sharon Van Dromme (Bel) Vlaanderen-Caprisonne-T Interim            27
38 Tamara Boyd (NZl) Les Pruneaux d'Agen                              26
39 Angela Brodtka (Ger) AA-Drink Cycling Team                         24
40 Erinne Willock (Can)                                               24
41 Gina Grain (Can) Giant Pro Cycling                                 24
42 Kimberly Baldwin (USA) T-Mobile Professional Cycling               23
43 Noemi Cantele (Ita) Bigla Cycling Team                             23
44 Magali Le Floch (Fra) T-Mobile Professional Cycling                21
45 Susan Palmer-Komar (Can)                                           21
46 Marianne Vos (Ned)                                                 21
47 Eva Lutz (Ger) Equipe Nürnberger Versicherung                      20
48 Debby Mansveld (Ned) Vlaanderen-Caprisonne-T Interim               20
49 Christine Thorburn (USA)                                           18
50 Andrea Graus (Aut) Bigla Cycling Team                              17
51 Amy Moore (Can) T-Mobile Professional Cycling                      16
52 Kimberly Anderson (USA) T-Mobile Professional Cycling              16
53 Dorte Lohse Rasmussen (Den) Bianchi Aliverti Kookai                16
54 Evy Van Damme (Bel) Vlaanderen-Caprisonne-T Interim                15
55 Lang Meng (Chn) Giant Pro Cycling                                  15
56 Elodie Touffet (Fra) Nobili Rubinetterie Menikini Cogeas           14
57 Fabiana Luperini (Ita) Top Girls Fassa Bortolo Raxy Line           14
58 Lise Horslund Christensen (Den) Bianchi Aliverti Kookai            13
59 Trine Hansen (Den) Bianchi Aliverti Kookai                         13
60 Mette Fischer Andersen (Den) Bianchi Aliverti Kookai               13
61 Sigrid Corneo (Ita) Nobili Rubinetterie Menikini Cogeas            13
62 Laure Werner (Bel) Vlaanderen-Caprisonne-T Interim                 12
63 Nikki Egyed (Aus) Vienne Futuroscope                               12
64 Sonia Bazire (Fra) Vienne Futuroscope                              11
65 Karine Gautard (Fra) Vienne Futuroscope                            11
66 Nathalie Jeuland (Fra) Vienne Futuroscope                          11
67 Kori Kelley Sehafer (USA)                                          11
68 An Van Rie (Bel) Lotto-Belisol Ladiesteam                          11
69 Monia Baccaille (Ita) Saccarelli Emu Marsciano                     11
70 Mei Fang Li (Chn) Giant Pro Cycling                                10
71 Pu Xiang Zheng (Chn) Giant Pro Cycling                             10
72 Li Wang (Chn) Giant Pro Cycling                                    10
73 Yong Li Liu (Chn) Giant Pro Cycling                                10
74 Yun Mei Wu (Chn) Giant Pro Cycling                                 10
75 Jing Chen (Chn) Giant Pro Cycling                                  10
76 Rachel Heal (GBr)                                                  10
77 Debby Van De Berg (Ned) @Work Cycling Team                          9
78 Jaccolien Wallaard (Ned) @Work Cycling Team                         9
79 Loes Markerink (Ned) @Work Cycling Team                             9
80 Liesbeth Bakker (Ned) @Work Cycling Team                            9
81 Katia Longhin (Ita) Top Girls Fassa Bortolo Raxy Line               9
82 Alex Wrubleski (Can)                                                9
83 Linn Torp (Nor)                                                     8
84 Hege Linn Eie Vatland (Nor)                                         8
85 Froydis Meen Warstad (Nor)                                          8
86 Kristine Saastad (Nor)                                              8
87 Hayley Brown (Aus)                                                  8
88 Gema Pascual Torrecilla (Spa) Bizkaia - Panda Software - Durango    7
89 Maitane Telletxea Lopez (Spa) Bizkaia - Panda Software - Durango    7
90 Naiara Telletxea Lopez (Spa) Bizkaia - Panda Software - Durango     7
91 Emma Johansson (Swe) Bizkaia - Panda Software - Durango             7
92 Giorgia Bronzini (Ita) A.S. Team F.R.W                              7
93 Helen Wyman (GBr) Team FBUK                                         6
94 Catherine Hare (GBr) Team FBUK                                      6
95 Gabriella Day (GBr) Team FBUK                                       6
96 Line-Rene Ramsrud (Nor) Team FBUK                                   6
97 Yolandi Du Toit (RSA) Team FBUK                                     6
98 Tania Belvederesi (Ita) Top Girls Fassa Bortolo Raxy Line           6
99 Patricia Schwager (Swi) Elk Haus Nö                                 6
100 Sarah Düster (Ger) Univega Pro Cycling Team                        6
101 Emma Rickards (Aus) Univega Pro Cycling Team                       6
102 Luisa Tamanini (Ita) Safi-Pasta Zara Manhattan                     6
103 Annette Dam (Den)                                                  5
104 Jannie Schmidt (Den)                                               5
105 Nikoline Hansen (Den)                                              5
106 Maria Helena Bornak (Den)                                          5
107 Min Gao (Chn) Giant Pro Cycling                                    5
108 Volha Hayeva (Blr) Bianchi Aliverti Kookai                         5
109 Malgorzta Jasinska (Pol)                                           4
110 Monika Krawczyk (Pol)                                              4
111 Aleksandra Zabrocka (Pol)                                          4
112 Magdalena Zamolska (Pol)                                           4
113 Aleksandra Wnuczek (Pol)                                           4
114 Elisabeth Chevanne Brunel (Fra) Les Pruneaux d'Agen                4
115 Toni Bradshaw (NZl) Les Pruneaux d'Agen                            4
116 Tanja Hennes (Ger) Buitenpoort-Flexpoint Team                      4
117 Xiong Ying Ruan (Chn) Giant Pro Cycling                            3
118 Ludivine Henrion (Bel) Lotto-Belisol Ladiesteam                    3
119 Larissa Kleinmann (Ger)                                            3
120 Jenny Macpherson (Aus) Elk Haus Nö                                 2
121 Johanna Buick (NZl) Fenixs-Colnago                                 2
122 Madeleine Sandig (Ger) Buitenpoort-Flexpoint Team                  2
123 Melissa Holt (NZl)                                                 2
124 Kate Nichols (Aus)                                                 2
125 Leigh Hobson (Can)                                                 1
126 Cindy Pieters (Bel) Vlaanderen-Caprisonne-T Interim                1
127 Olga Zabelinskaya (Rus)                                            1
128 Catherine Sell (NZl)                                               1
 
Teams
 
1 Univega Pro Cycling Team                                           628 pts
2 Buitenpoort-Flexpoint Team                                         457
3 T-Mobile Professional Cycling                                      432
4 Equipe Nürnberger Versicherung                                     373
5 Bigla Cycling Team                                                 255
6 Nobili Rubinetterie Menikini Cogeas                                235
7 AA-Drink Cycling Team                                              229
8 Elk Haus Nö                                                        117
9 Bianchi Aliverti Kookai                                            112
10 New Zealand National Team                                         109
11 Vlaanderen-Caprisonne-T Interim                                    97
12 Giant Pro Cycling                                                  87
13 Russian National Team                                              80
14 Vienne Futuroscope                                                 44
15 Safi-Pasta Zara Manhattan                                          40
16 A.S. Team F.R.W                                                    39
17 @Work Cycling Team                                                 36
18 Norwegian National Team                                            32
19 Canadian National Team                                             30
20 USA National Team                                                  30
21 Top Girls Fassa Bortolo Raxy Line                                  29
22 Bizkaia - Panda Software - Durango                                 28
23 Team FBUK                                                          24
24 Dutch National Team                                                21
25 Polish National Team                                               16
26 Lotto-Belisol Ladiesteam                                           14
27 Italian National Team                                              11
28 Fenixs-Colnago                                                      8
29 German National Team                                                3