Recently on Cyclingnews.com
An interview with Lyne Bessette, May 31, 2006
Cooking up a life after racing
After an eleven year career that was mostly spent at the top of North American women's cycling, Canadian star Lyne Bessette announced her retirement last week. She told Cyclingnews' Mark Zalewski how she came to this decision and what the future holds.
"When you start thinking about racing as crossing the line and just being safe there is no point... I'm scared now and I don't want to break anything else."
-Bessette on the realisation that it's time to stop.
Official Bessette
Photo ©: T-Mobile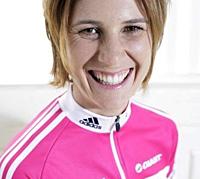 Lyne Bessette
Age: 31
Born: 10/3/75
Place of birth: Knowlton, Québec, Canada
Resides: Middleton, MA
Height: 5ft 10in
Weight: 135 lbs
Turned pro: 1999
Lyne Bessette's website

Major results
(Podium placings only)
2006 - T-Mobile
2nd, 59th Grand Prix du Nouvel-An, Luxembourg
3rd, Cyclo-cross World Cup #9, France
2005 - Quark
4th, Tour de l'Aude
1st, Quebec Cross Country Championships
1st, Star-Crossed Cyclocross
1st, Stümptown Cyclocross Classic
1st, Rad Racing GP
1st, Downeast Cyclocross Classic
1st, Granogue Cyclocross
1st, Wissahickon Cyclocross
1st, Grand Prix of Gloucester, USA
1st, Canadian Cyclocross Championship
1st, Aurora Cross, Canada
1st, Chainbiter, USA
1st, Cycle-Smart International, USA
1st, Surf City Cyclocross, USA
3rd, Clark Natwick Grand Prix, USA
1st, Gearworks Bay State cyclocross, USA
3rd, Hooglede-Gits World Cup, Belgium
2004 - Quark
1st, Redlands Bicycle Classic
1st, Sea Otter Classic
2nd, Tour de Berne
2nd, Souvenir Magalie Pache
5th, Tour de l'Aude
3rd, Tour du Grand Montréal
1st, Nature Valley Grand Prix
1st, Canadian Road Championships
2nd, Canadian National Time Trial Championships
6th, Cascade Classic Stage Race
16th, Athens Olympic Time Trial
DNF (crash), Athens Olympic Road Race
2003 - Saturn
2nd, Redlands Bicycle Classic
2nd, Sea Otter Bicycle Classic
2nd, Tour de l'Aude
2nd, Tour du Grand Montréal
1st, Wachovia Liberty Classic
2002 - Saturn
1st, Cyclocross GP de France in Nommay
1st, Fitchburg-Longsjo Classic
1st, Sea Otter Classic
2nd, Flèche Wallonne
2nd, McLane Pacific Downtown Grand Prix
2nd, Mt.Washington Hillclimb
2nd, Rocky Hill Road Race, 10th, Visalia Criterium, Sequoia Cycling Classic, CA
2nd, Solano Bicycle Classic, CA
Bronze, Time Trial, Canadian National Championships
Bronze, Time Trial, Commonwealth Games, Manchester
Voted Best Female Cyclo-cross rider, Cyclingnews reader poll
2001 - Saturn
1st overall, US National Racing Calendar
1st, Fitchburg-Longsjo Classic
1st, Hewlett Packard International Women's Challenge
1st, McLane Pacific Bicycle Classic, CA
1st, Road Race & Time Trial, Canadian National Championships
1st, Rocky Hill Road Race
1st, Stage 1, Tour de 'Toona
1st, Stages 3 & 4, Grand Prix Féminin International du Québec
1st, Tour de l'Aude
1st, Tour of Arlington
2nd, Stage 1, Tour de Suisse Féminin
3rd, Montreal World Cup
Canadian Cyclist of the Year

2000 - Saturn
1st, Fitchburg-Longsjo Classic
1st, Stage 3, 4th GC, Grand Prix Féminin Internationale du Québec
1st, Tour de 'Toona
2nd GC, Redlands Bicycle Classic
2nd, Men's Road Race, Quebec Provincial Championships
2nd, Road Race, 5th, Time Trial, Canadian National Championships
3rd GC, Tour de Willamette
3rd, last stage, 2nd GC, Killington Stage Race

1999 - Saturn
1st GC, Redland Classic Cycling Race
1st GC, Tour de L'Aude
2nd, Montreal World Cup, Québec
Silver, Time Trial, PanAm Games
1998
Gold, Commonwealth Games RR, Kuala Lumpur
Previous interviews with Lyne Bessette
October 2005 : Starting off slowly
December 2002 - The Tim & Lyne show
Canadian Lyne Bessette is synonymous with both North American women's cycling and Canadian cycling -- as a national champion on the road, in the time trial and in cyclocross, as well as a gold medalist on the road in the Commonwealth Games. Her eleven year career included time with the dominating Saturn cycling programme, where she won the Liberty Classic; with Quark; and this year with the T-Mobile women's squad. After eleven years as a professional cyclist, Bessette decided to retire in May.
Following a spring campaign filled with multiple crashes and injuries, Lyne Bessette came to a crossroads at the Tour de l'Aude in France. It no longer was about winning as much as it was about merely finishing upright and without incident. This is what caused her to revaluate and ultimately decide to stop racing. But as Bessette explained, this decision was not made in haste.
Ready to go
Photo ©: John Flynn

Disaster strikes
Photo ©: John Veage

Duking it out
Photo ©: Rob Jones

With husband Tim Johnson
Photo ©: Cyclingnews

At the 2005 Tour de Beauce
Photo ©:

A favourite victory
Photo ©: Jon Devich

In the 2005 Tour de Toona
Photo ©: Mark Zalewski

Leading Nature Valley Grand Prix
Photo ©: Jason Elhardt

Jumping to it
Photo ©: Paul McKenzie

Another World Cup podium
Photo ©: Mani Wollner

Farewell
Photo ©: Todd Leister

"After the Olympics in 2004 I started to think about retirement. I thought I would try to make it to the next Olympics, but only year-by-year. This year I had a great opportunity to race with T-Mobile in Europe and I took it, so everything was working really good. I did cyclocross with a full season including worlds, then met my team at training camp. We headed to Australia for the first world cups and everything was good but then I crashed on my head at the Geelong Tour. I had vision problems so I had to stop the world cup. I tried to start the world cup but had to stop."
Fortunately for Bessette her crash at the Geelong Tour was not as serious as it first appeared. She continued to race and train in preparation for the upcoming Commonwealth Games where she was to compete both on the mountain bike and road. But while training on the mountain bike course she crashed again, this time more seriously.
"I went to the Commonwealth Games and dislocated my shoulder, so I came back home for two months," said Bessette. "It really gave me some time to think about what was going on. I realized how things were going with injuries and my career. But at the same time I was training really hard to get ready to restart my season with Tour de l'Aude. When I got there and started racing I realized it wasn't for me anymore. When you start thinking about racing as crossing the line and just being safe there is no point in doing that. That's when the switch was made in my head. I'm scared now and I don't want to break anything else."
During the seventh stage of the Tour de l'Aude Bessette made her final decision and pulled out of the race, and everyone around her has supported her decision. "I have gotten so many nice emails -- everybody has been great. And T-Mobile has been awesome and really supportive. Bob Stapleton [T-Mobile team manager] and the people in Germany have been really understanding. Andrej [Bek, the team coach] also! "
"I've felt really good the last few days and it felt good to tell people I was done. I've raced for eleven years and I did running for eleven years before that. I've been competing since I was ten, so I think it is a good time now and I am ready for it."
Further illustrating her resolve in stopping as soon as it was no longer about the racing is the fact that the Montreal World Cup and Tour of Montreal races, in her backyard, immediately follow the Tour de l'Aude. However, Bessette is a true professional. "When I realized it wasn't for my anymore I was in France and I just stopped. I don't want to start a race just to stop it after three laps, it's not for me. I am going to go say hi but I am not going to race."
Now that she is back home with her husband Tim Johnson, also a professional cyclist, Bessette is ready to begin the next chapter of her life. "Right now I am going to take some time for myself. I don't want to start anything too fast and jump into something. I want to look at my options... but I've already had a couple of job offers! But I am not in a rush. And I am not worried about the upcoming couple of months -- I'll be following Tim a little with his racing."
As for the long term, Bessette is staying quiet to keep her options open. "It's a good question and I don't want to say anything now because all of the options are open. Cycling made me realize that I like people and that I like the social aspect of it. Before, I studied in math and physics but I will never go back to that area. I am not saying I am going back to school but I do like the more social part of things now."
However, after spending more than a decade in the sport Bessette feels she will still stay involved at some level. "I think it will be hard for me to even think about completely leaving the sport because my husband [Health Net rider Tim Johnson] is in it. I still love the surroundings and people, so I will still have a lot of contact with the sport for at least another couple of years. And with cross I will still have that. I won't be a coach because I don't like coaching. But I am associated with a young junior woman cyclist in Quebec and she calls me. It's a programme for the young athletes where they get a mentor. That is not what I am going to do, but I am always available for them to ask somebody who has been there."
She did give a small hint at a possible future endeavor. "I love cooking so I am always working on new recipes. That is something I may want to pursue eventually." A cycling cook book perhaps? "Ha, not a cycling cook book -- more an every day cook book."
And Bessette says she is not entirely retired from racing. "I am still going to race some cross. I really love it and I had a great season last year. I don't think I will push it all the way to worlds but I will definitely do North America. See, it's not that I hate cycling now -- it's just that that part of cycling is not in me anymore."
Looking back over her career, Bessette acknowledges her Commonwealth Games win as one of the highlights she will always remember. "I think it was the Commonwealth Games in 1998 as my first big win. My best memory is meeting my husband in cycling. Also my parents surprised me in 2000 when they came to worlds. That was their first trip to Europe. I also have great memories of Philly too -- winning that was the same feeling as the Commonwealth Games."
First on her to-do list is caring for her new puppy, Vitesse. "It means speed in French. She's a brown lab. I had a dog when I started cycling but I had to give it away because I started traveling. But now I am ready to take care of this one. I am excited to go hiking in the mountains with her."
Photography - more Lyne Bessette highlights
For a thumbnail gallery of these images, click here