Recently on Cyclingnews.com
An interview with Heinrich Haussler, March 16, 2006
Heinrich Haussler: "I can do even better"
Gerolsteiner's young shooting star is Heinrich Haussler, a 22-year-old Australian-German who took the biggest victory in his short career with a stage win in the Vuelta last year - the only German victory in a Grand Tour in 2005. At the start of this year, he continued his winning ways at the Vuelta a Murcia with victory in both the first and last stages, and will be wearing dossard #131 in Saturday's Milan-San Remo. Susan Westemeyer asked him about his plans this season.
Heinrich Haussler
Photo ©: AFP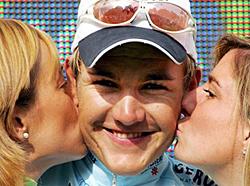 Age: 22
Born: February 25, 1984
Height: 1.79m
Weight: 68kg
Teams: Gerolsteiner (2005 - ), T-Mobile Team (2004, stagiaire)
Career highlights
2006 - Gerolsteiner
1st, Stage 1, Vuelta a Murcia
1st, Stage 5, Vuelta a Murcia
3rd, Trofeo Mallorca
2005 - Gerolsteiner
1st, Sprint classification, Sachsen-Tour
1st, Stage 19, Vuelta a Espaņa
1st, U23 classification, Niedersachsen-Rundfahrt
1st, Young riders' classification, Sachsen-Tour
3rd, GC, Sachsen-Tour
3rd, Stage 21, Vuelta a Espaņa
4th, Stage 12, Vuelta a Espaņa
7th, Meisterschaft von Zürich
7th, GC, Niedersachsen-Rundfahrt
Cyclingnews: Congratulations on your two stage wins in Murcia. Both were bunch sprints - are you turning into the next super sprinter? Can we expect to see you challenging Boonen and Petacchi?
Heinrich Haussler: I'm sure I will challenge them; every race is a challenge, isn't it? And I have sprint experience with Alessandro from the Vuelta last year. Right now, I'm just taking advantage of every chance I have to win a race, without really thinking about whether I'm a sprinter, Classics rider or stage-race specialist. I think that is the privilege of youth!
"The good thing about Gerolsteiner is that everyone here who is doing well gets his chance. "
- Heinrich Haussler feels comfortable in his baby blue surroundings at Gerolsteiner
CN: You said that you surprised yourself, because you're not yet in your best form. What is missing? And what do you think you can accomplish when you are in top form?
HH: I have several weeks altitude training on Teneriffe behind me and the change back to normal conditions is difficult for the body. Some feel it more, some less. I feel it pretty strongly. After two wins, that sounds funny, but it's true. So I'm relatively convinced that I can do even better. I just have to stay healthy.
CN: You didn't do so well in the mountains in the third stage, coming in nearly eleven and a half minutes down. Do you see the mountains as something to be endured and survived, or do you want to work on your climbing skills in order to become a better all-rounder?
Driving the winning break
Photo ©: AFP

HH: Hey, I was seventh last year in the Meisterschaft von Zürich in miserable weather! Normally I can climb pretty well, but I naturally want to keep on improving, too. But so early in the season, and after altitude training - you don't want to show everything at once... I simply rode very 'piano' that day!
CN: Last fall you said that you wanted 'to ride as many classics as possible'. What does your spring schedule look like? Will you have a chance to captain the team in any races this spring?
HH: I want to take things slowly, one after the other. The fact is that, a) as a young pro, I already have a couple of nice wins to my account, but another fact, b), is that I am only 22 years old. It is clear that I am suited to the Classics and last year as a rookie I did pretty well there - now we have to wait and see, whether it continues to go so well. The good thing about Gerolsteiner is that everyone here who is doing well gets his chance. I will start at Milan-San Remo, then Flanders, Paris-Roubaix, Amstel and then we'll see...
Haussler's not going to win any bodybuilding awards
Photo ©: Unipublic

CN: You also said that you would like to ride in one of the Grand Tours, maybe the Giro. Do you know yet, which it will be? And have you already picked out one - or more - stages which just might suit you?
HH: No, this year I will stay with my familiar Vuelta. The Giro comes too soon after the Classics. Besides, I absolutely want to go to the world [road] championships this year. Plus there are a couple of fall Classics; the Vuelta would be good preparation...
Also see: November 2005 interview - "A beautiful year"