Recently on Cyclingnews.com
An interview with Heinrich Haussler, November 15, 2005
"A beautiful year"
Australian-born Heinrich Haussler emigrated to Germany seven years ago to try and make it as professional cyclist. Susan Westemeyer caught up with the youngest member of the Gerolsteiner team after completing an excellent season as a neo-pro.
Heinrich Haussler
Photo ©: Mani Wollner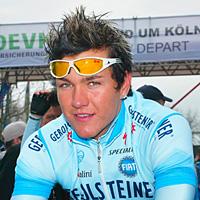 Age: 21
Born: February 25, 1984
Teams: Gerolsteiner (2005- ), T-Mobile Team (2004, stagiaire)

Career highlights
2005 - Gerolsteiner
1st, Sprints classification, Sachsen-Tour
1st, Stage 19, Vuelta a Espaņa
1st, U23 classification, Niedersachsen-Rundfahrt
1st, Young riders' classification, Sachsen-Tour
3rd, Sachsen-Tour
3rd, Stage 21, Vuelta a Espaņa
4th, Stage 12, Vuelta a Espaņa
7th, Meisterschaft Von Zürich
7th, Niedersachsen-Rundfahrt
"I simply wanted to find out what a three-week tour is like and maybe one time finish in the top five of a stage," said Gerolsteiner rider Heinrich Haussler of his expectations going into this year's Vuelta a Espana. Haussler didn't just meet his expectations, he exceeded them: not just three top five finishes, but also a stage win in Alcobendas.
Not surprisingly, this victory that came on the third last day of the Vuelta was the highlight of his year. However, Haussler showed promising form in previous stages. On a mountainous Stage 6, he finished less than five minutes behind winner Roberto Heras and was the best-placed Gerolsteiner rider. He then showed his sprinting qualities the very next stage, finishing seventh, and again on Stage 8, where he sprinted to a sixth place finish.
"Heinrich still has potential," said his directeur-sportif Reimund Dietzen at the time. "It's likely that it will just get better for him. After this performance, I expect even more from this youngster."
"You find out how fast it is and how hard it is to bring a constant performance"
- Haussler discovers the realities of riding a Grand Tour, but learned quickly
Dietzen's words were prophetic. On September 16, a 142,9 km stage from San Martin de Valdeiglesias to Alcobendas, Haussler finally got himself in the right breakaway, later outsprinting his three more experienced rivals to take his first professional win. "With that I was the only German to win a stage in a Grand Tour this year. That's something!" he said.
Looking back at his first year, he says it was "very good for me, because I had a couple of good results. I think I integrated myself well into the team and did some good work for the team during the races." On the fact that he only had about 60 racing days, Haussler admitted "it's not really a lot, but it was exactly right for me."
The start of the season was difficult, "but I quickly got used to the constant stress." One of the things Haussler had to get used to was riding with stars like Davide Rebellin. He admits to being in awe of such team-mates. "Because of that, I held myself back in races at the start of the season. But I was able to quickly get over that."
Haussler and Martin Elmiger
Photo ©: AFP

There were a few low points in the season. The worst, according to Haussler, was the theft of his mobile phone and laptop computer from his hotel room in Lloret del Mar during the Vuelta. Another one had to be his last place in the prologue of the Dauphine Libere. A gendarme refused to let him climb over the barrier to the start, so he had to go the long way around and ended up starting two minutes late - two minutes which were added to his time.
Going in to the Vuelta, he had only one major goal: "Riding it to the end!"
Like many another rookies, he learned a lot from his first Grand Tour. "You find out how fast it is and how hard it is to bring a constant performance over the three weeks. But then you know what you are capable of..." More practically, Haussler says, he learned "not to ride in the wind too much and to look for the right chance and to use it".
Haussler obviously learned fast. "I noticed that I recovered quickly. As the Vuelta started winding down, I had the feeling that I was doing quite well in comparison to the others. After the Vuelta, it continued to go well for me."
Indeed - after winning the 19th stage, he placed third on the final stage behind Alessandro Petacchi and Erik Zabel, and ended the tour as the best Gerolsteiner rider on GC. Two weeks later, he added a seventh place finish in the Züri Metzgete to his palmarčs.
Capping off a terrific first season,
Photo ©: Unipublic

Haussler was nominated to the German world's as a substitute but it turned out he wasn't needed. "I wasn't too disappointed, because I'm still young and will have lots of chances to ride the world's in the future" Haussler says diplomatically. "But it would have been nice."
Haussler is full of praise for his trainer, Michael Max - "I'm glad to take his advice," he says - as well as for his team. "The management around Hans-Michael Holczer and Christian Henn take a lot of concerns away from me and help out a lot. It's incredible how much they do for the young pro's like me."
With a successful first year under his belt, he doesn't plan to change his training and preparation for the next season. "It worked well this year. I don't see any reason why I should change it. I'd like to ride as many classics as possible, and take part in one of the Grand Tours, too. Maybe the Giro."
Reflecting on it all, Haussler concludes, "I always wanted to be a pro cyclist and I'm happy that I found a top team in Gerolsteiner that supports and encourages me. It was a beautiful year and I'm really looking forward to the next season."