An interview with Serguei Gonchar, August 14, 2006
A late bloomer
Serguei Gonchar in his first maillot jaune.
Photo ©: AFP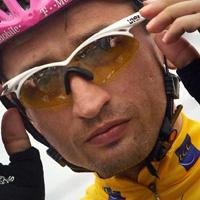 In a rare interview, T-Mobile's time trial specialist Serguei Gonchar recently spoke with Cyclingnews European Editor Tim Maloney at the rider's home in Molvena, Italy. The 36-year-old is one of the strongest time triallists in the pro peloton and 2006 has been a banner year for the rider from Grovno, who resides in north-eastern Italy's Veneto region in the same small town where fashion brand Diesel and motorcycle accessories brand Dainese were born. Gonchar has lived in the Veneto region for a decade and has integrated into a comfortable Italian lifestyle.
"The riders, we're part of a chain but we seem to always be the weakest link"
-Serguei Gonchar on the Floyd Landis drugs scandal
One of the side-benefits of Gonchar's two stage wins and stint in the yellow jersey was that he got his name back. A typing error on his passport condemned him to being referred to as 'Honchar' for years. The fame that Tour success brings finally allowed him to set the record straight, "Yeah! In the last few years, people got used to calling me Honchar, especially in Italy, but that is not my name," he said.
"So during the Tour De France, when I was team leader for a few stages, it was even more important to get my right name out there. It was the fault of a secretary in the passport office back home in Ukraine and I have had to live with this. But finally I was able to say 'my name is Gonchar, so call me that'. When my passport arrived with the wrong name, there was nothing I could do. That's the way it is and you can't complain. So when I came back to Italy from Ukraine with a passport that had the wrong name, I had to change all of my other documents. Otherwise if you show up at the airport with two different names, it's a mess."
Serguei Gonchar well protected
Photo ©: AFP
On the Landis affair
The Floyd Landis drugs scandal has dominated discussion in the cycling and mainstream media but Gonchar is guarded with his opinion, "I really can't say anything at this point… except that I'm sorry to see a sponsor like Phonak leave the sport. They have been around for a long time and have supported cycling so it's too bad they are leaving. Cycling is taking hits from all sides lately… it's seems like some kind of fashion trend!" he said.
The loss of a big sponsor to the sport is only one of the downsides to the Landis affair, "I'm sorry that this is going on now… it seems like someone or something should be defending cycling but the opposite is happening. The riders, we're part of a chain but we seem to always be the weakest link. That's too bad," said Gonchar.
His best year as a pro?
A spell in yellow and two stage wins at 36 years old are enough to make Gonchar's season successful, but he is reluctant to describe 2006 as his best year as a pro, "Don't forget that I also had the World Champion's [Time Trial] jersey in 2000-2001. Plus in other seasons, I've won stages in the Giro d'Italia, Tour de Suisse… that went well. But something with the prestige of the Tour De France has a special feeling all its own," said Gonchar.
Serguei Gonchar's lane
Photo ©: Tim Maloney

Gonchar had his house decorated with yellow ribbons to mark his success in the Tour, "That's something nice that my wife does when I have a big win. In May, we had pink for the Giro d'Italia and now it's yellow," he said.
Gonchar's great run at the Tour is all the more remarkable considering the chaos under which the T-Mobile team began the event. Leader Jan Ullrich and team-mate Oscar Sevilla were sent home before the Tour began, severely disrupting the team's preparation, "Since the beginning of the season, we worked to get the team ready to ride for Jan at the Tour De France. No sprinters for the Tour, just strong riders and climbers to give him maximum support. So what can I say? At the moment that the team decided to suspend Jan just before the Tour, it was a pretty hard blow," said Gonchar.
"But the riders understood after this that we had to come together, to do our best not just for ourselves but for the team directors, the staff and the sponsor. So we decided to go all out during the Tour with what was left of the team… seven riders against most of the other teams with nine. It wasn't easy at all. To give 100 percent from each rider, with Klöden and Rogers going for GC, Klöden as leader and Rogers as a back-up leader if Klöden had problems. The other five riders would try to win stages and do their best. This strategy succeeded right away because Kessler won the third stage, then I won the TT stage and took the maillot jaune and managed to keep it for a few days. We wanted to keep the maillot jaune for a while and it went pretty well for the team."
Gonchar in time trial action
Photo ©: Sirotti

It became apparent to Gonchar and his team-mates that Andreas Klöden did not have the form to win overall, but his third place was nonetheless satisfying, "Klöden didn't have very sharp claws as we say and was tired during a lot of the Tour. But for a team with just seven riders, to get third place overall, to win three stages, that was already a good accomplishment despite not having [Ullrich]. Towards the end of the Tour, when we realised that Klöden couldn't win the Tour, we decided to go for the Team GC and we managed to get that as well, plus a lot of good placings, at the end our Tour results were a good satisfaction for us, our sponsors. No one expected [the T-Mobile Team] to ride as well as we did at the Tour so it was a nice surprise for our sponsors and for us," said Gonchar.
All-power pedaling style
Gonchar has very distinctive time-trialling style and is one of the few riders that has the power to turn a 53x11 gear with the rhythm required to generate speed as well, "Not many other riders can [ride such big gears]… I guess I have become famous for it! I don't really know where it comes from. I've always ridden time trials like that since I was a young rider and have always used big gears for time trials. When I'm in the race, it doesn't feel to me like I'm pushing a big gear, but like I'm pedaling with agility. But afterwards when I see myself on TV, it looks like I'm pedaling slow and going slow," he said.
The big-gear riding is for time trials only as Gonchar rides more conservatively during road stages, "I use the same gears as the other riders. It's just when I go all out at maximum power that I ride with the big gears," he said.
World champion
Photo ©: AFP

A late starter
Gonchar has been a professional rider for ten years, but he turned pro in Italy at the relatively late age of 25. It didn't take him long to settle in though, he won his first pro race, the Giro del Piave, in his first year. The win was no fluke, Gonchar had come through the Soviet Union's amateur system, "I started racing pretty late, at 17. I did pretty well as a rider and managed to be selected for the Ukrainian national cycling team a few years later. To be selected for the USSR national team in the late 1980's was very difficult with riders like Piotr Ugrumov, Dimitri Konyshev, Vladimir Poulnikov. I had some good results but not good enough to be selected for the USSR team," said Gonchar.
"When I finished my military service, I was at the University of Kiev and raced on their team, which was the Ukrainian National track team. I was on that team not as a track rider, but to get good results on the road, so the track riders could get into big road races for training. The Ukrainian National track team would get invited to big international races in Italy and the needed a rider to get results on the road so the team didn't make a 'brutta figura' [bad image] and would continue to get invited to major international races. In those days, the baby [amateur] Giro d'Italia was an important race and in 1993 I rode pretty well there and Italian coaches started to know who I was. I was 23 and no offers to turn pro in Italy were there so I stayed with the Ukrainian National track team.
Gonchar dropped to sixth on GC
Photo ©: Sirotti

"In 1995, I really prepared well for my races in Italy and was fourth at the Giro delle Regione stage race and fifth at the Giro d'Italia. From there I had my first interest from pro teams and got two offers; one from Aki-Safi and another from a new team, Ideal. Yeah, 25 or 26 years old was kind of late to turn pro but that's how it worked out for me. But I won a race my first season and then rode for Aki-Safi and really embarked on my pro cycling career. I started winning races and being competitive."
Gonchar quickly tasted success after turning pro, placing second in the world championship time trial in his second year in the pro ranks and winning a time trial stage of the Giro d'Italia, "And I had some other strong placings like [on the stage 5 time trial stage] in the Tour de Suisse and [I came] fifth on GC in the Giro. So I kept improving, kept getting better results…. I won the GP des Nations TT in 1999, and the World TT Championships the next year," said Gonchar.
Gonchar powering along
Photo ©: Roberto Bettini

Gonchar is not the first Eastern Bloc rider to find success in Italy, "Once the borders opened up in the former Soviet Union, cycling in western Europe found out that the eastern bloc cyclists were strong riders. Because in our countries, there was a lot of competition to succeed," he said. Gonchar was quickly forced to adapt to life in Italy, "It was hard for me at first; I didn't know any Italian at all. But I learned fast because if I wanted to eat, I had to learn to ask for food. If I wanted something in particular, I had to learn how to ask for it. It was that simple," he said.
"If you realise that there are maybe 200 pro riders in a country like Italy with maybe 50 million people, in the former Soviet Union, we had five times as many people and so there were a lot of good riders, strong riders who never even raced outside of the country. So when good riders from our very competitive system went to the west, they were able to get some good results. The best riders ended up in the west and the Italian teams recognised our talent first. And there were a lot of teams here. After that, it became easier for riders from the former Soviet Union to get on teams in Germany, France, Spain."
T-Mobile stage 17 tactics
T-Mobile's tactics were questioned after Landis went on the attack on stage 17. The T-Mobile riders did not react with sufficient alarm to stop Landis regaining most of the time that he had lost on the previous stage, "[The T-Mobile riders] have communication with the team car by radio so we knew what was happening, and when Landis attacked we tried to follow him but he was too strong," said Gonchar.
After finishing second overall
Photo ©: Sirotti
"Already that morning, the word was that Phonak was going to attack on the first climb. We weren't too worried when Landis attacked because he had a big crisis the day before and had lost 10 minutes. We thought Landis would eventually crack; we were chasing pretty hard behind him, not all out but still pretty hard.
"When we got close to the base of the final climb and Landis still had a big lead, well over five minutes, our guy Sinkewitz was with him but he wasn't cracking, we started to chase harder. We ended up pulling back about two and a half minutes but on the final climb, Klöden didn't pull anything back on Landis; the only one who managed to was Sastre. The entire race was turned on it's ear that day. What can I say? Landis was so strong that day. We had our entire team on the front and thought we would have some cards to play but it didn't work out like that."
Plenty of racing left in 2006
Gonchar has had a full season and there may not be too many other chances to see him in action this season, "After the Tour, I'm feeling pretty tired. I've done a lot of races this season, I started early and was in form for [the Tour of] Romandie, where Sevilla was going for the GC. Then we had the Giro d'Italia and that went well. I was going for the GC and had the Maglia Rosa and was going to try and hang on to it as long as I could, but I crashed out. I went all out for two weeks and fifteen stages at the Giro, then went to Asturias where Oscar [Sevilla] was leader and we had to help him defend the race lead at full gas and then the Tour De France started.
On his way to the rainbow jersey
Photo ©: AFP

"So it's been months since I've been going all out. I finished the Tour tired but now after a few weeks I'm recovering a bit. The team has given me a lot of time to recover, two or three weeks, so then I'll see where I am at. Maybe I'll do the Tour of Poland and then prepare for the time trial at the world championships, but even if I'm still tired I know the team is happy with my performance this season. And I am too. I know I can do just so much."
At 36-years-old most riders are considering retirement but despite his world championship, Tour and Giro success Gonchar wants to keep racing, "I started cycling late, at 17, and I had a certain maturity. I know what I am doing and what is expected of me, so I think that with my determination and that I have achieved some of my goals and objectives in cycling, it motivates me to continue, to go forward.
"I'm happy with where I'm at and I think at 36 years old, I still have the desire and ability to continue. I always say that as long as I can still beat the young riders, I'll continue and when they start to beat me, I'll hang up my bike."
Gonchar has a one year deal with T-Mobile Team and hopes to continue with the German formation, but after his great 2006 season, the talented and determined Ukrainian doesn't lack for offers for the 2007 season.