An interview with Bernhard Kohl, August 20, 2006
To thine own self be true
Shakespeare's cautionary words in Hamlet have been heeded by Bernhard Kohl. Rather than staying at T-Mobile for another season, he is following his instincts and heading to German rival team Gerolsteiner. Susan Westemeyer finds out the reasons behind Kohl's career change and reflects on the young Austrian's early career successes.
"I think that I will be able to use my abilities better at Gerolsteiner."
-Bernhard Kohl on why he's leaving T-Mobile for its German rival.
Bernhard Kohl (T-Mobile)
Photo ©: AFP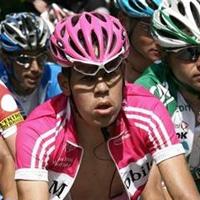 Berni Kohl is a young rider on the way up. After a modest debut year in 2005, he has proved himself this year with such accomplishments as third place overall in the Dauphine Libere and winning the Austrian championship. He is not one to let such success turn his head, though, saying, "I must now stay true to myself and then I am sure that I will achieve even more."
However, he will be looking to make those achievements at a new team, as he has already announced that he is leaving T-Mobile team for Team Gerolsteiner.
Why the move? "At T-Mobile there are many riders with similar qualities to mine. I think that I will be able to use my abilities better at Gerolsteiner," he said. For example, "In Rogers, Sinkewitz and Gerdemann, there are three young riders with similar abilities and goals to mine on the team, as well as such established riders as Klöden and others. It is difficult to satisfy all these riders' wishes."
He has nothing negative to say about T-Mobile, however, "I have always felt well there," he said. "I had my chances at T-Mobile, for example at the Dauphine. Everyone was very helpful whenever I had questions."
Bernhard Kohl climbs in the Dauphine
Photo ©: Sirotti

The Ullrich doping scandal "played absolutely no role at all" in his decision to leave the team, nor did his omission from T-Mobile's Tour de France team. Although he rode outstandingly well in the races leading up to the Tour, "it was always clear that the Tour was not a theme for me this year."
He knew he was in top form going in to the Dauphine Libere in June and suspected that he would do well, but not as well as he did, "I had thought I could possibly finish in the top ten. Even I was a little surprised when it turned out to be a podium place." He did not let nerves get in his way at the Dauphine, "It was clear to me that I would be difficult to drop on the climbs, and when the podium is in sight, you can bring a little more to it!"
The young Austrian was supposed to ride the Dauphine as a helper to team captains Oscar Sevilla and Eddy Mazzoleni, whom he quickly outrode. This did not cause any problems within the team, though, "When it turns out in a race that another rider is stronger, then it is understood that the team will support him."
Bernhard Kohl
Photo ©: Jon Devich

That race was followed by another success, the Austrian road championship. In the fifth of nine laps on the course he broke away with three other riders. "We worked together well," Kohl said, "and so we were able to get quickly away from the field. I knew that I wouldn't have any chance in a sprint so I tried to get away." Over the last five kilometres he tried consistently to get away from his three companions, and finally was able to do so, building up a tiny lead that he held to the finish, winning by four seconds.
"That's something special, when you stand on the podium and hear the national anthem," he said at the time, adding, "That's a great honour for me. I will be representing Austria…."
Loking back on it, Kohl is still proud of his accomplishment, saying, "Being able to ride for a year wearing the champion's jersey is an honour and really great! It has always been my goal to win the championship at least once and it makes me even happier that it worked out so soon."
Kohl and Chavanel
Photo ©: Sirotti

Following the Austrian championship came the Hervis Tour of Austria, Kohl's season highlight, which he was heavily favoured to win. But it didn't quite turn out that way. After finishing a disappointing 2.22 minutes down in eighth place on the Kitzbüheler Horn mountaintop finish on the third stage, he came back the next day to regain his "climber's honour" by winning the mountain ranking on the fabled Grossglockner, thus gaining the title of 'Grosglockner King'.
"I had hoped to have my top form from the Dauphine Libere until the Austria Tour," he said. "It worked out perfectly through the Austrian championships, but at the Austria Tour I was only at about 95 percent. But winning the Glockner and fifth place overall aren't bad!"
A well-deserved break followed the Austria Tour and he returned to racing at the end of July, riding in various criterium races and winning two of them. The Denmark Tour followed, which he called "good training under competitive conditions." At the last minute he had to cancel his appearance in the Clasica San Sebastian, staying home to nurse a feverish cold and getting well for the Vuelta a Espana.
Kohl knows that he has to work
Photo ©: Seng Chen

Kohl is the first to acknowledge that he has to work on his weaknesses if he is to win big stage races, "I am not that good a time triallist, which is of course very important in stage races. And I can surely improve tactically."
His first two years have been a learning experience, and he must now apply what he has learned, "In my first season I learned a whole lot and also became aware that you can only achieve success with 100 percent seriousness. I have tried to follow that more strongly in my second year. I had not expected that I would be so successful so soon. I must now try to stay true to myself and then I am sure that I will achieve even more."