Recently on Cyclingnews.com
Tour of California - 2.1 USA, February 19-26, 2006
Everything catches up with you
Stage 3 - February 22: San José Time Trial, 27.4km
Having a chat before the start
Photo ©: Seng Chen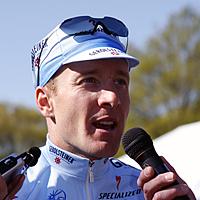 Floyd was super fast today, although it was pretty unexpected - what Zabriskie and Bobby Julich did was to be expected, but it was a big day for Floyd. I didn't feel that great today and when I woke up I could feel I wasn't having my best day - I just didn't have any spark at all. Even after my warmup I just felt like I couldn't get going; and that, combined with the fact that the course at the end was very flat with a headwind made it very hard for me to match the bigger guys.
I gave it everything I had considering how I was feeling - I went 100 per cent and didn't back off at all, but it wasn't my best day and definitely not what I could do under normal circumstances. But on the other hand, I think in all fairness I couldn't have been as fast as Floyd today. I spoke to him at dinner, but there wasn't much to say other than congratulations on how fast he went...you know how it is. Of course I'm disappointed, and I don't think it was a matter of me making a mistake anywhere.
I guess the other day in Santa Rosa was so big for me; I was emotional, and I had a lot of things in my head so when I tried to sleep that night my head was racing - I couldn't really sleep. I think that caught up with me today - something that could happen to any of us! All it has to do is knock you off by a percent or two, and that's what happens...I was 30 seconds slower than what I should've been.
It didn't quite work out today.
Photo ©: Russ and Nancy Wright

Even though today was disappointing, I've been able to take so much from my Tour of California so far - I didn't expect to win the prologue, and to take the leader's jersey into my home town was so special. And being able to share that experience with the 100,000 or so people at the finish that day was just amazing - I don't think I'd trade it for a win today. Overall, seeing how much support there's been for the race and how inspired people have been over the last couple of days has really meant a lot to me. People come up and tell me how moved they were when I came into Santa Rosa with the leader's jersey and they can understand the feelings I had. For them to say that to me really means a lot!
The guys in the team took it a little easier today after working hard over the first two days, and I wish I'd been able to take the leader's jersey to pay the team back, but I guess today just wasn't my day...there are still a lot of days left, but on paper I don't think too much will change. There are a couple of climbs to take back some time I'll definitely keep my eyes open for, but we'll see. If Phonak are put under by pressure and Floyd gets isolated, then some big opportunities could arise. I'm sure that CSC and Discovery will be aggressive over the next couple of days and try to put that pressure on, and if he does get isolated we'll see what happens.
Catch you out there,
Levi
This online diary is brought to you courtesy of the excellent charity service for animals, www.ALegUpRescue.org.