Tour of California - 2.1
USA, February 19-26, 2006
Main Page Results Overall standings Stage Details Live report Previous Stage Next Stage
Stage 3 - February 22: San José Time Trial, 27.4km
A new sheriff in town
Landis wins big, takes nearly thirty second lead with time trial
by Mark Zalewski, North American Editor in San Jose
Floyd Landis (Phonak)
Photo ©: Jon Devich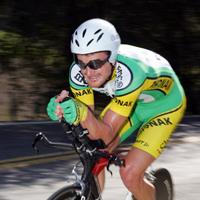 After stage two, many thought it would be a showdown between Levi Leipheimer (Gerolsteiner), CSC and Discovery Channel -- with both of those teams occupying many of the top spots along with former race leader Levi Leipheimer before today's time trial. But waiting in the wings in fourth place was a focused and determined Floyd Landis (Phonak) who blew the competition away with a solid time trial performance. "I wasn't expecting big time gaps," Landis said. "But twenty-six seconds is not as big in a race like this. I didn't know what the other times were in the race, so at the end I was a little surprised. But the guys in the front at the end were the guys I expected. Now we go forward from here and see what happens."
Landis bested second place David Zabriskie (CSC) by twenty-six seconds on the short and hilly twenty-seven kilometer course, taking almost a second per kilometer. "My strategy was to get through the first climbs conservative," Landis explained. "The last 10km were difficult mentally, because it was just straight and long. The riders were two minutes apart so you can't see anybody in front of you. That for me is difficult." CSC now occupies second and third place with strong rides by Zabriskie and teammate Bobby Julich. Julich was riding very well early on, beating teammate Fabian Cancellara's splits at each interval. Cyclingnews rode along with director Scott Sunderland, but a radio malfunction meant that Julich was unaware of the times that Landis was posting ahead of him.
Levi Leipheimer (Gerolsteiner)
Photo ©: Seng Chen

Prologue winner Levi Leipheimer finished a disappointing ninth, more than a minute behind Landis. He now sits in sixth place on the general classification more than a minute down, but Landis is not crossing his name totally off the list of dangerous riders. "Levi's team put all their eggs in one basket, which was a good thing for them," said Landis. "I don't think [Levi] is too far - 1:10 is not so much with three or four hundred miles."
Before Landis clocked his time, the day was dominated by CSC, with Lars Bak posting an early best time. Discovery Channel's Vladimir Gusev eventually matched that time later in the day, before Health Net-Maxxis Nathan O'Neill blew through six seconds faster -- trying to erase his crash in the prologue. "I'm pretty happy, of course I would like to go faster," O'Neill said after the stage. "But looking at it seriously, those guys are phenomenal, and I think Levi is behind me. It's about where I would have ended up. I think the prologue is something that I will just throw away. I had a better run there, but it didn't finish up the way it was supposed to."
O'Neill said the results reminded him of the time trial last year in Georgia. "I was fifth in Georgia last year, and it was the same guys almost in front of me. I didn't expect to win today, but I was secretly hoping for a podium." Nonetheless, he remains in fifth overall, but he does not expect much movement past that. It's going to be difficult. Everyone knows me and nobody is going to give me an inch. I think it will be tough to advance from fifth. We need to be satisfied with what we have and focus on that."
Pre-race favourite Dave Zabriskie (Team CSC)
Photo ©: Jon Devich

A noticeable part of Landis' win was his unique handlebar position -- which he reconfirmed last week in a wind tunnel here in California. "I changed my handlebars a little from last year. Mostly the wind tunnel is minor details. Some of the reason I was there was to confirm my handlebar position is better -- there was some debate whether it was a good idea or not. I think now people can stop debating that!"
On the course, the climbing was early and the headwind came in the finish, which suited Landis' plan of starting easy. "My technique in time trials is to start a little slower. I made a mistake in the past of starting too hard and losing a bit of time in the end. My way of thinking, it's better to save some for the end than to spend too much and have nothing left. That is generally my strategy for the time trial. I didn't know what the time splits were, but it wouldn't surprise me if Zabriskie was faster [early.]" On the technical second descent, Landis put his full effort forward, taking risks in the sharp turns. "I take pride in my downhilling ability -- it probably wasn't 'safe.' There were a couple of turns where I don't know if anybody would have made it in the aero bars, but for the most part [I was in aero.]"
Phonak team director Rene Savary was confident throughout the day of Landis' abilities, and is even more happy to put on a show for their new sponsors based here in California. "We were all expecting it, because he is in good shape and he is showing it. He was fully concentrated about this race because perhaps our new sponsor for the next years, iShares. We are happy he could even with the stage and now the overall.
Bobby Julich (Team CSC)
Photo ©: Seng Chen

Discovery Channel's director Johan Bruyneel was happy to have good results this early for his team. "It was good to win the stage yesterday. The leaders jersey was a good bonus but that was not the main objective," said Bruyneel. On balance, he feels that Landis is the likely candidate to hold on to the jersey due to the parcours the rest of the way, but is not totally discounting the possibility for a change. "The time trial will decide who will win the race, because the course after is not one with many big changes. Of course there can still be tactical things that will change the race, but from the course it will be the time trial to make the difference. But George is definitely going to fight for it."
And Floyd is not going to rest easy until the finish in Redondo Beach. "I expect both of those teams [CSC and Discovery] to attack because that is their only option now for winning the race. Races are rarely a gift. If I have to guess as to what will happen, those guys will go in breakaways. We will be expected to control the race. And if it is anything like yesterday then it won't be easy. Plenty of races have been won in the last day. If I were in their position, I would be attacking, so I expect the same."
Overnight leader George Hincapie (Discovery Channel)
Photo ©: Jon Devich

He also says that a win here would be the best of his career to date, and is not too worried about being in shape so early before the grand tours. "I would consider it the most satisfying win of my career. I've tried to set my goals in different ways in the past. I've had good success being in shape in February and in July -- so I don't think there is any risk in being good here. I am not in the best shape I could possibly be in, but I am in very good shape because I cared about this race. It is important for me and our new sponsor iShares. They are in California and are here at the race. It is possible there is a little risk being in shape now, but there is plenty of time and I will take an easy month between now and then."
For now, Landis is confident in the abilities of his team, now that the toughest climb and the time trial are out of the way. "The only stage I had seen prior to the race was today. I am only familiar with the area in general. From what I can tell, there are no decisive climbs like yesterday, but it can be windy on the coast. I am confident in the team, and we will take it one day at a time."
Photography
For a thumbnail gallery of these images, click here
Images by Jonathan Devich/epicimages.us
Images by Seng Chen/www.iheartbrains.com
Images by Frank Chan/flickr.com/photos/frenquency/
Images by Mitch Friedman/www.mitchophoto.com
Images by Doug Herrick/www.mitchophoto.com
Images by Russ and Nancy Wright/www.abbiorca.com
Images by Beth Seliga/

Results
1 Floyd Landis (USA) Phonak Hearing Systems                       35.58.91
2 David Zabriskie (USA) Team CSC                                   0.25.62
3 Bobby Julich (USA) Team CSC                                      0.34.98
4 George Hincapie (USA) Discovery Channel                          0.55.04
5 Nathan O'Neill (Aus) Health Net p/b Maxxis                       0.56.83
6 Fabian Cancellara (Swi) Team CSC                                 1.02.28
7 Vladimir Gusev (Rus) Discovery Channel                           1.02.84
8 Hayden Roulston (NZl) Health Net p/b Maxxis                      1.07.75
9 Levi Leipheimer (USA) Gerolsteiner                               1.16.06
10 Cadel Evans (Aus) Davitamon-Lotto                               1.22.73
11 Robert Hunter (RSA) Phonak Hearing Systems                      1.28.30
12 Thomas Danielson (USA) Discovery Channel                        1.42.19
13 Christian Vandevelde (USA) Team CSC                             1.43.10
14 Jason McCartney (USA) Discovery Channel                         1.44.27
15 Viatcheslav Ekimov (Rus) Discovery Channel                      1.46.12
16 Stuart O'Grady (Aus) Team CSC                                   1.46.29
17 Bernhard Kohl (Aut) T-Mobile Team                               1.47.14
18 Nicolas Vogondy (Fra) Credit Agricole                           1.57.98
19 Janez Brajkovic (Slo) Discovery Channel                         2.00.24
20 Lars Ytting Bak (Den) Team CSC                                  2.01.36
21 Jens Voigt (Ger) Team CSC                                       2.05.87
22 Christopher Horner (USA) Davitamon-Lotto                        2.07.52
23 Josep Jufre Pou (Spa) Davitamon-Lotto                           2.07.60
24 Antonio Cruz (USA) Toyota-United Pro                            2.11.49
25 Michael Friedman (USA) Team TIAA-CREF                           2.16.02
26 Michael Rogers (Aus) T-Mobile Team                              2.17.99
27 Phil Zajicek (USA) Navigators Insurance                         2.18.54
28 Heath Blackgrove (NZl) Toyota-United Pro                        2.23.50
29 Sebastian Lang (Ger) Gerolsteiner                               2.27.92
30 Jackson Stewart (USA) Kodakgallery.Com-Sierra Nevada            2.28.37
31 José-Manuel Garcia (Mex) Toyota-United Pro                      2.29.23
32 Marco Pinotti (Ita) Saunier Duval-Prodir                        2.32.60
33 Glen Alan Chadwick (Aus) Navigators Insurance                   2.33.76
34 Sergey Lagutin (Uzb) Navigators Insurance                       2.35.39
35 Rémi Pauriol (Fra) Credit Agricole                              2.41.00
36 Fred Rodriguez (USA) Davitamon-Lotto                            2.42.57
37 Christopher Baldwin (USA) Toyota-United Pro                     2.43.40
38 Michael Barry (Can) Discovery Channel                           2.43.81
39 Danny Pate (USA) Team TIAA-CREF                                 2.46.96
40 Alexandre Moos (Swi) Phonak Hearing Systems                     2.48.43
41 Mariano Friedick (USA) Toyota-United Pro                        2.52.96
42 Saul Raisin (USA) Credit Agricole                               2.53.97
43 Ben Jacques-Maynes (USA) Kodakgallery.Com-Sierra Nevada         2.56.38
44 Todd Herriot (USA) Colavita Olive Oil-Sutter Home Wines         2.56.57
45 Nicolas Jalabert (Fra) Phonak Hearing Systems                   2.58.11
46 Pieter Mertens (Bel) Davitamon-Lotto                            2.58.71
47 Torsten Hiekmann (Ger) Gerolsteiner                             2.59.28
48 Karsten Kroon (Ned) Team CSC                                    2.59.60
49 José Angel Gomez Marchante (Spa) Saunier Duval-Prodir           3.00.66
50 Vassili Davidenko (Rus) Navigators Insurance                    3.01.90
51 Olaf Pollack (Ger) T-Mobile Team                                3.06.80
52 Paolo Savoldelli (Ita) Discovery Channel                        3.08.24
53 Bastiaan Giling (Ned) T-Mobile Team                             3.09.52
54 Valery Kobzarenko (Ukr) Navigators Insurance                    3.09.99
55 Kilian Patour (Fra) Credit Agricole                             3.13.39
56 Viktor Rapinski (Blr) Colavita Olive Oil-Sutter Home Wines      3.15.58
57 Michael Creed (USA) Team TIAA-CREF                              3.18.20
58 David O'Loughlin (Irl) Navigators Insurance                     3.18.31
59 Timothy Johnson (USA) Health Net p/b Maxxis                     3.23.35
60 Aaron Olsen (USA) Saunier Duval-Prodir                          3.29.26
61 Craig Lewis (USA) Team TIAA-CREF                                3.33.47
62 Domingo Gonzalez (Mex) KB Home Mexican National Team            3.34.94
63 Jean Marc Marino (Fra) Credit Agricole                          3.39.90
64 Gordon Fraser (Can) Health Net p/b Maxxis                       3.42.16
65 Taylor Tolleson (USA) Team TIAA-CREF                            3.48.25
66 Scott Zwizanski (USA) Kodakgallery.Com-Sierra Nevada            3.51.50
67 Gregory Henderson (NZl) Health Net p/b Maxxis                   3.53.33
68 Brian Jensen (USA) Jelly Belly                                  3.55.91
69 Riccardo Ricco (Ita) Saunier Duval-Prodir                       3.58.93
70 David Kopp (Ger) Gerolsteiner                                   4.03.09
71 Michael Jones (USA) Health Net p/b Maxxis                       4.03.50
72 Scott Moninger (USA) Health Net p/b Maxxis                      4.03.93
73 Koldo Gil Perez (Spa) Saunier Duval-Prodir                      4.08.08
74 Sébastien Portal (Fra) Credit Agricole                          4.14.17
75 Bart Dockx (Bel) Davitamon-Lotto                                4.17.22
76 Scott Davis (Aus) T-Mobile Team                                 4.18.72
77 Thomas Peterson (USA) Team TIAA-CREF                            4.19.69
78 Zachary Grabowski (USA) Colavita Olive Oil-Sutter Home Wines    4.22.90
79 Fabian Wegmann (Ger) Gerolsteiner                               4.24.52
80 Mark Walters (Can) Navigators Insurance                         4.24.67
81 Mark McCormack (USA) Colavita Olive Oil-Sutter Home Wines       4.25.80
82 Mads Kaggestad (Nor) Credit Agricole                            4.26.77
83 Fausto Esparza (Mex) KB Home Mexican National Team              4.27.17
84 Tyler Wren (USA) Colavita Olive Oil-Sutter Home Wines           4.29.21
85 Justin England (USA) Toyota-United Pro                          4.30.60
86 Martin Elmiger (Swi) Phonak Hearing Systems                     4.31.90
87 Dominique Perras (Can) Kodakgallery.Com-Sierra Nevada           4.34.31
88 Frank Hoj (Den) Gerolsteiner                                    4.35.13
89 Nick Reistad (USA) Jelly Belly                                  4.38.32
90 Kyle Wamsley (USA) Colavita Olive Oil-Sutter Home Wines         4.38.91
91 Jonathan Patrick Mc Carty (USA) Phonak Hearing Systems          4.40.06
92 Matthew Rice (Aus) Jelly Belly                                  4.40.16
93 Miguel Angel Martin Perdiguero (Spa) Phonak Hearing Systems     4.42.07
94 Andrew Bajadali (USA) Jelly Belly                               4.49.65
95 Charles Bradley Huff (USA) Team TIAA-CREF                       4.52.74
96 Steve Zampieri (Swi) Phonak Hearing Systems                     4.55.66
97 Mike Sayers (USA) Health Net p/b Maxxis                         5.06.09
98 Martin Gilbert (Can) Kodakgallery.Com-Sierra Nevada             5.12.14
99 Preben Van Hecke (Bel) Davitamon-Lotto                          5.14.61
100 Michael Dietrich (USA) Kodakgallery.Com-Sierra Nevada          5.17.54
101 Sven Krauss (Ger) Gerolsteiner                                 5.18.01
102 André Greipel (Ger) T-Mobile Team                              5.19.36
103 Lucas Euser (USA) Team TIAA-CREF                               5.21.69
104 Kirk Albers (USA) Jelly Belly                                  5.23.22
105 Gilberto Simoni (Ita) Saunier Duval-Prodir                     5.26.37
106 Gustavo Artacho (Arg) Colavita Olive Oil-Sutter Home Wines     5.27.47
107 Benjamin Brooks (Aus) Navigators Insurance                     5.27.95
108 Brice Jones (USA) Jelly Belly                                  5.31.91
109 Juan José Haedo (Arg) Toyota-United Pro                        5.33.87
110 Davide Frattini (Ita) Colavita Olive Oil-Sutter Home Wines     5.35.35
111 Alex Candelario (USA) Jelly Belly                              5.39.27
112 Frantisek Rabon (Cze) T-Mobile Team                            5.45.85
113 René Haselbacher (Aut) Gerolsteiner                            5.47.10
114 André Korff (Ger) T-Mobile Team                                5.49.49
115 Jesus Zarate (Mex) KB Home Mexican National Team               5.52.69
116 David Robinson (USA) Kodakgallery.Com-Sierra Nevada            5.55.65
117 Peter Lopinto (USA) Kodakgallery.Com-Sierra Nevada             6.03.87
118 Caleb Manion (Aus) Jelly Belly                                 6.08.71
119 Charles Dionne (Can) Saunier Duval-Prodir                      6.38.63
120 Arquimides Lam (Mex) KB Home Mexican National Team             6.50.09
DNF Olivier Kaisen (Bel) Davitamon-Lotto                                  
DNS Jose Alberto Benitez Roman (Spa) Saunier Duval-Prodir                 
 
Teams
 
1 Team CSC                                                         1.49.58
2 Discovery Channel Pro Cycling Team                                  1.37
3 Phonak Hearing Systems                                              2.14
4 Health Net Presented by Maxxis                                      3.25
5 Davitamon-Lotto                                                     3.35
6 Gerolsteiner                                                        4.40
7 Toyota-United Pro Cycling Team                                      5.02
8 T-Mobile Team                                                       5.09
9 Navigators Insurance Cycling Team                                   5.25
10 Credit Agricole                                                    5.29
11 Team TIAA-Cref                                                     6.18
12 Prodir-Saunier Duval                                               7.00
13 Kodak Gallery.com/Sierra Nevada Pro Cycling                        7.14
14 Colavita Olive Oil/Sutter Home Wines Pro Cycling Team              8.32
15 Jelly Belly Cycling Team                                          11.12
16 KB Home Mexican National Team                                     11.52
 
General classification after stage 3
 
1 Floyd Landis (USA) Phonak Hearing Systems                        7.56.36
2 David Zabriskie (USA) Team CSC                                      0.29
3 Bobby Julich (USA) Team CSC                                         0.34
4 George Hincapie (USA) Discovery Channel                             0.45
5 Nathan O'Neill (Aus) Health Net p/b Maxxis                          1.08
6 Levi Leipheimer (USA) Gerolsteiner                                  1.10
7 Cadel Evans (Aus) Davitamon-Lotto                                   1.29
8 Thomas Danielson (USA) Discovery Channel                            1.49
9 Christian Vandevelde (USA) Team CSC                                 1.55
10 Jason McCartney (USA) Discovery Channel                            1.58
11 Nicolas Vogondy (Fra) Credit Agricole                              2.14
12 Bernhard Kohl (Aut) T-Mobile Team                                  2.15
13 Christopher Horner (USA) Davitamon-Lotto                           2.17
14 Josep Jufre Pou (Spa) Davitamon-Lotto                              2.20
15 Phil Zajicek (USA) Navigators Insurance                            2.32
16 Rémi Pauriol (Fra) Credit Agricole                                 2.52
17 Michael Barry (Can) Discovery Channel                              2.56
18 Saul Raisin (USA) Credit Agricole                                  3.11
19 Alexandre Moos (Swi) Phonak Hearing Systems                        3.22
20 José Angel Gomez Marchante (Spa) Saunier Duval-Prodir                  
21 Riccardo Ricco (Ita) Saunier Duval-Prodir                          4.10
22 Hayden Roulston (NZl) Health Net p/b Maxxis                        4.31
23 Viatcheslav Ekimov (Rus) Discovery Channel                         5.20
24 Gilberto Simoni (Ita) Saunier Duval-Prodir                         5.41
25 Heath Blackgrove (NZl) Toyota-United Pro                           5.50
26 Glen Alan Chadwick (Aus) Navigators Insurance                      6.11
27 Christopher Baldwin (USA) Toyota-United Pro                        6.13
28 Ben Jacques-Maynes (USA) Kodakgallery.Com-Sierra Nevada            6.20
29 Danny Pate (USA) Team TIAA-CREF                                    6.21
30 Vladimir Gusev (Rus) Discovery Channel                             6.26
31 Karsten Kroon (Ned) Team CSC                                       6.30
32 Paolo Savoldelli (Ita) Discovery Channel                           6.32
33 Pieter Mertens (Bel) Davitamon-Lotto                               6.37
34 Nicolas Jalabert (Fra) Phonak Hearing Systems                      6.38
35 Torsten Hiekmann (Ger) Gerolsteiner                                6.39
36 Valery Kobzarenko (Ukr) Navigators Insurance                       6.49
37 Robert Hunter (RSA) Phonak Hearing Systems                         6.55
38 Michael Creed (USA) Team TIAA-CREF                                 6.59
39 Janez Brajkovic (Slo) Discovery Channel                            7.36
40 Scott Moninger (USA) Health Net p/b Maxxis                         7.43
41 Mads Kaggestad (Nor) Credit Agricole                               7.58
42 Antonio Cruz (USA) Toyota-United Pro                               8.00
43 Koldo Gil Perez (Spa) Saunier Duval-Prodir                         8.02
44 Marco Pinotti (Ita) Saunier Duval-Prodir                           8.10
45 Martin Elmiger (Swi) Phonak Hearing Systems                        8.20
46 Jonathan Patrick Mc Carty (USA) Phonak Hearing Systems             8.22
47 Thomas Peterson (USA) Team TIAA-CREF                                   
48 Todd Herriot (USA) Colavita Olive Oil-Sutter Home Wines            8.37
49 Steve Zampieri (Swi) Phonak Hearing Systems                        8.43
50 Craig Lewis (USA) Team TIAA-CREF                                   9.12
51 David O'Loughlin (Irl) Navigators Insurance                            
52 Lucas Euser (USA) Team TIAA-CREF                                   9.16
53 Taylor Tolleson (USA) Team TIAA-CREF                               9.29
54 Brian Jensen (USA) Jelly Belly                                     9.36
55 Bart Dockx (Bel) Davitamon-Lotto                                  10.07
56 Dominique Perras (Can) Kodakgallery.Com-Sierra Nevada             10.25
57 Fabian Cancellara (Swi) Team CSC                                  10.30
58 André Greipel (Ger) T-Mobile Team                                 10.58
59 Scott Davis (Aus) T-Mobile Team                                   11.09
60 Michael Jones (USA) Health Net p/b Maxxis                         11.14
61 Stuart O'Grady (Aus) Team CSC                                     11.16
62 Caleb Manion (Aus) Jelly Belly                                    11.55
63 Jens Voigt (Ger) Team CSC                                         11.56
64 Sebastian Lang (Ger) Gerolsteiner                                 12.07
65 Davide Frattini (Ita) Colavita Olive Oil-Sutter Home Wines        12.16
66 Sergey Lagutin (Uzb) Navigators Insurance                         12.26
67 Bastiaan Giling (Ned) T-Mobile Team                               12.59
68 Arquimides Lam (Mex) KB Home Mexican National Team                13.02
69 Kilian Patour (Fra) Credit Agricole                               13.15
70 Jean Marc Marino (Fra) Credit Agricole                            13.27
71 David Kopp (Ger) Gerolsteiner                                     13.41
72 Scott Zwizanski (USA) Kodakgallery.Com-Sierra Nevada              13.50
73 Sébastien Portal (Fra) Credit Agricole                            14.05
74 Mark Walters (Can) Navigators Insurance                           14.06
75 Tyler Wren (USA) Colavita Olive Oil-Sutter Home Wines             14.11
76 Frank Hoj (Den) Gerolsteiner                                      14.13
77 Miguel Angel Martin Perdiguero (Spa) Phonak Hearing Systems       14.16
78 Fausto Esparza (Mex) KB Home Mexican National Team                14.30
79 Kyle Wamsley (USA) Colavita Olive Oil-Sutter Home Wines           14.33
80 Andrew Bajadali (USA) Jelly Belly                                 14.36
81 Preben Van Hecke (Bel) Davitamon-Lotto                            15.04
82 René Haselbacher (Aut) Gerolsteiner                               15.22
83 Benjamin Brooks (Aus) Navigators Insurance                        15.30
84 André Korff (Ger) T-Mobile Team                                   15.37
85 Michael Rogers (Aus) T-Mobile Team                                16.51
86 Lars Ytting Bak (Den) Team CSC                                    16.52
87 Michael Friedman (USA) Team TIAA-CREF                             17.04
88 Fred Rodriguez (USA) Davitamon-Lotto                              17.08
89 José-Manuel Garcia (Mex) Toyota-United Pro                        17.13
90 Olaf Pollack (Ger) T-Mobile Team                                  17.44
91 Viktor Rapinski (Blr) Colavita Olive Oil-Sutter Home Wines        17.55
92 Mariano Friedick (USA) Toyota-United Pro                          17.56
93 Timothy Johnson (USA) Health Net p/b Maxxis                       18.00
94 Aaron Olsen (USA) Saunier Duval-Prodir                            18.07
95 Gordon Fraser (Can) Health Net p/b Maxxis                         18.11
96 Gregory Henderson (NZl) Health Net p/b Maxxis                     18.37
97 Vassili Davidenko (Rus) Navigators Insurance                      18.43
98 Zachary Grabowski (USA) Colavita Olive Oil-Sutter Home Wines      18.58
99 Mark McCormack (USA) Colavita Olive Oil-Sutter Home Wines         19.03
100 Justin England (USA) Toyota-United Pro                           19.11
101 Matthew Rice (Aus) Jelly Belly                                   19.27
102 Charles Bradley Huff (USA) Team TIAA-CREF                        19.31
103 Nick Reistad (USA) Jelly Belly                                   19.35
104 Mike Sayers (USA) Health Net p/b Maxxis                          20.04
105 Michael Dietrich (USA) Kodakgallery.Com-Sierra Nevada            20.06
106 Sven Krauss (Ger) Gerolsteiner                                        
107 Martin Gilbert (Can) Kodakgallery.Com-Sierra Nevada              20.16
108 Juan José Haedo (Arg) Toyota-United Pro                               
109 Jackson Stewart (USA) Kodakgallery.Com-Sierra Nevada             20.17
110 Kirk Albers (USA) Jelly Belly                                    20.27
111 Brice Jones (USA) Jelly Belly                                    20.36
112 Alex Candelario (USA) Jelly Belly                                20.37
113 Frantisek Rabon (Cze) T-Mobile Team                              20.52
114 Peter Lopinto (USA) Kodakgallery.Com-Sierra Nevada               21.10
115 Charles Dionne (Can) Saunier Duval-Prodir                        21.52
116 Jesus Zarate (Mex) KB Home Mexican National Team                 23.34
117 Fabian Wegmann (Ger) Gerolsteiner                                26.13
118 David Robinson (USA) Kodakgallery.Com-Sierra Nevada              28.15
119 Gustavo Artacho (Arg) Colavita Olive Oil-Sutter Home Wines       29.14
120 Domingo Gonzalez (Mex) KB Home Mexican National Team             35.33
 
Best young rider
 
1 Thomas Peterson (USA) Team TIAA-CREF                             8.04.58
2 Craig Lewis (USA) Team TIAA-CREF                                    0.50
3 Taylor Tolleson (USA) Team TIAA-CREF                                1.07
4 Zachary Grabowski (USA) Colavita Olive Oil-Sutter Home Wines       10.36
 
Team classification
 
1 Team CSC                                                        23.51.58
2 Discovery Channel Pro Cycling Team                                  1.40
3 Davitamon-Lotto                                                     3.58
4 Phonak Hearing Systems                                              5.59
5 Credit Agricole                                                     6.07
6 Prodir-Saunier Duval                                                7.35
7 Health Net Presented by Maxxis                                     10.21
8 Navigators Insurance Cycling Team                                  12.41
9 T-Mobile Team                                                      16.38
10 Team TIAA-Cref                                                    17.02
11 Toyota-United Pro Cycling Team                                    17.31
12 Gerolsteiner                                                      17.34
13 Kodak Gallery.com/Sierra Nevada Pro Cycling                       26.18
14 Colavita Olive Oil/Sutter Home Wines Pro Cycling Team             27.19
15 Jelly Belly Cycling Team                                          32.18
16 KB Home Mexican National Team                                     44.56