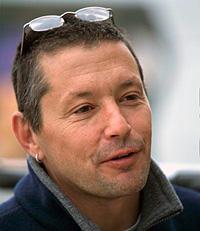 Photo ©: Chipps
Test to destruction: The Keith Bontrager diary 2006
Keith Bontrager is best known as the bike and component design guru behind his eponymous road and mountain bike components, but behind the scenes the man universally known as KB is an enthusiastic and well-respected endurance mountain bike racer.
KB has taken part in a over 50 24-hour races in the last few years, and in his diary takes us inside the mental, physical and technical challenges of long-distance mountain bike racing while juggling the demands of an active interest in the successful international business he began all those years ago.
Transrockies Stage 2 report, August 21, 2006
Global warming is not my thing
I took me a while to get to this, for all the reasons that you'd imagine.
I'd recovered well and felt good the next morning. I was like a water balloon, full of fluids, salt and minerals. We started at a modest pace because there was a 1000 metre climb in the first 20 km or so. That all went well.
Then I popped again. I'd been drinking and eating to the plan. Things were fine until I got past the second control station, about 55 km in or so, on a hot exposed climb. I lost power, got nauseous, puked, couldn't eat or get my mineral supplements down. I sucked on a salt tab like a lozenge and sipped water. In that state I rode as I could to the finish but ended up cramping badly for two hours. My team-mate Richard was helping me with my bike on the steep hiking sections late in the race. I was a mess.
There has to be a solution
Photo ©: Keith Bontrager

I collapsed on a cot after finishing and my legs were locking up repeatedly. I couldn't get back up without cramping. It was comical I suppose, in a dark sort of way, ghosts chewing on my quads. But I've had this happen before and the damage it does to my legs is not something that goes away overnight. It's like the day after the first day back lifting weights - only many times worse. That was that.
Global warming is not my thing.
It was tough being around the race after that. I just wanted to get away and move on to the next thing. I do hope to salvage something decent to end this season with.
There is a lot of racing left to do and it should be OK even if it is hot. All of the races are 24 hour races or one day events. I am going to have to pass on the Kona Global Series 24 hour race in Winter Park, which is unfortunate. It's a good event and I wanted to get there. There is a new 24 hour race in Landahl Missouri that I am going to race in with some fast masters racers, then the 3 Peaks cyclocross followed by a new event in Arizona called the Tour of the White Mountains and then the 24 Hours of Moab will end it.
Beautiful view, but weather was hot
Photo ©: Dan Hudson

In the meantime I am going to see what I can do about the problems in heat so I can do a bit better at longer multi day events next year. Either that works out or I move to Nome.
Am I born faulty, or is there something that I am doing or have done wrong that is causing this?
What I know:
- It's not simply the heat. I can do fast laps in a 24 hour race in hot weather, as long as I can recover and re-hydrate between laps. The problem comes up with the way I respond to heat over a longer event, and the consequences of that response. Heat is relative too, but in Portugal a ten degree Celsius change made all the difference.
- I sweat at a very high rate. I've already found studies that talk about the wide variation in sweat rates. That means that I need to drink more fluids on course as other riders do in order to stay hydrated in hot weather. I have to figure out how that works for me, then be much more disciplined about a hydration plan.
- I also lose minerals at an alarming rate. Several people noticed that my jersey was standing up all by itself after the second stage. The pockets were crusted with minerals and had hardened. Yuch!
- Sensitivity to this seems to be increased by past events. That sucks.
- Acclimatization to heat causes a higher sweat rate and a lower rate of mineral loss. That's good in one respect and not good in the other.
- Dunno.
KB
Transrockies results are here.