An interview with Trixi Worrack, April 29, 2005
The trick's taking it one step at a time
An all-rounder for one day events or stage races, German cyclist Trixi Worrack is one of the pillars of Equipe Nürnberger. The 24 year-old showed her great class for the first time when she won the World Time Trial Championships in 1998 as a Junior rider. Since then, the ambitious multiple German champion has continued to build up a successful career, winning the overall classification of the Tour de l'Aude last season and most recently taking victory at Primavera Rosa - by accident, so to speak, as she was actually planning to lead out the sprint for her teammates. Cyclingnews' Hedwig Kröner talked to Germany's next big female cycling star on the eve of the Flèche Wallonne 2005 World Cup race.
Big smiles at Tour de L'Aude Feminin in 2004
Photo ©: velopalmares.free.fr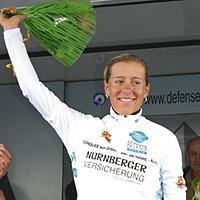 Cyclingnews: Congratulations on your victory at the Primavera Rosa. How did you see the finale on the Via Roma?
Trixi Worrack: Thanks. We were four in the front group that numbered about thirty riders, so we had several options open for the final. And when it came to the sprint, I was leading out for Oenone Wood and Regina Schleicher, but somehow I opened a gap to this group, so I just continued.
CN: How did your teammates react?
TW: Well, Oenone finally got third, and Regina fourth. We were all very happy! In the end, what counts is that our team wins the race. It's not about which individual rider does it.
CN: What happened at the next World Cup race, Tour of Flanders?
TW: Two riders were leading, and we were in the main bunch of about 20, chasing behind them. Then, one kilometre before the finish, we were directed the wrong way, so we didn't make it to the finish line [Worrack as well as the other riders were 'DNF' - ed.]. We'd been racing for third place, but in the end the group behind us got that. The World Cup points were awarded, and although we did protest against that decision, we couldn't change it. It was a real shame. At the time, Oenone was leading the World Cup, and I was second. We lost so many points because of that, and it wasn't even our fault. What a useless experience.
Trixi Worrack
Photo ©: Gruenewald

With Anita Valen at Tour de L'Aude in 2004
Photo ©: velopalmares.free.fr

Looking sleek in NZ
Photo ©: Mike Heydon

Trixi Worrack
Photo ©: Gruenewald

CN: Did this event change anything to the goals your team had sought after?
TW: No, not really. We will try to win races again, but it's still a pity that those overall World Cup points are gone. We can't change anything about it now...
CN: Equipe Nürnberger has a lot of very good riders on its roster. How does the team manage that?
TW: Well, the team and its management are under a lot of pressure having so many good riders! But until now, everything went just fine; we won some races so that was good. It took the pressure off a bit.
CN: Which races are your objectives this season?
TW: I haven't really pinpointed any, to be honest. I'm more the type of person that takes it week by week, or month by month. Of course, the World's are a highlight every year. And the World Cup races are important too. But I do feel more suited to stage races than one day races.
CN: So the Tour de l'Aude is on that list?
TW: Yes, definitely, although it is hard to say at this point wether I will be able to win it again. [Worrack won it last year and placed fifth in 2003 - ed.] It is a race that suits me very well; it takes ten days to win it but then again, in ten days anything can happen. We'll see.
CN: Will you travel to France to reconnoitre some stages?
TW: No, we don't do that in women's cycling. At one-day races it's feasible, because you are already on location, but not at stage races.
CN: What are your goals for the Women's Flèche?
TW: I want to place as high as I can, and help Oenone who could be up to a victory there. I was third at Flèche before [in 2001 - ed.], but it's a very hard race. All depends on wether we get to the foot of the Mur de Huy together or if a break makes it before the bunch. That last climb is really tough, it will make the race explode.
Editor's note: Trixi finished 12th in La Flèche Wallonne, 30 seconds behind winner Nicole Cooke. But importantly for her and the Nürnberger team, Oenone Wood's second place on the Mur de Huy gave her back the World Cup jersey.
Photography
For a thumbnail gallery of these images, click here
Images by Photo Gruenewald
Images by DCP/Bert Geerts
Images by velopalmares.free.fr/www.velopalmares.free.fr
Images by Mike Heydon/www.jetphotography.co.nz
Images by Joel Roberts