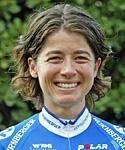 Photo: © Nurnberger
The Olivia Gollan - Nürnberger Diary 2005
A stalwart of the AIS women's team for the last few years, Olivia Gollan turned pro in 2005 with the top German Nürnberger Versicherung team, which has also signed fellow Aussie Oenone Wood. Follow Oliva's escapades through her exclusive diary on Cyclingnews.
2nd Women's Ronde van Vlaanderen - Belgium, April 3, 2005
A bad day for the authorities and my team!
As we drove to the start of Ronde de Flanderen yesterday we all reflected on the disasters that fell on us last year. Oenone crashed and had to have a bike change early in the race - it took the AIS team about 20km to sort that one out! Judith crashed, broke a rib and had to abandon the race. Regina crashed and ended up with a massive cut on her leg and had to abandon the race. BUT - Trixi had finished on the podium so there was hope.
I am not really the woman who should be writing this piece if we want to read a story about the 'business end' of the bike race. I can tell you some interesting details about what happened in the 'hoop group' and about a sky high heart rate that never seemed to want to come down and about those girls who always seem think it worthwhile to attack the last group to finish 70th. It was really not a good day for me but I am looking on the bright side - it is beautiful weather here in Frankfurt today.
The disaster that befell us yesterday was thankfully not a crash or injury. The second group of around 20 riders - including Oenone Wood, Trixi Worrack, Nicole Cooke and many other big names were directed the wrong way less than 2km from the finish. Mirjiam Melchers and Sussane Ljungskog were clear of the main field and were directed the right way only 30 seconds or so before. They were the deserved winners of the race - a classy ride from both of them. BUT, what of third place? According to the results page the world cup leader abandoned the race with less than 2km to go and an Italian girl Monia Baccialle finished third in a group that was a minute behind Oenone and Trixi's group.
You can imagine the disbelief in our camp. How does this happen in a world cup race? According to UCI regulations the riders must know the way and it is their responsibility if they end up on the wrong road. But, when five people in red vests stand in front of you pointing in a certain direction you tend to believe that they know what they are talking about. If we all had to memorise every street for the 80 or more races we attend each year there would be no time to train. The blame for yesterday lies somewhere and I don't think it is with the riders. Regardless of the rules there were people directing traffic and they directed 20 women up for a podium finish in a world cup the wrong way.
There are a group of people from the UCI fighting very hard at the moment to make our sport a better thing all round. It is very encouraging to think that there is now an element of protection for the women riding as professional cyclists and a body of people looking out for our safety and well being. It is really disheartening when something like yesterday happens because it makes our sport look less professional and it makes us all look a bit foolish. Especially when our race was showcased against the men's yesterday - a great opportunity for us to get some exposure and then this disaster! It is a great shame but we can just try to keep going forward.
Perhaps there is a lesson in all of this - don't laugh at the girls attacking the last group because you never know what has happened up ahead. You could be up for a world cup victory. And I think I heard Mirjiam say to a journalist that we were lucky to win in San Remo? Maybe I didn't hear that right but hopefully we will have some more luck in Fleche Wallone in a couple of weeks. But for yesterday, well done mate. I know how good you are on a course like that!
OG