Peter Latham profile, November 7, 2005
Te Awamatu Prodigy
Choose life...choose a job...choose a career...choose a family...choose a big television...washing machines, cars, compact disc players and electrical tin-openers...choose your future... (Ewan McGregror, "Trainspotting")
Peter Latham
© Mike Heydon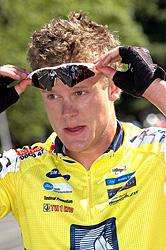 Age: 21
Born: January 8, 1984
Place of Birth: Te Awamutu, New Zealand
Weight: 67 kg
Selected career highlights
2005
2nd Team Pursuit Los Angeles World Cup
4th Madison Los Angeles World Cup
4th Team Pursuit World Championship
7th Madison 50km World Championship
3 stages wins, Tour of Wellington UCI 2.2
4th Stage 4 Ronde de l'Isard UCI 2.2 U23 World Cup
25th Paris Roubaix U23 World Cup
1st GC Trois Jours de Cherbourg
3rd Time Trial U23 World Road Championships
2004
1st Time Trial New Zealand Elite Road Championships
1st Road Race New Zealand U23 Road Championships
1st Stage 5 TT Tour of Southland UCI 2.2
New Zealand Olympic Track team
Peter Latham experienced the same parental pressures as most aspiring racers do - go to university, earn a degree, make money, and have a family. Dutifully, he began a university education in land surveying at Dunedin on the South Island, but has since suspended coursework to choose another path. Cyclingnews diarist John Lieswyn profiled this unassuming, determined young rider at the recent K2 and found out how he has become one of the hottest rising stars of New Zealand cycling.
Lieswyn and Latham
Photo ©: Barry Harcourt

New Zealand may not have the population and economy to support professional road racing as does the USA or Europe, but per capita it produces far more top level cycling talent. New Zealand's secondary school cycling program introduces high school students to the sport, and many towns, including Peter's rural hometown of Te Awamutu, have a concrete velodrome. Tracks offer supervised, safe and traffic-free environments for secondary school competitions and give federation officials a method for selecting the best new talent to represent New Zealand on the international stage. Junior riders are inspired by the Olympic, World Championship and ProTour successes of Sarah Ulmer, Julian Dean, Hayden Roulston and Greg Henderson. Their careers reveal a definitive ladder to a professional contract with a road team overseas.
Peter Latham began cycling in a school program at age 13. Riding on the Te Awamutu high school team with T-A's other hot prospect, Tim Gudsell, he won the national secondary school championship, a team time trial held yearly in Palmerston North. A tragic accident that took the life of one Tim and Peter's clubmates had a profound effect on the surviving members of the Te Awamutu team. Peter attributes the sobering effect of the crash with a car on a descent as the reason behind his only apparent cycling weakness - cautious descending. Although he won't be nicknamed anything like 'Il Falco', Peter is well known for his time trialling and has a powerful sprint to boot. As I found out during our recent duel for third place at the K2!
On track
Photo ©: Dana Ross

By age 19, track cycling took Peter to the Stuttgart World's, at 20 he was in the Olympics and now at 21 he's medalling at the World Cup level. Thanks to changes in UCI scheduling of track and road, he will have a better chance to maintain his track program while aiming for his primary objective: the European road circuit and the Grand Tours. This year's biggest road result, the one that has put him on the radar of pro teams everywhere, was his podium finish in the U23 World Time Trial Championship.
In 2005, Peter spent five and a half months and about 50 races living nomadically out of a suitcase in Europe whilst racing for Team Côte d'Amor. The team is headquartered in St. Brieuc, about 60km from Rennes, and has arranged a local host family. Peter has been learning the language at the dinner table and from his French university student girlfriend Celine (sorry ladies!). When immersion in French becomes tiresome, there are two other English speakers on the team, a South African and an Australian, who live about 15km away.
The potentially mind numbing downtime hours a cyclist must stay off his or her feet can bring out homesickness. My contemporaries such as Fred Rodriguez have told me that one secret is to establish a full-on home base in Europe with one's own mobile phone, apartment, and car. All this costs a fair bit of money, however, and is most appropriate for those riders who have a full time pro tour job. Peter revealed one of his ways of combating boredom - he takes journalism classes online and writes for the bimonthly V02Max multisports magazine.
A star on the road
Photo ©: AFP

I asked Peter what piece of advice he could give to other juniors and U-23's hoping to race overseas. He responded with the old adage that "if you can't win in NZ, then you aren't ready for Europe." The underlying concept is that winning locally yields confidence to survive the initial drubbings received in a bigger, faster field. Peter went on to remind first timers of the rather basic living conditions and itinerant lifestyle. "It's not a sightseeing vacation. Things don't always go your way. Most of the time you see only the highways between towns, the roads you race on, and the inside of hotel rooms."
Based on his record so far and the praise of his opponents and teammates, I have no doubt that Peter will be one to watch in coming years.
Photography
For a thumbnail gallery of these images, click here
Images by Barry Harcourt/The Southland Times
Images by Mike Heydon/jetphotography.co.nz
Images by Dana Ross/danarossphoto.com
Images by AFP Photo
Images by Fotoreporter Sirotti