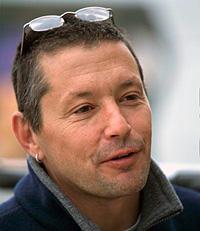 Photo ©: Chipps
Test to destruction: The Keith Bontrager diary 2005
Keith Bontrager is best known as the bike and component design guru behind his eponymous road and mountain bike components, but behind the scenes the man universally known as KB is an enthusiastic and well-respected endurance mountain bike racer.
KB has taken part in a over 50 24-hour races in the last few years, and in his diary takes us inside the mental, physical and technical challenges of long-distance mountain bike racing, starting with one of the sport's greatest tests, the seven-day TransRockies Challenge.
August 14, 2005
Coulda woulda shoulda
I wrote the first part of this before the stage, so I thought I'd at least catch up on the result.
The day went well. It is my sort of stage really, shorter, faster, and lots of techincal singletrack. I managed to get it done in under 3 hours, despite getting lost twice and crashing fairly hard twice too. So much for keeping the rubber side down. It was worth it though.
The racer in me made me do it, and made me ride the rest of the stages after Steve had to abandon at race pace too. I did that for a few reasons.
I wanted to prove to myself that I was well prepared for this event. I'd put a lot of time and miles in for that.
I've also had some troubles recovering after a few very hard days of racing in the past and had tried hard to work that out. I was encouraged.
I wanted to prove to myself that I could be competitive in the new age group too. In spite of all of the soft pedalling I do when I talk about it, this is a race and that is why I am here.
The last bit worked out. Here's the what if part. None of this is meant to take away anything from the guys who did well this year. They have my complete respect. Call it the prologue for next year, some rough calculations to see where we stand, that sort of thing.
Steve abandoned while we were 3rd in the GC, and that was after he had to limp for along at half throttle for two days. Turn his power back up and we would not have lost as much time on those stages. Then put Steve and me on the course working together on stage 5 through 7. We would have been faster than I was riding alone, both because we could have worked together on the fast sections and because I ride singletrack faster when I have to chase Steve. He is faster than I am on that stuff.
Then take away the 6 hours of penalties I incurred for riding alone (rules are meant to be broken sometimes) and we could have been right with the Aussie Ratz on GC.
I am certain they were riding a bit defensively once they had the GC worked out, so there was no doubt they could have taken some time back out of us had they been pressed and going full throttle.
The Olympia Prarie Boyz team were also going very well before Lindsey separated his shoulder. They might have been too fast for everyone. Dunno.
But it is encouraging, and the best way to find out is to show up for next year's event.
Until then,
KB