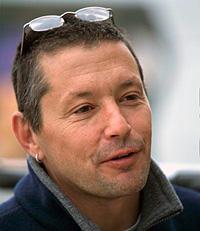 Photo ©: Chipps
Test to destruction: The Keith Bontrager diary 2005
Keith Bontrager is best known as the bike and component design guru behind his eponymous road and mountain bike components, but behind the scenes the man universally known as KB is an enthusiastic and well-respected endurance mountain bike racer.
KB has taken part in a over 50 24-hour races in the last few years, and in his diary takes us inside the mental, physical and technical challenges of long-distance mountain bike racing, starting with one of the sport's greatest tests, the seven-day TransRockies Challenge.
August 13, 2005
A call to the pros
It's 6 AM and the sun is just coming up. I am on the wrong schedule today. Seems I've become accustomed to waking up at 6 in order to start at 8, the normal start time for all but the first, and apparently the last day. We start at 10 this morning, a very sensible hour. So, cup of coffee in hand, I will put the time to good use. The early start on this is fortunate since it is unlikely that my brain cells will be firing in any sort of predictable order after the first beer this afternoon anyway.
It's a short ride into Canmore from here, 45 km or so, with over half singletrack. This will be a piece of cake after all of the days that have come before. I am putting my fast tires back on to celebrate the sun too. The day's strategy is simple. First, wipe the ice off the saddle thoroughly. Then, keep the rubber side down, chase the phantom hard, don't get hurt, and finish it off right.
One thought came to mind through the fog of fatigue last night. Given the density of that fog at this point, it is remarkable that anything resembling a thought came to me at all. Or maybe not - you can read the idea and decide for yourself:
Pros from North America and Europe should adopt this race as part of their calendar. Ten elite-level pro teams, men and women, duking it out in a situation that is as wide open as this would be a great race. Frankly it would be much more interesting and less predictable than most of the one day events. They've got the support and resources to do it as long as there are no big scheduling conflicts, and there is enough prize money at the end to make the pay day worth their effort if they are successful.
Bike and component manufacturers, clothing companies and sports drink companies all have a direct enough connection between the event's challenges and the things they make, so the marketing story will be interesting to their customers.
The course has enough variety to accomodate all of the specialists and spread things out - the race at the front would definitely not be predictable. There is a talented film crew, some seasoned journalists, and a helicopter here documenting the race, so the presentation to the public on a outdoor sports channel would be easy and very entertaining. The mix of amateur riders experiencing the hardships would also give it a very real, "I can relate to that" spin to a lot of cyclists and outdoor extreme types.
Besides the prize money, it is also a good way for the riders to get some serious fitness before their last big events of the year. Bart Brentjens proved that after he slaughtered everyone in the Cape Epic this spring, then went on to have a very good early season in the world cup races and European marathons he rode.
And, exposing my personal fetish I suppose, manufacturers will learn some things about the durability of their stuff, or its shortcomings, and that is always valuable. I've picked up some gems this year.
Not to tip my hand, or to take any thunder away from Andreas Hestler and Marty Lazarski, but if Jeremiah Bishop and Chris Eatough took this one on, it would be interesting. The Rocky Mountain lads are fit, and riding on their home turf. The Trekkies seem to adapt well in all sorts of technical terrain and are also going well. There are a few top Canadian riders that would be in the middle of it too. It would be a great race.
One day racing is good, but seems to have bumped into some limitations. Marathon racing is new and getting some attention. It's always been huge in Europe. This race is the supersized version of a marathon race with the team twist. It ought to happen.
One last bit, some inspiration for the geriatric competitors out there. Kerry Ryan of the Aussie Ratz team (the GC leaders in the 100+ category) is 63 years old. He has been finishing well up in the entire field everyday. Think about that one. How well will you be going on your bike at 63? Respect.
Last thing - I am a little disappointed because I haven't seen a bear yet. The organizers tell me that I'll get by OK without. Dunno. I guess I'll have to wait until next year. I think I have Steve talked into taking another shot at this.
Adios,
KB