Belgium, Zottegem, December 14, 2004
Mission accomplished
Surprise!
Photo ©: Alex Van Limbergen

Food, food and more food.
Photo ©: Filip De Backer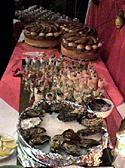 Watching the video footage
Photo ©: Filip De Backer

Cutting the cake.
Photo ©: Filip De Backer

For the first time since I have retired from professional racing, I have found the time to update my diary. Apologies are in place, for not answering all e-mails with congratulations concerning my retirement and new career as DS with CSC. I appreciate the kind words greatly and have filed all mails in a folder. In time they will get answered.
Other years, the end of the season brings with it a time of recuperation and rest. Now, it's been very different. I don't recall being this busy during the winter for a long time and sometimes it seems that my day should hold 34 instead of 24 hours.
But, I'm not complaining - on the contrary.
Family and friends remark on how relaxed and happy I look. My decision to say goodbye to professional life on the bike and pursue a different career in cycling is obviously agreeing with me.
Surprise party
I knew something was brewing, 'cause Sabine was getting too many telephone calls and when she answered them she always left the room; something she never does. I laughingly mentioned to her best friend that I was beginning to think she had a boyfriend!
As it was leading up to my birthday, I didn't make any further enquiries; thought she might have been organising a diner with friends at our place on Sunday the 28th.
Instead, after having lunch and an afternoon nap with the youngest son on what started as a lazy Sunday, I was told to dress casual and wait. My brother-in-law Filip came to the apartment and I was taken away, blindfolded.
Imagine my surprise when I uncovered my eyes and saw just about everybody I know well here in Belgium looking at me and yelling out "horray!".
It turned out to be an unforgettable evening, with great food, plenty of booze and good fun in the company of my family and best friends here in my second home-country. My brother Peter had sent over a DVD with video footage from my parents, family and friends in Inverell. It was all done in fair-dinkum Aussie style and bloody hilarious.
It will be something I'll always cherish, the memories of my 38th; also because of the awesome retirement gift (watch) everybody contributed to. Many many thanks!
Meetings and planning
There's always a bit of partying and foolin' around going on during the months of October and November. The athletes need to unwind and refresh their social lives; it is essential to do this to keep coping with the stress of performing for so many months per year on a demanding and high level. Everyone knows that for a pro cyclist who rode a full season, the serious work starts again in December. And for me, as a DS, it is still the same.
The get-together with my new team CSC was something I was looking forward to. I had heard all about Bjarne Riis' special way to motivate his riders and personnel and I knew it would be interesting to experience it all first-hand.
Kim Andersen picked me up and we drove up to Denmark. It gave us the opportunity to go over a few matters, before having the meetings with sponsors and riders. There's a considerable amount of planning and organising that has to be done before the season actually starts. With CSC, nothing is left to chance and every little detail is analysed and discussed, so that every rider in the team can rely on the best possible resources and support.
After speaking and seeing some of the new sponsors and the product range for 2005, it is safe to say that the team will be decked out with and riding some of the best gear on the market. Keep an eye out for the team pics in January!
Team CSC Challenge 2004
All aboard the good ship CSC!
Photo ©: Team CSC

The survival camp was the big apotheosis to the week. There are not much technical details to tell you about, as that was all nicely explained by BS Christiansen in the special Cyclingnews feature. It definitely was an eye-opener to most of us, to see how tough these soldiers are, how intense their training is and the amazing stuff they are physically and mentally capable of.
The result of the 48 hours in the shoes of soldiers (literally!) were many blistered feet, exhausted bodies and maybe some slightly dinted egos here and there, but man, it was a great experience with a dash of fun!
From now on, we all know how to make an Italian coffee, Lombardi style. At 03.30 hours, while trekking through the forest during an exercise, one takes a sachet of instant coffee (preferably from an army food ration kit) and one sachet of sugar. Proceed to empty these in ones mouth, add some rationed water, gargle and swallow. It's not about the taste, it's all about the caffeine effect.
Also, never discard wrappers, as Lomba might be around later to lick the remains of chocolate powder out of any sachet while moaning "I'm hungry, I'm hungry." To his great relief, four long hours later, we received another ration box; this one was to last us another 26 hours.
It was supposed to be a team building camp, but when opportunity arises, you might as well get rid of some team-mates. Like Tristan Hoffman, when he shot Michael Blaudzun during the hostage rescue exercise. By mistake he claimed. Yeah, right!
During reconnaissance, Lars Michaelsen and myself were doing the ordnance map reading. We managed to get the whole unit (13 people) lost and spent an extra hour and a half wondering around in the woods. No big drama; it only took that precious time off our couple of hours of permitted sleep and it added some nice big blisters brought on by the comfy army boots, so no-one in the group had hard feelings towards us both; honestly, they said they didn't.
I might laugh about it now, but it was bloody tough. Even some of the heavier, more solid guys in the team pushed themselves beyond the point of exhaustion. The 20kg heavy backpack didn't help there. One of the riders had to be given sugars and water to get his energy levels up, after collapsing suffering from hunger and tiredness. The rest of his unit worked together to get him on his feet again as he insisted on continuing the last two km of the trek.
We all learned something as individuals; and we definitely learned a lot as a team.
Mission accomplished.