Recently on Cyclingnews.com
Special news feature, December 12, 2004
Bjarne's boot camp
Team CSC trains military-style
The entire team
Photo ©: Team CSC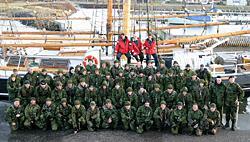 "I have never experienced anything like it," said new CSC directeur-sportif Scott Sunderland with a painful grin on his face, soon after returning from an unorthodox, 48-hour survival test in the Danish countryside.
"We didn't have any clue of time nor place," Sunderland explained. "We didn't know where they took us and we had to hand over our mobile and watch. They split us up in groups of 13 people and we were on the go for 48 hours. We got the whole military kit, huge backpack and all. Over the last two days, we didn't get to sleep much more than a couple of hours. Under the open sky and on an island; and that wind cuts through you; it was horrible, really. Our feet are all blistered and we were absolutely knackered after the two day ordeal."
That's how it goes when 'General' Bjarne Riis assembled his troops for the first of Team CSC's training camps to mark the start of a new team and new year (well, almost). But it wasn't the first time the CSC manager got riders and personnel from the world's second ranked cycling team together for a session of outdoor team building. Earlier this week, a group of over 50 people was transferred to a military base in the woods of Viborg, a place in Jutland, in the far north of Denmark, for a five-day extravaganza of similar proportions.
As on previous occasions, team advisor B.S. Christiansen was the man behind the team building camp. With his 28 years in the Danish Commando Unit, Christiansen is one of the most highly-trained elite soldiers in NATO, and has experienced all kinds of military training methods, including a Ranger school in the United States, and has also taken part in numerous national and international training exercises and operations.
All aboard the good ship CSC!
Photo ©: Team CSC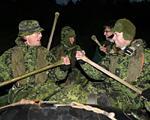 "It's all about teaching people, that they can achieve their goals by cooperating. They have to perform their very best under the worst possible circumstances, where every action has a consequence," Christiansen explained.
He emphasised that during the team building camps, riders and staff members will often develop a kind of co-dependency. "It's very important that the participants are unprepared for what's in store, and also that it's an outdoor camp, where no one can escape from the various assignments," he said. "In this way, people get to know each other in a completely new way, which at the end of the day, will create a team spirit, as it's about sticking together when the going gets tough. You evolve as a person when put under pressure."
Christiansen stated the nature of the different assignments the Team CSC riders have to go through is no coincidence, revealing that there is a marked difference in how professional riders react under pressure compared to business executives.
"You have to put more pressure on the riders than the business men, both mentally and physically, but when a rider is under a lot of pressure, he reacts very selfishly, and that's where I have to work with them. I'm puzzled by the fact, that no other cycling team is using team-building in such shape or form. When you're in the middle of the Tour de France, it's very important to keep up the team spirit, even when things aren't working out, the way you thought they would," he concluded.
Making headlines
Photo ©: Team CSC
Despite feeling knackered, sore and blistered, Sunderland appeared to be glowing with excitement. "We had some great fun too; it was awesome to experience this. It started off like a big game, but it turned into a serious fight for survival," he said.
"We had to build a temporary bridge, get from the ship to the beach in rubber raft boats, participate in a hostage situation, trying not to get ambushed. For a New South Wales boy from the bush, it was fantastic; I loved it!"
"And now I've had some sleep, I'll get ready for the party tonight; I'm expecting to get 'baptised', as well as the other new guys on the team - it's tradition. Luke Roberts, the other new Aussie better be on his guard too, I think they've got some crazy stuff planned!"
Photography
Images by Team CSC