A new career awaits...
Belgium, November 4, 2004
Dear Cyclingnews readers,
Winning the GP Pino Cerami
Photo ©: Belga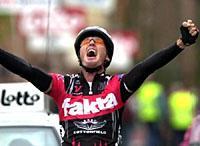 With three weeks to go to my 38th birthday I'm making it official: I'm putting a full stop behind my career as a professional cyclist.
To some it might seem like a logical decision, keeping my age in mind and knowing that this 15th pro-season was as rewarding as it could get. Others will react disappointed and will advise me to have a go at yet another season on the bike. But my mind is set, I'm calling it a day.
This decision hasn't been made overnight. Regular readers of my diary know that I was thinking about making the 2004 season my last one. Cycling has been good to me. I started racing at the age of 7 and becoming a professional was my biggest goal from that moment on. Once I achieved that feat, new challenges were always motivating me. My love for cycling, the unconditional help and patience of my wife Sabine and the trust of all those people who kept believing in my abilities made it all possible. During the hard times I was always supported by the friendship of my colleagues in the peloton and the Cyclingnews readers.
This year was very fulfilling for me. Having the opportunity to have Saën on the top bar of my bike on the Champs Elysées was the most rewarding moment of my career and the icing on the cake. From now on I'm an ex-professional cyclist, but I'll always be his dad and to share that moment with him was wonderful and will stay with both us.
"Since I made the decision to retire, different aspects of my life seem to be synchronising and...the formalities to a new and interesting career are being finalised.."
- Scott Sunderland looks ahead
All in all this year was bloody awesome and I felt, after getting sick in the Vuelta, that more than ever I was ready to bring it to a close. I considered a couple of offers and I was flattered that there is still interest in the old dog. But I played with the idea of continuing for yet one more year only briefly. Yes, I still love competing, and I still am eager to get out on the bike, but the fact is, my interests have widened. I have been thinking more than just training, eating, resting, racing for a while now.
Scott and Saën
Photo ©: CN

My desire to complete my knowledge in the field of athletics with an academic training was already triggered years ago and I've set out to pursue that goal. Bet some of my teachers from my home town high school, McIntyre High will be dumbfounded: Scott Sunderland back to the books at the "wise" old age of 38; but mate, I love every bit of it!
Since I made the decision to announce my retirement different aspects of my life seem to be synchronising and as I write this, the formalities to a new and interesting career are being finalised. I'll be able to tell you more about that some time next week!
For now, I want to thank my family, friends, my fans and all those people who have been in contact with me via my diary on the Cyclingnews site over the years, for their interest, support, feedback, their warmth and their admiration which I have felt and greatly enjoyed all along.
Yours in cycling,
Scott
Scott Sunderland: The pro's pro
By Jeff Jones, Chief Online Editor
Being interviewed
Photo ©: Sabine Sunderland

Scott Sunderland's retirement from the professional ranks after a 15 year career marks the end of an era of the Aussie 'Old Guard'. Scott was the last of a gang of Australian riders that included Phil Anderson, Neil Stephens and Allan Peiper, who were active in the 80's and early 90's and helped pave the way for the next - and very successful - generation of Australian pro's in Europe. Like Anderson and co., Scott was one of the self made men who came to Europe with little preparation but enough determination to make it as a pro in one of the toughest sports in the world. Scott's career has spanned the retirement of Anderson to the rise of Allan Davis, with the still extant careers of Michael Rogers, Stuart O'Grady, Robbie McEwen, Brad McGee, Baden Cooke and Cadel Evans falling in between.
Scott's own career has been a successful one too. From his first professional race win in the Trofeo Pantalica in 1991, to finishing 5th in Milan-San Remo in 1992, being awarded Australian cyclist of the year in 1993, having an excellent spring in 2001, right through to finishing the 2004 Tour de France. It has been marked by many ups and downs, including the life threatening crash in the 1998 Amstel Gold Race, where he was hit by a car driven by TVM's Cees Priem. Scott felt the ramifications of that for the rest of his career as his body has never been the same since. Not only that, the Sunderlands are still trying to win their court case for damages against TVM, which has occupied a considerable amount of their time over the last six years.
Despite this, Scott can look back on his career with a lot of satisfaction and pride after achieving his dream of riding a bike for a living, and all the experiences that go with that. The highs must surely outweigh the lows.
I first met Scott at the 1999 Commonwealth Bank Cycle Classic, my first proper race coverage appointment for Cyclingnews. I didn't know too many pro's at the time, but I introduced myself to Scott and immediately found him to be very approachable, personable, articulate and above all, professional. Professional cycling is a job - just like being a journalist. Scott knows this and is always very generous with his time, no matter how important the race at hand is. It has been my pleasure to work with him over the last five and a bit years, and Cyclingnews has been very proud to have hosted his diary since 1998, which makes him one of the longest serving diarists for any cycling website.
During that time I have also got to know the Sunderland clan quite well personally, and they have helped me find my feet in Belgium, where I now base myself for the entire season. As Scott will attest from his early years as a pro, it's not easy living in a foreign country on your own, and I thank the Sunderlands for all their help and support.
I could add a lot more The good thing is that it doesn't end here, but we'll have to wait a few more days to find out the details of his new career...
Scott Sunderland over the years
In TVM colours
Photo ©: CN

Training in the rain
Photo ©: Sabine Sunderland

Looking serious
Photo ©: Bert Geerts

Belgian cartoonist Nesten
Photo ©: Sabine Sunderland

Being interviewed
Photo ©: Sabine Sunderland

Winning the GP Pino Cerami
Photo ©: Belga

With fakta staigaire Trent Wilson
Photo ©: Sabine Sunderland

On the Harley
Photo ©: Sabine Sunderland

Getting that all important
Photo ©: Sabine Sunderland

At the fakta team presentation
Photo ©: Frank Rud Jensen

In casual gear
Photo ©: Frank Rud Jensen

Returning home from a snowy ride
Photo ©: Sabine Sunderland

Doing some indoor training
Photo ©: Sabine Sunderland

Riding for Australia
Photo ©: CN

Riding for Alessio-Bianchi
Photo ©: Roberto Bettini

Scott and Saën
Photo ©: CN