The Scott Sunderland Diary 2003
A new team, kicking back in Inverell, and...retirement
November 26, 2003
G'day all,
Can't keep him off the bike
Photo ©: Sabine Sunderland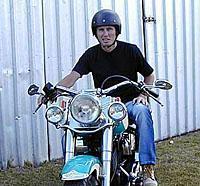 I'm now back together with my family in my home town of Inverell, Australia, where I've been kicking back and enjoying life for the last four weeks. And yes, the rumours are true - I have signed for Alessio next season, where I'll join some of my fakta teammates including Magnus Bäckstedt, Michael Skelde, Allan Bo Andresen, Rene Jørgensen, Werner Riebenbauer (I think) as well as Marcus Ljungqvist (with fakta in 2001-2002) and Claus Møller (Milaneza). I signed the contract at 11pm on the evening I left Europe to come out to Australia, after sorting out a few things with offers from other teams. I'm really happy with this move, as Alessio will be a perfect team for me next year, in particular the idea of racing a full program.
In addition to the riders above we'll have Andrea Tafi in the team too. We were a strong team without a few of these riders so now it looks really good for next year. I think we had 23 riders at last count and they're thinking of signing one or two more. Alessio is the 12th ranked team in the World and next year that will give us automatic selections to all the World Cup races, the Giro, and probably the Tour de France and Tour of Spain. The opportunities are definitely going to be there. It's a big team with a big program and plenty of racing. I've got to talk to my team director about the possibility to do the Giro and Tour, as I don't know what his ideas are yet.
Since I signed everything, we've had Bianchi come on board to supply the team bikes - at this moment I'm not sure about whether we're riding on Campagnolo or Shimano. I'm really happy at how things have gone with combining the fakta and Alessio teams, especially our manager Peter Sejer, who has helped bring it all together. There will be another (Scandinavian) director appointed from our side, who I can't name just yet. He'll be a team director for the classics and Northern European races. Other than that, Bruno Cenghialta - whom I've worked with in the past - is the team manager, and Dario Mariuzzo will be the other sports director.
Holiday time
While we (my wife Sabine and sons Saën and Tristan) have been here we've spent a week up in Brisbane where we caught up with quite a few people, then a few days down on the Gold Coast before coming back to Inverell to stay with my parents. I've unwrapped the Harley and have been doing some very enjoyable rides on the hog. The odd game of golf has been played too, I've been smacking a few balls around and lost a couple as well.
Mum and dad have put in a fantastic new BBQ-entertainment area here at their place, so we insist on having "happy hour" between 5 and 6 in the evenings. Sometimes that's been going until 7 or 8pm. It's just been very relaxing and by the time we'll get to Christmas we'll surely be all BBQ'd out.
I've been teaching my son Saën how to play cricket and I've promised him I'll take him out camping. I've also been doing some local interviews here for Prime and NBN TV and the press, which has been really nice. The rest of the time I've been doing a bit of shopping and sitting in coffee shops with my wife Sabine. Oh and I've been fitting in some training of course.
Retirement
More time for this!
Photo ©: Sabine Sunderland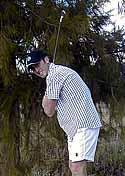 The biggest decision I've made is that I'm going to make next year my last year. I think that by making this decision now, I can give everything 100 percent next season. It'll be the last time I start - and hopefully finish - all of the races so I want to give it my best shot. It will be my 18th European season...I've been over there since I was 20, so all my adult life has been spent in Europe.
There's been a lot of big changes in the family and in my life. Unless I'm winning something major next year or get the opportunity to go to the Olympics and pull off something big, I'll probably finish my last "official" race before I turn 38, although I'll probably do a few crits after that.
There's been a good reception from the locals. I did a radio interview recently and they'd really love the Grafton to Inverell to be my finishing race. But they'll have to approach Cycling Australia to move the date to after the World's so I can do it. I'd really like to ride my home race again as it's the biggest and hardest one day classic in Australia. Melbourne-Warrnambool is hard but it's not the same - you don't have a 17 km climb up to 1100 metres and all those other ups and downs in the Warny.
I've got a lot of other ideas I want to do after racing. I've come back here and seen so many other things. As of now, knowing what I do know, I'll be returning back to Australia, probably to Inverell where it's possible to give my sons a good youth in the country. I've noticed a trend that there's a lot of new people in town from the big cities. The town itself is doing really well and real estate is doing really well. What I'm actually planning on doing I can easily do by internet and mobile phone.
Hanging up the bike? Not likely...
I am a sporting person and I love to do sport, so you're still going to find two to three racing bikes in the shed if Sabine will allow it. I'll have a nice lightweight bike and the MTB will be there too. I love to play golf so I'll get into that even more. It's possible I'll have a moto-cross bike and I'll also go on a few fishing trips. They've been getting massive cod around here so we're planning a big fishing trip in the next couple of weeks. We've also got some deep sea fishing planned over Christmas and the New Year.
We've just bought a nice house in Inverell. It's an older house with a triple pitch roof and a bit more of a heritage. Sabine feels very good about it and I can see a lot of things I could do with it. We've been pretty lucky to find it this year because it means we can move our furniture straight into it next year. The current owner has been in there for 20 years and the previous owner for 40-50 years.
To go out training here is easy. The council has erected road signs saying "Beware of Cyclists" on our regular training routes which is good. For MTB access you ride 2 km on the bitumen and you're already in the forest/wilderness area. You can ride for 2-3 hours and not double up on the same track. Even with a moto-cross bike it's easy. There's so much you can do here with football ovals, swimming pools and a velodrome. The main thing is for the kids. It's 10 minutes walk to school and another 10 minutes in the other direction to the centre of town. It's a bit different to living in the cities.
Why now?
You have to call a time to finish up. I don't want another year with back problems and everything. You ride well in Frankfurt, the Giro, Denmark and Amstel, but then you get a back problem. It's just been frustrating. I can hurt myself and training is not a problem but these other things have been driving me nuts. There's just been too much of it.
I'm not one hundred percent sure I'm retiring, but I'm preparing the path and laying the foundations for it. Sometimes you ride better when you have fun.
We're looking forward to it.
cheers,
Scott