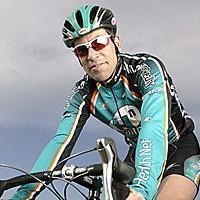 John Lieswyn
Photo: © Jeff Tse
The John Lieswyn Diary
A pro racer who now mostly concentrates on the US domestic scene, John Lieswyn is one of Cyclingnews' most popular and sometimes controversial diarists. He has been racing since 1985 and a Cyclingnews diarist since 1999. John likes both criteriums and longer road races, and seems to particularly like it when the going is hard. He has raced in the Regio Tour, Peace Race, Tour of Poland, Vuelta a Guatemala, Tooheys GP and Commonwealth Bank Classic with success, as well as winning stages in the Sun Tour, Killington and Superweek. In 2004, he moves from 7Up/Maxxis to Team Health Net presented by Maxxis.
Communication breakdown
Stage 1 - February 6: Bayan Baru, Pulau Pinang - Taiping, 112 km
I was up at 5:30am after a fitful night. Nerves perhaps. Plunked down in the hall and read the newspaper until Sayers came out and we headed down for yet another sumptuous breakfast. Brought down the bags early and took a bunch more photos of this hotel's little Garden of Eden. My prehistoric camera has an argument with my laptop so I've asked Brice to send in some of his photos. While the hotels so far have had wireless internet access in the lobby, Brice is waiting to find a fast enough connection.
At 8:40 we bombed down the steep hotel drive for the last time and headed over to the stadium. Only the stressed out Iranians were there before us. They'd been kitted up (ready to race) since breakfast! There is a huge stage and sign in deal with VIP seating and media areas, just like the Tour. Even bike hooks so we don't look like a bunch of morons trying to sort out piles of machinery. We were ten minutes too early for sign in and the Vice President in charge of that function looked at his watch as if to say "nervous, are we?" So we sat on a curb for ten minutes, signed in, and went to sit on another curb for ten more minutes. Then I sat in the team car for twenty minutes, sat on another curb for ten minutes, and finally went to the start line. In all that time it took me five minutes to put on my radio and grab my bottles. As riders we have to see the staff's perspective of ensuring enough time for any and all contingencies ADDED TOGETHER. To my iPod equipped happy place…
I started with a frozen Camelbak bladder under my jersey, not because today's morning stage was particularly hot or long (it wasn't) but as a test for Sunday afternoon's relatively long stage. Without the outer casing and straps it was somewhat stealth and it served the vital function of keeping my core temp down, but it was both empty and warm within thirty minutes. My next attempt will be getting the frozen camelbak as a hand up around 50km to go, and then stashing the empty bladder in a back pocket, thereby minimizing energy consuming trips back to the team car to just one.
On the neutral rollout from the town of Penang and over the 5km long bridge to the mainland I had the chance to chat with Trent Wilson for a while. There's quite a few English speakers in this peloton, a real difference from racing in Italy for example. Small boats chased us as we traversed the straits. Brice had to change a wheel literally sixty seconds before the flag dropped, but he didn't sound panicked about it. Trent wondered how long we'd go piano, while I guessed not 1km. I was wrong as amazingly we lollygagged along for probably twenty kms. I guess that everyone knows what's in the cards for today and it was a really good way to start out what will undoubtedly be a very hard fought 1200km.
Five Asian riders took off singly and sort of linked up soon thereafter. Two of them built a five-minute lead by the halfway point. I was coming back through the caravan after stopping for nature's call when the gas went on a bit at the front of the peloton, and found the cars accelerating to over 60kph. (The peloton was only doing 45kph but the slinky effect magnifies as you go back. The caravan cars will alternately come to a near halt and then accelerate far quicker than the peloton is going) Wee bit shocky to the system but good for me- need to find the legs sooner than later!
The plan to start our Healthnet presented by Maxxis (phew) train inside the last 3km went out the window as we entered the super technical circuits at 16km to go. The pace had really hotted up and we had to navigate winding park roads with speed humps, sharp corners, and median strips. Bouncing around like pinballs in this crazy vortex, we ended up taking over at nearly 10km to go. Better to keep Greg and Gord out of trouble. Despite my current lack of form I managed to work the lead out for a fair ways, and all was looking sweet until I took a turn wide and got myself on the wrong side of a median strip. Being solo on the far side of the road and out of gas, I rejoined the peloton when I could but far from my guys. Scott is freelancing in the GC contender zone and offered some encouragement as he passed, and I caught my breath and decided to make another go of it. As I was moving up the right side, the bunch suddenly slowed and narrowed to get by a huge line of pulled-over motor scooters. I had a good 10kph speed advantage on the guys who were suddenly cutting off my route when a deep storm grate appeared in front of me to complicate things some more. Here's the sponsor plug but I must say I'm sincere. I was pleasantly surprised and lucky in that my 15.5lb Giant responded very nicely to the triple whammy of sudden deceleration, turning, and bunny hopping all at once. Yeah! (Note: my first race bike tipped the scales at a portly 23lb and felt like molasses to control inputs.)
The bunch reaccelerated but soon it became apparent that the roads that had been completely clear on our last circuit were now open to traffic. A few arms went up at the front of the bunch and we knew the stage was over without a resolution, with 3km still to go. It's a let down; there are no winners here. The plucky Asians who made the race for the first 100km got nothing but the right to wear the various jerseys. The euro teams that motivated the chase for the last 50km burned matches for nothing. All I can say we got out of it was lead out practice for the six of us who are here (seven minus our GC man Scott Moninger). We're betting that whoever is responsible for the miscommunication on the number of laps and opened the course to traffic probably has been reassigned to a posting in the boonies if not losing his or her job. This race is a huge deal for Malaysia and everyone involved prides themselves on a top quality event, so it's really too bad for them. I'm sure it will be the last time that happens!
The team staff is awesome and they deserve an introduction now. Our soigneur Reed thinks of everything and administers excellent massage, even though I hear he is struggling with heat exhaustion. Mike C and Chad are the top mechanics I've ever worked with, always with a ready smile. Jeff seems calm as ever despite having to direct thirteen people and this being the first race of the year. Mike SJ has come along to assist Reed and apply his chiropractic wonders.
Thanks for reading!
John
Email John at jlieswyn@cyclingnews.com