Recently on Cyclingnews.com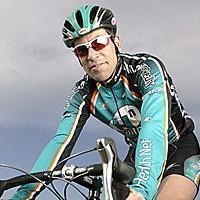 John Lieswyn
Photo: © Jeff Tse
The John Lieswyn Diary
A pro racer who now mostly concentrates on the US domestic scene, John Lieswyn is one of Cyclingnews' most popular and sometimes controversial diarists. He has been racing since 1985 and a Cyclingnews diarist since 1999. John likes both criteriums and longer road races, and seems to particularly like it when the going is hard. He has raced in the Regio Tour, Peace Race, Tour of Poland, Vuelta a Guatemala, Tooheys GP and Commonwealth Bank Classic with success, as well as winning stages in the Sun Tour, Killington and Superweek. In 2004, he moves from 7Up/Maxxis to Team Health Net presented by Maxxis.
Cascade Classic - NE, Bend, Oregon, USA, July 7-11, 2004
"I came here to win"
25th anniversary of America's longest running stage race
Driving the bunch at the Cascade Classic
Photo ©: Beth Seliga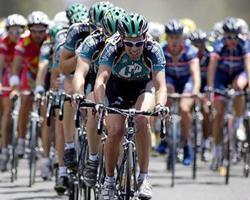 Collage pictures on the race poster are mostly black and white, showing riders with hairnets, clips and straps, and wool jerseys racing on 1970s sleepy downtown Bend streets and gravel mountain roads. One color picture is of Lance from when he took the overall win in 1998. Even just coming back from cancer he was strong enough to overpower everyone in the US.
Talking urban
Oregon's legislated "urban boundary". It's designed to control sprawl by marking a line between what is urban and rural, provide assessments of social, environmental, and quality of life impacts from new development. Were the line to be fixed in stone then there would be no place to go but up. Conventional thinking is that medium to high density housing is only for "projects" or lower income housing, but I would suggest that one house per acre can be just as aesthetically negative. While Medicare announces that obesity is now a medical condition (potentially opening a floodgate of reimbursements for stomach restricting surgeries and treatments) there has also been a reported link between single family, single use suburban residential home development and obesity. While higher housing densities may have less privacy they also have a much greater degree of community life and opportunities for outdoors spontaneous child's play. Who really wants to spend a dozen years driving their kids to a Palm Pilot schedule full of rigidly planned activities?
The neighborhood we were lucky enough to stay in was definitely on the "low density" end of the scale. Nothing at all against that; at least in today's America there is still room for all types of development; not just legislated minimums or maximums. Another quick diversion; did you see that Wal-Mart has found a way to get around the growing nationwide movement to ban "big box stores over 100,000 square feet"? Their solution is mini Supercenters of exactly 99,000 square feet. So they are able to abide by the letter if not the spirit of local ordinances.
Cindy and Tim housed part of the team while I stayed in the grand tiled home of Katherine and Mark. Cindy had served on the neighborhood council and spent a year fighting a retiree's effort to sell off the neighborhood park for it's lot development value. The retiree obviously had no interest in using the park himself and had no kids that would use it, so rather than accept the fact that he had chosen to live in a family friendly development he fought for a year to impose his agenda on the neighborhood. It was great to have two such hospitable families hosting team Health Net pb Maxxis. The kids gave up their beds and even got us OLN so we could watch the Tour all week.
Riding to and from the races we found that the very progressive local DOT was tearing out congestion promoting 4 way signal intersections and replacing them with roundabouts. It works the world over but for some reason (often to do with fire chief threats and the trucking industry) they haven't caught on in America. It's great to drive through neighborhoods with roundabouts, since during low traffic times it means you don't have to stop senselessly. We've all cursed the light that changed red for nonexistent cross traffic! When we lived in Massachusetts, the DOT was removing the roundabouts and putting in lights instead.
Oh yeah... the race
Oh yeah, this IS a race report! Off the urban planning issues which I seem to notice on every trip and every ride nowadays and to the race, then.
Stage 1 - July 7: Pacific Power Road Race, 110 miles
Covering the moves
Photo ©: Beth Seliga

I came here to win. Nevertheless I knew that Scott was on form too, and with his acclimatization to altitude he was at least as good a bet as myself. The first stage of Cascade is always a struggle for me, and this year was no different. Only the way in which I got there was different. I found myself covering a dangerous move with Mike Creed (USPS) and two Navigators right from the first climb. We built a maximum advantage of 3 minutes before several teams (Jelly Belly, Subway, and Webcor amongst others) combined to bring us back. After that we decided to go with what we thought was the sure thing: bring it to a sprint for Gord. So between a 70km breakaway and 30km of chasing and leading out Gord, I cooked myself well on a stage I had previously hoped to simply find my legs in.
Stage 2 - July 8: Deschutes Brewery Road Race, 70 miles
Stage 2 goes up a cat 1 rated climb at the midway point before rolling through lava fields and descending to the town of Sisters. After the town it's just a few kms to the base of the final climb on which we are to finish. It's not a long stage but it will establish the GC. Our plan was to have the sprint team of Sayers, Ferrar, and Fraser do a three man all out effort halfway up the cat 1 climb to set up Wherry, Moninger and myself.
Before the cat 1 a large breakaway was established with Louder and Vogels (Nav), Creed (USPS), John Kelly (Webcor) and all three of our sprinters. We figured Sayers would be good for the finish if he sat on (didn't work) all day so while it was essentially the opposite of the team plan we had to go with it. Vogels buried it up there and drove the break out to over four minutes by the base of the climb. Several teams had more to lose than us but as is typical with American racing they all seemed to be waiting and looking at us. I sacrificed my GC aspiration right there and then, pulling most of the climb and shredding the field down to under forty riders.
Lesson learned here is that if you've thrown away your chances, you might as well go 100 percent. Over the lava fields we were within sight of the remnants of the break and under two minutes behind the leaders, and had I kept the throttles wide open it's quite possible we'd have had a very different result. Navigators had Baldwin in the field with us, and he was going the strongest of anyone, but for some reason they decided to play the Louder card instead. With us out of workers, Navigators riding for the KOM jersey instead of the yellow, and Horner electing to ride for a guy who would end up outside the top four on GC, the gap quickly reversed all the way out to eight minutes by the time we hit Sisters. Moninger and I couldn't quite believe it; nobody would ride even though we had Sayers up there in excellent position. In fact, only Creed was able to beat Sayers up the final climb. Sayers weather a storm of attacks from the USPS rider while Fraser took a top five placing as well.
Stage 3 - July 9: Tumalo Time Trial , 7 miles
Next up was the time trial. After my nationals performance I was geed up to scorch it. Against the advice of my director Jeff Corbett I rode without a disc wheel and perhaps between my sacrifices the last two days and equipment choices that was the difference. A lousy 14th place resulted, but it was just 20 seconds off the pace of 3rd placed Chris Horner. Not too bad, really, and I'm not dissuaded from making another crack at the next TT which will be the similarly distanced (too short for me) 7mi uphill test at Altoona in 3 weeks.
Stage 4 - July 9: Desert Bone & Joint Specialists/Rebound Physical Therapy/Bend Surgery Center Twilight Criterium, 40min/60min + 5 laps
Chris Wherry in the money
Photo ©: Beth Seliga

Friday's criterium was unbelievable. I haven't raced a crit in front of that many fans since Athens Twilight (in the pre TdGA days) and it was thrilling for everyone there. Way up here in the Pacific Northwest it doesn't get dark until about 9pm and so most of the race was held in daylight to twilight conditions. We always have faith in Gord and tonight we played that card again. We "killed" all breaks by putting men in them and then sitting on until the drivers of the moves gave up. The pace was so high that no escapes exceeded ten seconds lead. In the final laps the falling light led the photographers to start using flashes and that made entering corners especially tricky. I'd find myself setting up for the corner, getting a big dose of high powered flash in the pupils, and then just holding on and hoping that nobody in front of me made a sudden deviation because I was temporarily blinded. Sort of like descending at high speed through dark tunnels, always a scary treat.
From five laps to go we began to set it up, with Tyler Ferrar, Chris Wherry and myself doing a three man team time trial. Sayers and Gord sat on to wait for the final lap. Two laps to go and Chris leads us over the line, scoring a thousand dollar prime in the process. The crowd was so amped, so loud, that nobody could even hear the announcement of huge primes in the final laps. So we got them all simply by leading it out, yippee. I took over for what I thought would be my last full gas pull. My legs screamed and I pounded all over the bike as I took us up the longest slightly uphill straight from turn 1 to turn 2 on this penultimate lap. All that was in my mind was "protect the inside, get to turn 2 first then you can bring them all the way to the bell lap!" I was sure that I wasn't going fast enough; 50kmh isn't enough to keep your train in front with just 1.5 km to go. As I swung left at what I thought was the last moment for the upcoming right hand turn 2, Dionne and then Horner of Webcor dove our inside... hey, I was protecting that side... hey, you can't make it through that corner without cutting us off HARD!
They did it anyway and by the time I recovered my speed there were five guys ahead of me. No sign of Sayers and Gord so I assumed they were still on my wheel, quick peek back to confirm. Left through flash bulb corner and then short straight to penultimate corner, still one more lap to go, we can recover this situation still. While it's not the fastest line I cover the inside and stay close to the front. Meanwhile on the outside I hear a tangle of bikes and the sickening scraping of metal on pavement as somebody finds out the limits of physics. Turns out to be the Belarussian Concussion, Viktor Rapinski of Navigators. Oh well, one less sprinter to deal with. I'm pretty pissed at my friend Dionne and Horner for dive-bombing us into turn 2 so without a though towards turning the other cheek I see the opportunity to do the same. All of a sudden though I realize that in just one lap in quickly darkening light conditions I have lost the ability to clearly see the road in the last corner. I know there is a shallow pedestrian ramp there on the curb or something... here we go... full throttles and I have Sayers and Gord up next to Dionne and Horner.
Gord wins whilst in "recovery mode"
Photo ©: Beth Seliga
Thunka thunka rattle rattle and I've somehow made it through the bumpy apex of the corner but at this speed I've got to go wide to stay up, and in the process it takes the Webcor guys all the way to the fence. Sayers later said it was like rays of light from heaven opened "aaaa haaa" and I'd provided an opening. I still had a few hundred meters left in the tank but Sayers was already around me, sprinting down the home stretch towards the inaudible bell and 1 to go sign. Mike got Gord all the way to turn 2, and then Jelly Belly's Alex Candelario decided his best chance was to lead it through all the turns and the entire last half lap. Gord had been planning on being first to the last corner, but with Alex leading out from so far Gord knew that he could polish Alex off in the final 100m. Showing his immense versatility and form (he's self professed to be in recovery mode right now) Horner jumped first out of the last corner but Gord would not be denied, and he powered it home for a Health Net win in front of the biggest crowd we've seen since Philly. The crowd included a large contingent of Health Net insurance group clients, so we were especially pleased to deliver in such fine style for them.
We rode back to the house in the dark, with our hosts following in their cars (for protection), Cindy whooping and hollering at us as the excitement hadn't yet worn off. We climbed a pretty huge hill to get to the neighborhood but I didn't even feel it, I was so amped.
Stage 5 - July 10: Leffel Center/The Source Awbrey Butte Circuit Race, 58/82 miles
The remaining stages included the circuit race, with a custom-tailored, Johnny L uphill-finish climb. Again, I sacrificed for the team rather than save it for the finish. The circuit race winner was Dionne, exacting revenge for the criterium defeat. He did sit on all day, which is really the only way to win such a tough finish unless you can break away. Between Health Net and Webcor we put paid to Baldwin's long breakaway attempt, catching him with just 2km to go.
Stage 6 - July 11: Carrera Motors | VW Old Mill District Criterium , 45/60 min + 5 laps
In the final crit I thought I had one more chance for stage win glory (such as it is, come on now we've no illusions especially with the Tour de France on right now!) as I attacked solo with four laps remaining. Horner came across to me quickly and I had a moments' indecision; work with him or not... here comes a Navigator rider, gotta decide quick, both Horner and I are a bit gassed from our respective huge efforts... nah, not gonna happen, here comes the field. Game over.
Email John at jlieswyn@cyclingnews.com