Recently on Cyclingnews.com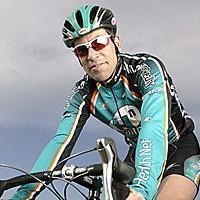 John Lieswyn
Photo: © Jeff Tse
The John Lieswyn Diary
A pro racer who now mostly concentrates on the US domestic scene, John Lieswyn is one of Cyclingnews' most popular and sometimes controversial diarists. He has been racing since 1985 and a Cyclingnews diarist since 1999. John likes both criteriums and longer road races, and seems to particularly like it when the going is hard. He has raced in the Regio Tour, Peace Race, Tour of Poland, Vuelta a Guatemala, Tooheys GP and Commonwealth Bank Classic with success, as well as winning stages in the Sun Tour, Killington and Superweek. In 2004, he moves from 7Up/Maxxis to Team Health Net presented by Maxxis.
International Cycling Classic - Superweek - NE, USA, July 9-25, 2004
Tunin' up for Altoona
Week off. Finish house project. Use Superweek to find legs again before Altoona. DD and our Dobie Closer are coming with me, my wife has finished her residency and I've managed to convince her to come along. It's been five years of seventy hour work weeks for her and I'm happy we'll get to spend a bunch of time together for the nearly three weeks it will take to do some Superweek, Altoona, and the huge money Charlotte criterium. I toyed with the idea of taking the '66 Benz convertible but then thought of Pennsylvania in August with no air conditioning (I've bought an A/C system for the car but have yet to get it installed) so we load up the trusty '97 Saab instead, setting up the rear cargo area so we can stretch out the legs and sleep on the longer portions of the drive.
Mary and Tom Ritchie are putting us up again in Shorewood, a lakeshore neighborhood just north of downtown Milwaukee. Their hundred year old home has four floors, a library, music room, huge modern kitchen, butler's pantry (with a Saeco espresso machine!) and fantastic period details throughout. It's a house to dream of, for sure. Mary and Tom are avid cyclists as is their daughter Izzy, and their self described "commune" includes another semi retired couple of cyclists Maggie and Kurt (a German). The latter couple are quite handy with home renovation and right now are re-tiling the entire interior of the backyard pool, having just completed an Architectural Journal quality remodeling of the master bath. The foursome have also gone in together on the purchase of a huge fixer upper property near Limoges, France... vaguely like the Italian villa featured in "Under the Tuscan Sun".
Race 10 - July 17: Carl Zach Cycling Classic presented by Couri Insurance Agency
The first stage I entered was the Waukesha criterium, and I couldn't believe how fast it was. After winning at Schlitz Park the night before, Sayers is on it again and this time in front of his wife Nicole and his in-laws. He demolishes the field, nearly lapping us all twice, with only Harm Jansen for hanging on by a thread company. I finished, that's about all I can say, but what was I really expecting anyway? My big fish to fry are Altoona, Charlotte, Chicago and San Francisco and towards the first goal I am fully preparing, there is still ten days to go and I will find the legs quickly.
Race 11 - July 18: Bensenville Criterium
Night two is the Bensenville, IL criterium, another $10,000 purse big lap prime slugfest. Seventy laps, 100 kilometers. It's single file all night and I do feel better. We've got the added horsepower of World Champ Greg Henderson tonight, and he's a man on prime hunting mission. I lead him out for a $300 prize with four laps to go and he keeps going in a two up escape with Colavita-Bolla's Juan Haedo, and scores another $400 at three to go. Team Monex is riding like rock stars where I haven't seen them all year like this. Our average speed tonight is a stunning 48kmh for the entire 100km... most of my fellow "big team" pros are similarly in shock over the average speed tonight. Candelario expressed it aptly in saying that it was faster than any other NRC criterium we've done all year.
I know I am still ramping up the legs but this is amazing... at least I was able to cover some moves tonight though... Within the last four laps I narrowly avoided three big crashes. The scariest was a domino effect crash out of the second corner on the last lap, made all the more ridiculous by the fact that it happened next to me... fully twenty riders from the real race to win. At first I though, aww, I'll make it around these clowns no problem, but they seemed to keep falling and sliding towards me.
Remembering the Baldwin slide out that took me down in a high speed slide at Altoona last year, I quickly decided to go max right rudder and take myself into the right gutter... phew, just clear it and I'm nearly the last guy through... "Days of Thunder" Tom Cruise through the smoke style. After hanging on for seventy laps I'm going to get in the money tonight no matter how paltry the reward, as long as I don't have to risk anything else. Now that the big crash has resulted in a long, single file line it's unlikely there will be another, but I have my fingers on the brake levers just in case. Monex runs out of gas and McGuire Realty takes over for a resurgent Dave McCook, my old friend from Florida and several times my teammate over the past 15 years. McCook delivers the win convincingly, actually leading it out from 500m to go and nobody can get around him, and I do hang on for my little 20th or so placing, privately proud that I'm making such quick progress in my return to racing form. (You gotta understand my week "off" wasn't really that conducive to cycling specific rest)
Laying low before Lakeshore
I'm skipping the epic 175km Holy Hill road race today so I can fully recover for a real assault on the Lakeshore Road Race. It's always a fun one, and a stage I won before. It's very hard to win a stage of Superweek, let me tell you! Maybe not as hard as winning a stage in the Tour (let's be real, here) but this series is well underrated. I have won a stage every year I've come to Superweek, as far back as I can remember ('89 maybe?) but this year I'm doing a record low (for me) number of stages. Giving myself just 3 chances, with the first two being definite form finding missions.
In closing this lengthy report I want to thank all those riders, officials, and fans who have come up to me in the last weeks to ask me to write more often. I know that my stuff is sometimes controversial, sometimes wordy and off topic, but that's just me... thanks a lot everyone. Even if I can't respond to all your emails any more, I do read them all.
Any dog-lovers out there?
Finally, the special circumstances of my current travel arrangement means that I shouldn't try to stay with the team. It's against the rules to bring family and while it's not specified, dogs are not usually included in the entourage either!. I'm hoping one of you readers can help out in my quest for a dog friendly home-stay in Altoona so I can at least be close to the team staff for bike and body work. If so, please drop me a note at the email address below! Thanks for reading!
Email John at jlieswyn@cyclingnews.com