Recently on Cyclingnews.com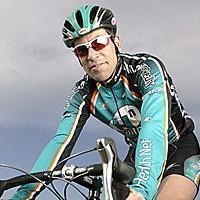 John Lieswyn
Photo: © Jeff Tse
The John Lieswyn Diary
A pro racer who now mostly concentrates on the US domestic scene, John Lieswyn is one of Cyclingnews' most popular and sometimes controversial diarists. He has been racing since 1985 and a Cyclingnews diarist since 1999. John likes both criteriums and longer road races, and seems to particularly like it when the going is hard. He has raced in the Regio Tour, Peace Race, Tour of Poland, Vuelta a Guatemala, Tooheys GP and Commonwealth Bank Classic with success, as well as winning stages in the Sun Tour, Killington and Superweek. In 2004, he moves from 7Up/Maxxis to Team Health Net presented by Maxxis.
CSC Invitational, Wachovia Invitational, Wachovia Classic
Switched on again
Staying alert
Photo ©: Jon Devich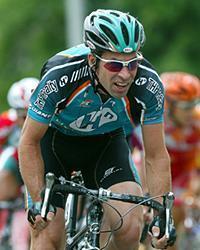 CSC Invitational - Arlington, VA, May 30: Six corner, 100km criterium circuit
I was picked up at the airport by my Colombian veterinarian friend Ivanov and his wife Angela, and they took me to a Memorial Day office party. The (once every 17 year) cicadas were in full song, a roar that made conversation on the outside patio nearly impossible. They look like locusts. I hear that some people consider them a delicacy. Ugh. A Brazilian-American guy was fixing a lime & vodka drink that went down a little too easy, and by bedtime my head was spinning. A day of travel, no ride, and a bit too much to drink and I wasn't prepared well for Clarendon physically. Mentally, however, I'm ready.
Last year I was an average bike racer all the way up to Clarendon and USPRO Week. While I'd won a stage at Redlands and been top 10 overall at Georgia, I wasn't feeling strong all spring. So this year I wasn't fretting too much about a lack of form, hoping that the same pattern might hold true...
At Clarendon I had nothing special. I asked for early duty (along with Mike Jones) and hoped to be able to patrol the front for the first half. The other three guys were to try and help Gord at the end. I was starting to fade after about an hour, but kept setting new goals for myself: first 1:10 then 1:20 and so forth. I made the finish but could only watch the sprint from behind. It would become a pattern for the week...
The Navigators are firing on all cylinders now. Unfortunately for them, it looks like their ignition timing and firing order needs some adjustment. It's easy to be a critic from outside, so I'll just say that it's my opinion and based on very little inside knowledge. Gord and Lars Michaelson (CSC) freelanced off the Nav train and fought each other all the way to the line, with Lars winning by a tire width.
New Urbanism factoids of the day: Much of Arlington's housing stock was built at the same time as the Pentagon, around the '60s. Now over 40 years old, most houses went from government employees to rental units and neighborhoods generally decayed. Now that traffic congestion has reached epic levels and the average speed of a car during rush hour has dropped below 25mph (40kmh), a gentrification process has begun. "Close-in" neighborhoods of Arlington now cost $400,000 to buy into a two bedroom bungalow! We drove along an awesome road called "Beach" (which wasn't anywhere near a beach that I could see) that is apparently a popular cyclist training route in the city.
Photos of John from the race:
Images by Jon Devich/www.epicimages.us
Wachovia Invitational - June 1: Lancaster, PA, 13 laps, 91 miles/147km
OK, I can't top last year's entry. My personal favorite writing about a personal best result in what was a truly epic race. I was a player (eventually 5th I believe) in a final selection of just nine guys, and less than 30 finishers.
We had no reason to believe this year would be any different, and indeed everything seemed to be going the same way when a fierce wind and rain storm blew in 30 minutes before the start. Health Net pb Maxxis strategy basically called for us to try and make the race early, hoping that the other major players would then come up to our initial breakaways. I wasn't so sure, but didn't mind giving it some stick to see. I figured it that while this may be my last Lancaster ever, I would sacrifice having late race legs to try and make the team plan work and in the process I could find out how much gas was in the tank for Philly.
Jason had just come back from a large, unsuccessful early move when I rolled up next to him and suggested I counter-attack on the following hill. He said, "why not now?", to which I thought, why not, indeed? Jason is the master of sneak attacks in unusual places like flat terrain or when everyone is licking their wounds from a hard hill effort. Bam, I hit it and found myself away immediately. That set the tone for the next two hours, as I ended up in just about every move.
One of those moves included Horner (Webcor) and O'Neill (Colavita/Bolla). This was my first race with O'Neill since his return from a near fatal neck injury last year, and I was totally blown away with how strong he is. Another lap I was away with just Horner, and managed to go nearly pull for pull with him. I kept trying to figure out if he had the throttles wide open or not. His lack of body language and persistent smile regardless of pain level makes it pretty difficult to determine how hard the man is going.
At the end it was a group of nearly fifty guys sprinting for second; everyone thought that Max van Heeswijk (USPS) would get caught but he held us all off for the last 8km. I freaked out and got swarmed in the critical last corner before the uphill, winding climb to the finish line; at the point just before the swarm I was on Dominguez and in front of Fast Freddy, so I thought my positioning was good. Oh well. Early efforts meant I was down a bit on the thrusters, so despite confidence in my uphill sprint it wasn't like I'd given up a podium finish... The only good thing was that I'd won the points competition, which was worth a grand and podium appearance.
At the press conference Freddy looked absolutely terrible. His stomach ailment was obviously killing him. He's an old friend from my national team days, so I was pleased to see him again, and proud of him for winning the a stage in the Giro.
Wachovia Classic - June 3: Trenton, NJ, 146km - 14 laps of 6.5 miles, 91 miles/147 km
John Lieswyn and Rodoslaw Romanik away at the Wachovia Classic
Photo ©: Jon Devich
We had men in the breaks all day, but at one point the front pack had mushroomed to 20 and we had just Wherry and myself up there. It was alarm bells since the split was quite large (big time gap between the front 20 and all our fast guys back in the bunch). Our jet-lagged Kiwis, Brice, Dan and Mike killed it for nearly half a lap (about 10 minutes) to bring it back together. Greg Henderson might be newly-crowned world champion on the track but no amount of talent is going to loosen up your legs after 32 hours of travel, so our primary lead-out man is out of the equation today.
Just as soon as the bunch was together, and while I was still patrolling the front, a Polish rider attacked hard on the park hill. Instinctively I followed (barely... the Pole was flying up the hill!), expecting to look back and see a bunch of heavy hitters on my wheel and yet another split in the bunch. Unfortunately, when I looked back there was nobody. By the time the Pole flicked his elbow for me to come through for a pull, we had 30 seconds on the bunch and we were out of sight. Two guys, with half the 90mi race still remaining? Naah. I considered just sitting up and going back to the peloton. Then I thought about how hard my team had just chased to bring the bunch back together and decided that maybe burning one Health Net guy up in a suicide break would be better than being behind the eight-ball for another hour of racing and burning everyone up. I didn't factor in the fact that a third of my team wasn't up to doing the lead-out in any case...
So, just like at Trenton, I ended up going for the points competition. The Pole either didn't know about it or didn't care, since I easily timed my pulls to make sure I led over the start/finish line each lap.
The Pole kept leading me right over massive, deep manhole covers and I lost a couple bottles; our cages are excellent for 99.9 percent of US racing but when you are on a city course with holes this deep, you just about need to bolt the bottles into the cages to keep them in. Early in the race when I was in a larger breakaway, I nailed a huge hole and I caught one of my ejecting bottles between my calf and the crank-arm, while simultaneously smashing my privates on the tip of the saddle. There I was, struggling not to open a gap to the rider in front but unable to pedal until I could reach down and grab the bottle. While turning at 50kph on a brick road, and groaning from the ignominy of the "rack". Pleasant imagery? That's bike racing in Trenton!
In the final 1500m, several riders saw Freddy pushing off other riders, hands off the bars, and I'm really surprised to hear it. With camera bikes around it seems like a sprinter would be cautious not to pull such stunts, but then again I've been on the receiving end of hand slings in the final 2km at Philly before, so it's not like this illegal activity is rare. You hear of sprinters getting relegated for it somewhat regularly in Europe.
With a few hundred meters to go, it was Freddy, then Lars, then Gord. Our man figured Lars might try to jump early around Freddy, making it just one bike length that he'd need to make up to vie for the win. Lars never stepped off Freddy's wheel though, so Gord left it too late and despite a powerful surge just couldn't make up two bike lengths. He was second again, this time by more than a bike-throw but less than a wheel. He was very upset about it, and I felt personally responsible. My long breakaway may have been good press, a few dollars, and great training for Philly but it burned out my legs so I couldn't stick to the plan and try to help Gord in the lead-out. I really question whether I'm fast and brave enough to actually be able to factor in the final 600m of a race like Trenton, so I don't know if with fresh legs I could have made the difference for Gord. I hope I will have another chance. When I hear about how effective Julian Dean, Henk Vogels, or Horner were at delivering Gord to the last 200m, then I wish I could be that good.
What do we do between Trenton and Philly? Lots of hanging out in the Best Western, a few hours of riding a day, eat and sleep. Just one appearance this year; three of us went to an hour-long autograph signing at a Giant dealer. Tonight, SoPro Jones played De Niro in "Ronin" (greatest car chase movie ever) and rally-raced us in his Audi Avant down to Manayunk, where we bumbled luckily into free food provided by the race organization. Had a small gelato on the street, people watched, and ran into lots of bike racing colleagues and acquaintances. Tomorrow it's supposed to rain all day, we'll ride regardless. Hopefully it will be sunny and warm for the race on Sunday; the crowds are always bigger that way...
Email John at jlieswyn@cyclingnews.com