Recently on Cyclingnews.com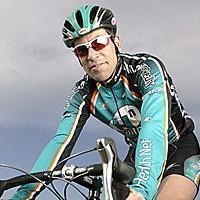 John Lieswyn
Photo: © Jeff Tse
The John Lieswyn Diary
A pro racer who now mostly concentrates on the US domestic scene, John Lieswyn is one of Cyclingnews' most popular and sometimes controversial diarists. He has been racing since 1985 and a Cyclingnews diarist since 1999. John likes both criteriums and longer road races, and seems to particularly like it when the going is hard. He has raced in the Regio Tour, Peace Race, Tour of Poland, Vuelta a Guatemala, Tooheys GP and Commonwealth Bank Classic with success, as well as winning stages in the Sun Tour, Killington and Superweek. In 2004, he moves from 7Up/Maxxis to Team Health Net presented by Maxxis.
Tour of Georgia Stage 7, April 25, 2004
Lance & USPS, the Cipo factor & redlining in the finale
Lance
How about Lance winning the sprint vs. Ivan Dominguez on stage 3 into Rome? For those who didn't see the circuit, the idea of Lance winning a sprint was nearly unbelievable. It made more sense when you thought about the course. We went up a super steep one block berg with about 800m to go, did two fast turns, up another short hill, then about 400m to the line downhill. The steep berg was the equalizer for someone with power to spare. After Horner was super active on the circuits, helping to put everyone's HR into the red zone, it wasn't too much of a stretch to see how LA could win a downhill sprint.
To quote one of my readers: "clearly they only brought three of the Tour de France support riders, in Pavel, George and Eki. None of them the specialist climbers. What do you think it would be like going against the full Postal Tour team?
The reader is assuming the USPS Tour de France team before even Bruyneel has selected the full team. Rincon may be on it, and Cruz has been a top Grand Tour (Vuelta) USPS domestique before as well. I don't know what it would be like going against anything higher level than what USPS brought, especially since we didn't have a top three GC contender. Team Health Net pb Maxxis was going against the sprinters' teams most of the time, and we came out on top two out of four sprint finishes.
"I gathered from your pre-race forecast that you did not think he'd exert himself to control Julich, Voigt and Horner all by himself. Yet he has done that in this race, has he not?"
He had the unfailing support of his team. Only once, during the Dalton to Dahlonega stage, did I see Lance having to chase anything himself. It took him about ten seconds to shut down a Horner/Voigt combo. Now, I'm not close enough to really know how LA's prep is going, but to listen to the man in the media he's saying that his prep might be "running a little hot". That is, he's feeling good and winning races a bit earlier than usual, and he wants to avoid peaking too early.
Some in the media have made excuses for the euros like jetlag, heat, "American style crit circuits", blah, blah, blah. US riders have to contend with jetlag when we go over there, and it's gone in five days so that doesn't hold a lot of water with me. Everyone has to deal with the heat, that's a level playing field. And the circuits weren't any more dangerous or technical than those I have done in Europe. Perhaps credit should be given to the likes of Fraser, Grajales, Horner, McCartney, and the other US-based riders who met the euro challenge head on. Maybe racing in America isn't so much easier than in Europe?
Navigators
The USA's only Division Two team suffered in cold European spring weather the past few weeks, didn't start as many races as they'd planned too, and spent much time away from home and family. US racing would benefit from additional competition and perhaps the Navs would have better form now. I guess they're so cracked from travel that this year they aren't sticking around for the post TdGA criteriums.
USPS bailing out
Some observers question riders' motivation level when they learn that their main sponsor is pulling out. For those riders who don't have great recent results, it is quite a motivator to impress other potential employers. For guys like Lance, he's probably focused on Tour Number Six to the point that worries about 2005 aren't much distraction, and certainly didn't change his race strategy for the TdGA 04.
Very little has been said in the media about the reason that USPS sponsored the team to start with. It's merely reported that considering the monopoly stature of the "government agency" and with rising postal rates, that criticism of the sponsorship eventually led to the decision to withdraw. In Europe, where the sponsorship is aimed, USPS is in a heated competitive battle with FEDEX, DHL, UPS, and others. Postal rates, unlike gas prices, will rise with the CPI & inflation. (Gas is still, adjusted for inflation, cheaper than it was in 1980)
Cipo & sprinters
What is it like racing against Cipo? The only difference is that there is a leadout train in the bunch which has the power to drill it at 70kph up little rises in the final kilometres. Ouch. More about that later. Couple times I bumped into him during circuit finishes and just like Carney and Fraser he seems to be unflappable. Most riders have "give" so that when you bump, they absorb some of it. Bump a top sprinter and it seems like you are bumping into a motorcycle; solidly planted on their machine and too heavy to deflect from their course.
When Cipo doesn't think he can win then he'll just step off the wheel and sit up, even when it's just 500m to the line. What makes the man such a sensation, other than his stunning palmares of victories? Some would say flamboyance. He's launched teams with a knockoff of 'Eyes Wide Shut' (typically Euro, replete with topless women) and wears high fashion Italian suits. What woman or advertising exec didn't swoon when he won stages, long hair blowing? This brings up the problem with helmets. Having identifiable personalities is critical to the success of the sport. Thankfully, at least as far as GC riders go, the UCI allows removal of the helmet on mountaintop finishes. Just not here. Commesso (Saeco) took his helmet off on Brasstown Bald, and the officials flipped out on him. Standing through the sunroof of COM1, I overheard the official urging the driver to catch up to Comesso so he could issue reprimands.
Whining
I don't mind hearing people use my last name to say that I complain. Mainly because it's not true. I am one of the most positive people around, always the optimist. I love this sport and really appreciate racing a bike for a living. I give credit to my competitors in every entry, praising my teammates and those who beat us. I like to point out how well an organization puts on a race.
In person I make a point of stopping and thanking police, volunteers, and race staff for putting on any race I'm at, whether it is a parking lot crit or Redlands.
As many positive things that I can say or do, bike racing is hard and I can't talk about it without mentioning the difficulties that we encounter.
For those who characterize me as a whiner, I would say take a look at yourself and ask if you are a glass is half empty or half full type of person.
Stage 7 Finale
Parking lot jammed with Lance fans. Saw my pal Bob Fisher from Ventura, who always makes the effort to go to the big US races and finds Dionne and me to cheer for. Ex racers Spinelli and Decanio, dressed to the nines in Hugo Boss, military haircuts and dark sunglasses, passing out business cards for their new venture. If I get this right, they are going to take professional athletes' training schedules and sell them to the public. Kinda like Gran Turismo, where you can pick any car model you want to race in a video game. Except with this concept, you would choose to follow the program of some sports star you want to emulate. Their website is www.iturnpro.com if you'd like to check out their unique idea.
Thanks to the fans that congratulated me for yesterday, although anything outside the top 10 is pretty much forgettable. Questions like "how do you feel". Feel? Like a truck hit me at 60, how's that? I couldn't even get up the energy to stretch or get dressed any earlier than 20 minutes before the start.
Off the line it wasn't long before the attacks began. Perhaps some teams felt desperate to get a result or some time in the limelight, with this being the last day. Nice day for a race, and this wouldn't be a parade stage. Reports described it as "lazy", "controlled by Postal" when attacks came fast and furious both in the opening half hour and from the first sprint all the way to the finish, and Health Net did a huge amount of the work whenever it was fast. Our plan was to establish the precedent right away that we would allow no breakaways. Postal and Domina Vacanze didn't really mind having a small break go up the road, which then could be hunted down later. That wouldn't help us get intermediate points for Gord. Yeah, Gord could go in the early break and score the points that way, but then he'd be depleting himself for the stage finish.
The first attack rolled out to 15 seconds lead and a Domina guy chased it hard on a short berg. I thought my knees would pop off, my heart would stop, and I'd just have to pull over and clip out. But after battling through purgatory for a minute, just swinging on the Domina guy's wheel, I began to feel alive again. Wow, that's one way to warm up, eh? After 20km of us shutting everything down, the peloton gave up and settled in to wait for the first sprint at 90km. It was just after that sprint that all hell broke loose. Scott had a mechanical and had to wait for the team car with a couple mates. The remaining five of us drilled it on the front trying to reel in all the action. This is a tough situation cause we've got guys trying to catch back on while we are redlined and single file at the front. We're saving Greg for the final leadout and of course Gord is reserved, so it's just three of us swapping off pulls. It took about ten minutes to get the field back under control, but we did it. I was secretly hoping for more, come on, is that all you guys got? McCartney, Pate, Sayers, Wherry and I didn't even feel tapped out; nobody cracked. It's great to have that kind of depth. Gord polished off the second sprint, which had a $500 bonus to boot, and then we were on the finishing circuits.
Circuits: 4 x 6km each
With wide roads and lots of ups and downs, the pack churned and rotated like a cyclone. One second you could be on the front, the next moment you were last man in the bunch. Armstrong was quackin' with the rest of us; gotta remember this guy used to be Carney's lead out man back in the Subaru Montgomery team days ('92 I think). It was difficult to line up any kind of teamwork here, and I'd say Navigators did a great job taking control. It was the biggest show of force they'd put on all week. It was pretty early though, probably around 10km still to go. Sayers was doing a great job holding Gord near the front and sheltered. I wonder though if Gord had sat last man in the group until 1.5km to go if it wouldn't have been nearly as easy? That's where Ivan was sitting, and I found it pretty sheltered and stress-free back there.
The last time through the 180 degree hotdog turn, with 1.5km to go, Danny pulled Greg and me to the front. We did a hard divebomb on the inside, slowing down far more than those who took the outside, but managed to go from 50th to 10th in one turn. It was then a matter of a neck popping acceleration to stay there. Initially I thought I'd just try to keep Greg right next to the Domina Vacanze train of Cipollini, but that was quickly proving to be dreaming. Well, here goes, bump left and see if I can get in their train. Greg was doing the same thing a couple guys back. Bump, nope, bump, nope, bump, yes! In! Second wheel, Greg back on 5th wheel, can't tell where Gord is. One thing I do know though is that if we can keep it from mushrooming, that Gord will have an easier time getting through the jam.
It's Domina's Sergio again first man in front of me, and he's just hauling. Up over a slight hill, we're literally sprinting in a 53x12 uphill at about 60km/h and I'm starting to wonder if I can hold his wheel. Shout behind me…what? Go? No, I think they're trying to tell Sergio he's going so hard that he's blowing us all up. I step off the wheel and quickly drop back in, nah, it's not gonna happen now. Sergio pulls another hundred meters and FINALLY pulls off. Okay, my turn. I still haven't recovered from Sergio's turn but what the heck I'm pulling with Cipo's leadout train, so let's give 'er all she's got, Scotty. 75m later I'm done! What a slacker. My only consolation is that none of these Domina guys had pulled on the front for 40km today. Greg managed a stellar 400m or so. As I drifted back I tried to get back in line somewhere, nearly losing contact with the group in just 700m. Greg pulled off inside the last 400m and actually lost 16 seconds! Gord snaked and slithered his way from like 15th all the way into contention and then smoked everyone to win team Health Net's third stage victory this week!
The Pate and I tried to get in close to the podium to congratulate Gord and Jason, but no dice. Sea of people. Rode back to hotel. Shut it down early, no celebrations when sick. Five weeks to Philly.
Add in Brice Jones' victory at Athens Twilight on Saturday night and the team really delivered on its promise this week. I've decided to hang on for the week here at Jeff Corbett's house in Columbia SC so we can do a few post-TdGA criteriums. Our squad will be The Gord, Greg, Hayden, Brice, Dan, Tyler, and me.
Thanks for reading!
Email John at jlieswyn@cyclingnews.com