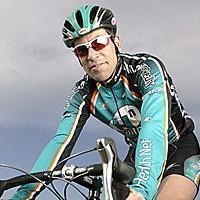 John Lieswyn
Photo: © Jeff Tse
The John Lieswyn Diary
A pro racer who now mostly concentrates on the US domestic scene, John Lieswyn is one of Cyclingnews' most popular and sometimes controversial diarists. He has been racing since 1985 and a Cyclingnews diarist since 1999. John likes both criteriums and longer road races, and seems to particularly like it when the going is hard. He has raced in the Regio Tour, Peace Race, Tour of Poland, Vuelta a Guatemala, Tooheys GP and Commonwealth Bank Classic with success, as well as winning stages in the Sun Tour, Killington and Superweek. In 2004, he moves from 7Up/Maxxis to Team Health Net presented by Maxxis.
Tour of Georgia Stages 2-6, April 21-24, 2004
Everyone is cracking
Kudos to an "invigorated" J-Mac
My account will be less than usual in the descriptive and grammatical departments. I'm completely blown from this week so far...
Today we had 90 minutes driving transfer in the morning and 90 minutes after the race getting off the mountain and down to Alpharetta. I heard Lance used a helicopter! Everyone is cracking, the Euro's most of all. For us Americans, we'd probably put up with about anything just to get to be in such a cool event. The Euro's have been overheard saying they can't believe how much time we must spend in the cars on top of 200km stages. How important is this? If you hear Armstrong tell it, every minute of recovery counts.
Minimizing stresses is a major factor in recovery. It's this important fact that must be taken into account whenever you see him turn away an autograph seeker. You have to keep in mind that LA is hounded 24/7. It's not just an ask for an autograph. Lance, could you please donate a jersey for my niece's leukemia fund auction? Lance, do you remember me from the 1998 Tour, I was standing at km marker 24 on Alpe d Huez and I saw you look right at me, do you remember?
So why are the transfers long? The race organization had 88 days to put this race together. The original itinerary had just a couple transfers, but the entire course had to be restructured to include harder courses. It's a monumental task to organize lodging for the riders, staff, press, police, marshals, etc., etc.
Last night I awoke around 1am with a pounding sinus headache. The infection began at the dive of a motel we had in Rome a few days ago; the room stank of smoke, the window was fixed shut, and the a/c unit hadn't been cleaned in years. Mold and pollen abounded. When I woke up, I was fully congested and had a fierce sore throat. I should have done an about face and seen about staying with Trey. So there I was last night, laying on the cool bathroom floor tile for an hour, one hand clutching a newspaper and the other a bottle of Afrin decongestant. Around 2am I told myself to remember this massive discomfort when it comes to deciding whether or not to keep racing in 05. You know what? It only takes one big race win and all the difficulties of the job seem to melt away.
This race has been fabulously successful for us. So far, two stage wins, three stages in the yellow jersey, and we are currently holding both the KOM and points jerseys with one stage to go. It hasn't been a Fraser/McCartney show, either. Yes they are both riding like rock stars. Greg Henderson's incredible finishing speed has been integral to Gord's first and third placings, while Chris Wherry made the break and totally sold out (sacrificed everything to save McCartney's legs) on the epic Dalton to Dahlonega stage. Today, Scott Moninger showed he is very nearly back to race-winning form with a fine fifth place ride up Brasstown Bald, vaulting him way up into the top 10 overall.
I personally have been disappointed with my performance. Perhaps it's the sinus infection thing, maybe I'm just not on form, but I was hoping after fourth at Redlands to reap a continued improvement here. Still, I have to gut it out and finish the best I can each day to keep up our team GC standings. I just found out that "The Pate" (Danny) is coming down sick too. Great. I hope I didn't give it to him. My roommate this week has been Wherry, and he's still healthy, so I hope whatever ails me isn't contagious. Wherry is looking forward to finding his climbing legs at Gila next week. When he says they're missing, I point out to him that he was the unsung hero of J-Mac's Stage 5 win...
Stage 5 - April 23: Dalton - Dahlonega, 224.3 km
One "invigorated" Jason McCartney
Photo ©: Mark Zalewski/Cyclingnews.com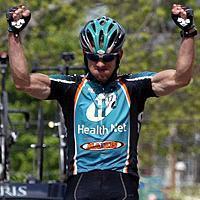 The night before the race, I told everyone that I thought we should put Jason in a break with a team-mate, have that team-mate "sell out" and deliver Jason to the final 30km relatively fresh for a solo attack. It was a good plan and Jason and Chris Wherry executed it perfectly.
When Jason made his move, the pressure was fully on in the bunch. Horner had attacked, his open full zip jersey flapping in the wind as he "danced" away. Lance didn't even flinch, he just stayed with his guys who upped the tempo just a little bit. The break was coming back to us in pieces, and I guess either Horner just gave up or ran out of steam 'cause he was caught by the summit. But a storming McCartney still had 2'30! I made sure to tell Lance that Jason was over seven minutes (it turned out he was about 10 minutes) down on the overall classification, and that should he have his men turn the gas off a bit we'd certainly appreciate it.
It made sense to save Hincapie, Padrnos, and Rincon for the brutal stage six coming tomorrow, so Postal eased off the throttles a bit. They had to stay alert though, because CSC was reading the results wrong and thought that J-Mac (as we call Jason) was 1'30 down on the overall (their D.S. was reading the TT results, not the overall) and was attacking repeatedly. At one point, Bobby J attacked hard with under 1km to go on the final KOM and got Lance totally isolated from team-mates. Voight, Horner and Julich attacked repeatedly in turns, but Lance didn't seem to have any problem shutting them all down. I was happy to be close enough to the action to see it all first hand, while Moninger was climbing very well and was in the midst of it.
On the descent we were all back together in no time. Flying past parked cars, many of which were precariously perched in the drainage ditches on the roadside. One Camry was nose down in the ditch at about a 45 degree angle, all dented up. Funny that we can see stuff like this when we're going 70km/h through switchbacks.
Anyway, as the race entered the "finale" everyone was attacking into the strong headwind trying to get away for the remaining placings. J-Mac held off the hard charging field to win by 52 seconds. The picture on Cyclingnews of his "posing" was classic! Veins and muscles bulging, he looks totally pumped. I've never seen a finish line pose look quite that... invigorated. It was a huge win for J-Mac and for Team Health Net (presented by Maxxis), and I couldn't be happier with the day. My good friend and team-mate wins, and I didn't feel too bad on the climbs either!
Stage 6 - April 24: Athens - Brasstown Bald, 206.4 km
Hoped that we'd roll easy for a while; morning stretch didn't go well and I didn't recover much overnight. Nah. Attacks all around. Gord was man on a mission to score intermediate points and single handedly must've covered half a dozen. Points leader Ivan Dominguez was allowed in by special exception after missing the time-cut yesterday by a handful of seconds. Ivan is a great guy, and honorably declined to go for the early break today. (You have to make the early break to have any chance at the intermediate points). Eventually the elastic band snapped and 10 guys rode away.
Postal set a good tempo until the time gap went over four minutes, and then they switched to what Moninger appropriately called "stun mode". They took it up from about 44 km/h to 48 km/h on rolling terrain. The peloton strung out single file, and Sayers reported that gaps were opening all over the place. Driven primarily by Tony Cruz and Mike Creed at this point, we must have held this pace for an hour. Two guys chasing ten. Pretty impressive! Cruz has some serious form right now.
On the mid-race climb, Julich decided to see how many Posties he could shell and he attacked on the first steep pitch, about halfway up Hogpen Gap. I couldn't respond immediately, so after being dropped by a group of about 20 riders I slowly dieseled my way back up before the summit. Hmm, maybe I can do it today... Screamed down a steep descent; Armstrong & co. definitely being cautious. Nobody knew the descent and there was no need to rail it at 10/10ths.
That was the best I felt all day, and it wasn't great. From that descent to the finish line, the remaining power in the body just evaporated. I really think the only thing that kept me going up the Brasstown climb was the huge crowds, seeing friends in those crowds, and a determination to get top 10. The main reason I ended up 13th was I just didn't have it this week. Secondarily, I thought I could allow the front group to follow the accelerations and that I could repass a bunch of them later. Unfortunately for me, the 80 degree heat became easily 95 degrees when the front fenders of six struggling (to go our slow speed) official/team cars were just meters away from me, tailpipes belching fumes. It got so bad that I actually backed off the group even more, hoping for some clear road-way and air. So instead of sweeping up a dozen riders I only got seven. It was definitely the coolest mountaintop finish race I've ever done. The crowds were far bigger than even those at Genting Highlands [at the Tour de Langkawi-Ed].
Email John at jlieswyn@cyclingnews.com