Recently on Cyclingnews.com
An interview with Nicole Freedman, November 6, 2003
Israel, here I come!
Nicole Freedman is one of the more colourful characters in the US women's cycling scene. A sprinter by trade, Freedman has spend the last 10 years racing her bike, winning the national road (2000) and criterium championships (2001) and representing her country in the 2000 Olympic Games in Sydney. Freedman is now angling to gain entry into the 2004 Olympics as an Israeli - an interesting tactic, as Kristy Scrymgeour investigates.
Nicole Freedman
Born: May 21, 1972
Place of birth: Wellesley, USA
Marital status:
Teams: Shaklee (1997-1998), Charles Schwab (1999-2000), Credit Suisse First Boston (2001), RONA (2002), Basis (2003-)
Career highlights
2003
1st, TIMEX International Criterium
1st, Stages 2 & 3, Wendy's International Classic
2nd, Stage 1, Wendy's International Classic
2nd, Israel National Championship road race
3rd, Stage 2a, Trophée d'Or Féminin
3rd, U.S. National Criterium Championships
2002
1st, Johnstown circuit race - The International
1st, Stage 1, Wendys Cycling Classic
1st, Flying Mile
1st, Snelling Road Race
2nd, BMC Manhattan Criterium
3rd, Women's International Challenge
3rd, Foothills Road Race
2001
1st, US National Championship Criterium
1st, Martinsburg stage, Tour dé Toona
1st, Berkeley Hills Road Race
1st, Athens Twilight Criterium
1st, Hershey Highland Road Race - Redlands Stage Race
2nd, Stage 4b, Giro della Toscana
2000
1st, US National Championship Road Race
1st, road race, Another Dam Race
1st, Four Bridges at Elgin Circuit Race
2nd, Clarendon Cup, Arlington, VA
3rd, US National Criterium Championships
3rd, BMC San José
US Sydney Olympic Road Team member
1999
1st, stage and GC, Wendy's International Cycling Classic
1st, road race, Another Dam Race
1st, Manhattan Beach Criterium
1998
1st, Trustmark Tour LeFleur criterium
1997
1st, stage Tour of New Zealand
US National Team member
1994
1st, National Collegiate Team Time Trial

Nicole Freedman, known as "snerf" (among other things) to her friends, began cycling while at university, as is fairly common for women in this sport. She was supposed to be studying Urban Planning but admits that cycling often got in the way. "I began cycling in 1994 in the collegiate team," she recalls. "I think you could call my degree 'Cycling with a bit of urban planning on the side.'"
Freedman also admits that she really got involved in cycling because running was not really her thing. "I began running in Division I at Stanford and was literally dropped and left for dead in my races, so I started triathlons but I didn't know how to swim. I'd be splashing around in the water grabbing people's shoulders. Plus, the water wings took such a long time to get off in the transitions. I stuck to cycling."
According to Freedman, cycling in the collegiate program was "awesome...It was the best introduction you could ask for. Our team had a tradition of winning the National Championship team time trial. Since Stanford started the cycling program, four or five of the athletes have gone on to the Olympics. When I started, there were also a couple of veteran women that took us all under their wings and that was really great."
"All my boyfriend had to say was '53/12' and then I started to get it."
- Nicole Freedman on sprinting
As a first year cyclist, Freedman threw herself in the deep end showing a true passion for the sport when she showed up at some of the national series races. "I was good on a collegiate level," she said. "But other than that, I was terrible. I did Redlands my first season and finished dead last. I also did a few other local USCF races and I was very poor. I just couldn't get up the hills against the elite women. Actually, I still can't get up the hills. I should have taken the hint and saved myself these last ten years of struggling."
Now known as one of the leading sprinters in the US, Freedman explains that sprinting came naturally to her only when she finally understood the whole gear ratio thing. "I didn't really understand sprinting as first. We would do these sprint sessions in training and I would always finish last. So I asked my boyfriend at the time to come along and help me. We'd do three sprints in different gears. The last one we could pick any gear. I chose the 53/21 and came dead last again. All my boyfriend had to say was '53/12' and then I started to get it."
Riding for Israel at World's
Photo: © CN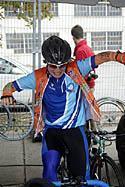 After years of success, having represented the US in the 2000 Olympics and putting her name on the board as National Road Champion in 2000 and National Criterium Champion in 2001, Freedman lined up on the start line of the World Championships this year riding for Israel. Freedman explains, "The Israeli Cycling Federation approached me after the 2000 Olympics. I guess they realised I was Jewish for my name - Freedman [Hard to miss]. We'd been emailing back and forth since then. They were trying to build a team. Since then, Leah Goldstein (formerly 800.com and Victory Brewing), Shani Bloch (Rona 2004) and I make up the elite women's team. It's exciting to be part of building a program.
"Team BASIS which I started this year is also about developing riders and developing a program. I like the underdog element to it. Cycling in Israel is really starting to take off. At the Nationals this year they had races for all categories. That's a great achievement. At the moment Israel is focusing on U/23's, juniors and women. They didn't send any elite men to the World Championships this year. I don't think they are ready for that yet. Hopefully soon. Racing in Hamilton for Israel was really exciting."
In the lead up to the World Championships this year Freedman went to Israel to compete in the National Championships there. "It was great," she said. "I was only there for seven or eight days because I had to be back for Cascade. Plus, I would have died of heat exhaustion. It was a hilly course and it ended on top of a climb. I loved it! [there's that subtle sarcasm again]. It was really hot though. You know those pictures you see of Israel and the desert. Well it's true, it really is desert and it's hot. We would get up and train at 4:30 so we could be back before 8 or 9. I used to think I was a morning person."
Now that the team has been developed a little, will we see Israel competing in Women's cycling at the Olympics next year? Freedman says it will be tough but is nevertheless optimistic. "First we have to qualify the country. We have to be in the top 21 Nations or in the top 100 as an individual. At the moment the points are a bit outdated but I think we are sitting in 27th place. We have a few opportunities to get some points in Australia at the World Cup and the Geelong tour, and there are also the World Cups in Holland and Belgium. It's possible but it will definitely be down to the wire."
"I usually take the Jan Ullrich approach in the off-season. It's not easy to put on five pounds in a week..."
- Nicole Freedman on off season training
Climbing at Sea Otter
Photo: © Bob Wilson

After Freedman's comments about her first Olympic experience, there is no doubt that she will do everything she can to get the team to Greece. "Sydney was amazing. I had 14 or 15 family and friends come out to watch. It was the coolest feeling knowing that I had qualified and had all these people supporting me. It was like the beginning and end of a chapter of my life."
About Sydney, Freedman remembers: "If people are always as friendly and nice as the Australians were that week, I'd move there in a second. The course was a good course too, because the race could have gone any way. There could have been a break away or it could have ended in a bunch sprint."
As for the actual race, Freedman recalls, "As Phil Liggett said, 'Not a good day for the Americans. Not a good day at all' [Freedman puts on a very good Phil Liggett impersonation]. "I was definitely disappointed. I think I over-trained myself for that race. Not to say that I would have gone any better. But maybe I would have felt better as I still got dropped."
Since 2000, Freedman has been a part of a few teams, from Charles Schwab to Rona. This year she started Team Basis. "I love Team Basis. I had a lot of help from Heather (Albert), Kate (Maher) and Lauren (Gaffney) to set up the team. During the season everyone helped me out a lot as well. 'Kate, could you please massage the left toe a little longer, please, and Lauren, not so hard on the right pinkie toe'. Our sponsor, Basis, is very supportive of people's individual goals - like Heather racing the track and Stephanie (Hannos) competing collegiately. The truth is, nobody is getting rich from cycling, which makes it all the more important for the team to support everybody's goals. Next year will grow slightly and add a couple of other girls. I prefer to keep the team modest overall."
With her short break from the bike over, Nicole is back on the bike beginning her off-season training for next year. "I am starting my pre-season training now although I'm not entirely motivated yet. I usually take the Jan Ullrich approach in the off-season. It's not easy to put on five pounds in a week, but I seem to always be up for the challenge. I recommend the ice cream sundae tour of all the ice cream shops in Boston. It's a great lead into the off season."
Winning at Redlands
Photo: © Rob Karman

Apart from riding Freedman coaches quite a bit. "I coach three individual athletes and the MIT collegiate team. I enjoy standing around on the side watching them struggle up hills over and over. 'Good job, just 3,432 more times up the hill. Mmmm, this ice cream is delicious. Maybe I'll get another.'"
With the Team Basis website boasting the slogan "Beat Saturn" this year, what does Nicole Freedman think about this disappearance of Saturn? "Really, Saturn is gone?," is the somewhat sarcastic reply. "I heard something about that. I don't think their absence will change that much on the women's circuit. Rona and T-Mobile in particular have strong programs and will have already started to become dominant. I think they will move into Saturn's role. Doesn't it always work like that in sports? Can't we all just be friends? I am not so sad to see Saturn go as they were a wonderful sponsor and invested in the team and cycling for more than 10 years. They allowed a lot of cyclists to exclusively follow their passion for cycling. It is the nature of sponsorship for companies to move on in new directions."
See also: A Candid talk with Nicole Freedman (2000)
Other Talking Cycling Interviews