An interview with Matt Wilson, December 12, 2003
"Just a rider"
Matt Wilson wouldn't mind a having a chinwag with Lance sometime soon
Photo ©: Shane Goss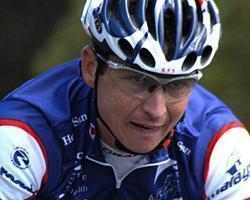 Matt Wilson had given up his dreams of becoming a professional bike rider and was leading a cycling-free existence until a battle with cancer changed his mind. Now, as he enters his third year with French team FdJeux.com, he is focussed on winning a stage of the Tour de France or one of the classics in 2004. And as he tells Karen Forman, he wouldn't mind swapping stories with another cancer survivor and five-time Tour winner Lance Armstrong… when he gets close enough, that is.
Like a lot of bike riders, Australian Matt Wilson felt truly inspired as he read Lance Armstrong's first book, It's Not About the Bike, detailing his brave return to cycling and his first Tour de France win after a miraculous recovery from aggressive cancer.
Wilson, 26, from Somerville on Victoria's Mornington Peninsula, had only recently gotten back on the bike himself after an 18-month retirement and was on his way to France to launch his new pro career with division one team, FdJeux.com, when he decided to take up friends' suggestions that he read Armstrong's book.
"I opened it as the flight was taking off and I read and read until I was finished, just as the flight was landing," he recalls. "I found it very emotional and inspiring."
Matt Wilson
Born: January 10, 1977
Nationality: Australian
Turned pro: 2001
Teams: FdJeux.com (2003 - ), La Francaise des Jeux (2002), Mercury / Viatel (2001)
Career highlights
2003 - FdJeux.com
3rd, Stage 4, Herald Sun Tour
3rd, Stage 11, Herald Sun Tour
2002 - La Francaise des Jeux
1st, Stage 10, Herald Sun Tour
1st, Stage 3, Tour de l'Avenir
2nd, Stage 3, Herald Sun Tour
2001 - Mercury / Viatel (stagiaire)
1st, Stage 4, Tour de l'Avenir
3rd, Stage 5, Herald Sun Tour
Most readers find Armstrong's story inspires them to tackle their challenges, both cycling and non-cycling, with more enthusiasm and courage. But there was more to it for Wilson, who had battled his own cancer the previous year. It was, Wilson says, more of a case of "relating".
"I am not a climber, not a sprinter, just a rider. But if there is an undulating or flat race, I can attack and win."
Since then, Wilson has raced alongside Armstrong, including this year's Tour de France, but he has never spoken to the American about his book or their cancers. "I wouldn't mind, I guess," he says. "Everyone was telling me to read the book because I could relate to the cancer, but I never did; not until I was on the plane going to Europe."
Like Armstrong, Wilson says his cancer, which he says was "Hodgkin's Lymphoma, the same kind that (Australian singer/songwriter) Delta Goodrem is fighting right now", taught him a lot. "I have learnt about balance," he says. "Before, everything was for cycling, I was under pressure and stress every day, forcing myself to do everything right. But now I know I have to relax and go with the flow a bit. I race hard, but I try to relax as well."
Turned pro with Baden Cooke at Mercury
Photo ©: Jean-Francois Quenet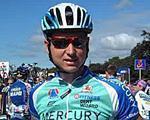 Cancer also got him back onto the bike.
Wilson raced as an amateur for three years in Italy with Baden Cooke on the Australian national team, spending four months in Europe the first year, seven months the second and four months the third. But he became disillusioned with his lack of results, combined with a lack of motivation and self-belief and decided to retire.
"I had 18 months off the bike," he says. "I got a job in a bar and managed a small kebab restaurant in Melbourne for about a year. I didn't go near cycling at all. I didn't ride, I didn't watch it on TV, I didn't read magazines, nothing."
But then after a year or so, he consulted doctors to find out why he had been feeling constantly tired. He also had a lump in his neck, which doctors had the year before suggested was a swollen gland. But a biopsy revealed a very different story.
The first two weeks were terrifying, while he awaited test results to reveal what kind of cancer he had. "It was very scary." Luckily, he didn't need chemotherapy and the cancer was successfully treated with radiotherapy, which tends to be far less traumatic on the body than chemo. "I quit my job straight away and started treatment," he says. "If you have to get cancer, Hodgkin's is a good one to get, because there is a 90 per cent cure success rate."
Wilson was off work five months and then, feeling better, accepted a new job. But his race wasn't yet won. On the second day, he started to feel dizzy and nauseous and had to go home.
"My workmates were teasing me, saying it was a bit too soon to start taking sick leave, but I was so crook I almost crashed my car on the way home, I was throwing up and blacking out," he says.
Doctors found his white blood cell count had dropped dramatically. He spent three weeks in hospital and that's when his life changed forever. "I was sitting there in bed thinking, 'I'm just getting better so that I can go back to a bistro job,'" he says. "Then I started to think about cycling and was wondering if perhaps it was the cancer that caused my poor results and lack of motivation. I mean, I used to think the cycling life was really hard until I started working in the real world, but now I was realising it wasn't all that hard after all."
Prepping himself for the Centenary Tour
Photo ©: Rodney McGee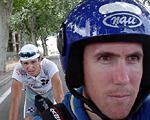 Wilson was 22 and he realised it was "fairly late" to be making a comeback, but suddenly, that's what he wanted to do. "I had family support, but they were a bit sceptical," he says. "I had no money, car repayments, had maxed out my credit cards and I couldn't afford to not work. But I wanted to start cycling again at the start of 2001, in six months' time."
Wilson decided he had to work full-time for four months to pay off his debts and save some money to he could spend a year overseas, racing. "I was working 60 hour weeks and I sold everything," he says.
Meanwhile, he was training and "feeling very different" to how he had during his amateur career. "I was a lot more motivated, probably because it was a way to get out of my job," he says with a laugh.
During 2001 he kept his bar job, working 12 or 13 hours a week and training the rest of the time. He was out of debt, but had no savings.
His first race back was the Skilled Bay Criterium Series in Victoria and he placed third overall with two stage seconds. Then he entered the Australian championships and almost won, getting caught with just five kilometres remaining and finishing third. He was ready to head to Europe but he still didn't have a team to go to, and didn't really have the results on the board to encourage a signing - and Christmas was fast approaching.
Then he heard about a small team in Belgium, which wanted Australians, but would have to pay all his own expenses. "I said I would go and booked a one way ticket to Europe on my credit card and even sold my bike," he says. "I just hoped I would have some money to buy a new one when I got there."
His Christmas gift came in the form of a sponsor, Club Assist, which gave him $5000. But just before he left, he came down with whooping cough, which set him back by six weeks. Still, Wilson had beaten cancer and he wasn't going to let "a cough" stop him from realising his dream.
"I was training better and better and Baden was in the US with Mercury at the time and we kept in touch," he says. "Then he asked if I could go to France to stagiaire for a month with FdJeux.com, in the middle of 2001. And that was my big break."
Targeting the TDU in 2004
Photo ©: Tom Balks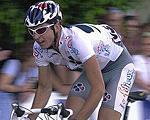 Wilson had a good month, helping the team as a domestique and winning a stage of the Tour de l'Avenir. He had hoped to join Mercury but its future was "dodgy". Cooke had been talking with Brad McGee about joining FdJeux.com and next thing Wilson knew, he had been asked to join as well.
He chalked up a few good rides in his first year, including 20th in the Tour of Flanders. This year wasn't so good, as he was plagued by injuries and illnesses all year. "It was one big comeback trail all year," he says. "Hopefully next year will be better."
Wilson has set himself some hefty goals for the 2004 season: "In the next couple of months, I am looking at the nationals, the Tour Down Under and two criteriums on the Gold Coast and in Brisbane," he says. "Then I go back to Nice, where I rent a room at Baden's house. The Tour de France is my biggest goal and I will be doing the early Classics.
"There's the Tour of Italy as well… not a major goal for myself or the team, but a lead up to the Tour de France. Obviously to get a start in the TdF on this team isn't easy. I had to pull out with asthma this year, which was disappointing. But I want to win a stage of the Tour."
Similarly, he's likely to contest the Athens Olympics, but doesn't think he has the results to be selected to ride for Australia. "There are too many other guys who are better than me," he says. "In France they say I am a 'rouleur', which means a rider. I am not a climber, not a sprinter, just a rider. But if there is an undulating or flat race, I can attack and win. I can win up a small hill."
Wilson sets his own training program, taking a lot of his lead from his good mates Cookie and McGee.
"Racing is certainly different this time around," he says. "I am really enjoying it.
"One day I will talk to Lance about cancer. And how life can be better after you have had it."