Recently on Cyclingnews.com
An interview with Bradley Wiggins
Right on track
Great Britain's Bradley Wiggins is one of a new wave of young riders such as Filippo Pozzato and Mark Scanlon who took world championship medals in 1998 and are now finding their feet in the senior ranks. After winning the individual pursuit world title in August, Wiggins was a convincing winner in the prologue of the Tour de l'Avenir. It is, as he tells Shane Stokes, all part of a plan to take him to the Athens Olympics and beyond.
Winning a junior world championship is a clear indicator of talent and potential but is by no means a cast-iron guarantee that the rider will make a top professional. As much as riders such as Greg LeMond, Roberto Visentini and Pavel Tonkov (on the road) and track pursuit gold medallist Brad McGee went on to top level careers, there are many other riders for whom early success was a glowing ember which failed to ignite.
Bradley Wiggins
Date of birth: April 28, 1980
Place of birth: Ghent
Height: 1.90m
Race weight: 70 kg
Turned pro: 2002
Teams: Credit Agricole (2004- ), FDJeux.com (2002), Sport & Publicity (2001)
Career highlights
2003 - FDJeux.com
1st, Individual Pursuit, World Track Championships
1st, Stage 1, Tour de l'Avenir
2nd, Team Pursuit, World Track Championships
5th GC, Tour du Poitou Charentes et de la Vienne
2002 - La Francaise des Jeux
2nd, Individual Pursuit, Commonwealth Games
2nd, Team Pursuit, Commonwealth Games
2nd, Six Days of Gent (with Matthew Gilmore)
3rd, Team Pursuit, World Track Championships
2001
1st GC, prologue & stage, Cinturon de Mallorca
1st GC & stage, Fleche du Sud
1st, Individual Pursuit, European Championships
2nd, Team Pursuit, World Track Championships
3rd GC, Tour of Rhodes
2000
2nd, Team Pursuit, World Track Championships
3rd, Team Pursuit, Olympic Games
1998
1st, Individual Pursuit, Junior World Track Championships
2nd, Team Pursuit, Commonwealth Games
Other stuff
His favourite track: 'I was born in Ghent so the velodrome there is like my home track. It is probably my favourite one out of all the tracks in the world. It is just 167 metres, like a soup bowl. It takes a few days to get used to riding on it but it seems to suit me.'
On relaxation: 'I like to watch rugby league. I started to get into the Wigan rugby league lately and that is a good thing to watch. I also enjoy running around with my dog, a golden retriever. I take him down to the woods and he tears around there. The pub can be good, too, but I'd best not say too much about that!'
On living in England: 'I don't live on the continent. I was living in Manchester this season, just commuting to races. I find that better for my morale. My family is living in England and it is a lot better for me to do it this way.'
On some of his long term goals: 'Certainly the track next year is a big focus and after that, it would be a nice goal to aim for the Tour de France prologue, if it happens in London.'
On being junior and senior world champion: 'I never really thought of it in terms of making history. Brad McGee has done it as well. It is not really a record as such, but I suppose it is nice to fulfil the potential of winning the junior worlds and then becoming the senior champion.'
The 1998 world junior pursuit champion Bradley Wiggins is, however, firmly set in the first rank of world championships winners. Not only has he gone on to a good pro career, he has also achieved that rare double of junior and senior maillots arc-en-ciel. In August of this year, the 23 year-old scorched to an impressive victory at the World Track Championships in Stuttgart, improving on the past performances which had seen him take Commonwealth games silver in 2002 and the European title one year earlier. He then underlined his excellence against the clock when he won the prologue of the Tour de L'Avenir by a massive fourteen seconds, two rides which helped secure a contract with Credit Agricole for 2004 and which are the confidence-boosting basis for what he hopes will be even greater success in the years ahead.
Under pressure, but under control
Aussie-bashing at Herne Hill
Photo: © Lucy Power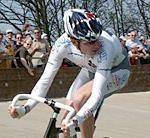 Wiggins had stated beforehand that taking the rainbow jersey was his major goal of the year. Beating the reigning champion Bradley McGee in the ten minute roadman's pursuit at the Herne Hill Centenary meeting in April showed he was gaining strength as a rider, and taking part in the Giro d'Italia in May proved to be a fine base for the good form he would carry to the World Track Championships. McGee's sporadic health problems in the stages following his prologue win in the Tour de France meant that he would miss the chance to defend his title, but Wiggins was still under a lot of pressure heading into the World's.
'I was under a fair bit, all right', said Wiggins. 'It was pressure that I had put on myself to do well, a kind of expectancy. I knew I could do a really good ride, I knew I had it in me to win. It was just about getting it all together, in this pre-Olympic year.'
"I wasn't happy at the team and I wasn't going to stay there... I couldn't imagine another year with them, really."
- Wiggins talking about his current team, FDJeux.com
Wiggins' bid was backed by the support of people such as GB track endurance coach Simon Jones and the former world and Olympic pursuit champion Chris Boardman. Drawing on the knowledge, experience and advice of both, he posted an impressive series of efforts in Stuttgart. Wiggins threw down the gauntlet with a scorching qualification time of four minutes 17.342 seconds, over four and a half seconds quicker than the 2002 runner-up Luke Roberts of Australia. Round two saw him beat Russian Alexey Markov by nine seconds, setting him up for a tussle with Roberts in the final, and then in the final showdown he triumphed by nearly a second to land gold.
'I was really delighted to win', he says, 'the World Championship gold medal is my biggest ever victory. There was quite a bit of pressure beforehand, but we managed to keep it low-key by focussing on achieving my own best possible performance, rather than looking at where it would get me. The main thing was to make sure I put together a good series of rides. In the end, it all paid off.'
Following in the footsteps of another Brad
Geed up in Stuttgart
Photo: © Hennes Roth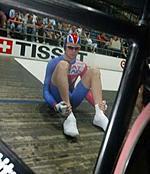 Wiggins is, like Bradley McGee, one of the rare breed of riders who can succeed on both track and road. Following his World's victory, he headed to the Tour de L'Avenir with his FDJeux.com team and proceeded to blitz the prologue. A margin of fourteen seconds over 10.7 kilometres represents a dominant ride; in addition to the satisfaction of taking yellow in the mini-Tour, it also made up for his disappointment 12 months earlier. 'I lost the prologue last year by twelve thousandths of a second, or something like that, so this time round, it really topped off the season to put it right by such a margin', he says. 'It was quite difficult to keep training after the World Championships. I found it quite hard mentally, after all the effort I had put into my World's campaign. To still have that (the prologue win) come off was great, really. It topped the year off, in terms of the road, and showed my new team something as well, which was good.'
Wiggins held yellow for two more stages but dropped out of the race once it moved into the high mountains. 'I got sick two days into the race and I was quite tired mentally as well. The first real hard day it was raining and cold and I was really feeling it. I wasn't normal... the doctor had looked at me in the morning because I didn't feel right. My glands were up and I was just really quite run down. I didn't really have any strength on the bike. I got dropped on an early climb and... that was it, really. I wasn't right. It was quite disappointing really, as I was going pretty well. I was in good form and I thought I could do something on GC there. Whether I would have won it, I'm don't know... I don't think I was climbing well enough to win it, but maybe I could have got a top ten overall.'
Wiggins' withdrawal from the race effectively brought his road season to an end, but his goals had been achieved. Riding a Grand Tour, doing some of the classics, winning the world pursuit title and taking the prologue of the Tour de L'Avenir were all on his to-do list at the start of the season, and the manner of the latter two achievements were more than enough to ensure a good offer for 2004. 'I am happy with my season, it all went as I hoped', he says. 'I just planned to win the World's and the L'Avenir prologue, and from the start of the year they were the goals, really. And also to get through the big races like Paris-Nice and the Giro. It was good, really, everything went well.'
The Giro: tough but good
The Giro was a tough experience for Wiggins, although one which certainly stood to him by the time he lined out in the world championship pursuit. Interviewed after his win there, he was quick to pinpoint the benefits riding the Giro brought, stating that he was able to pedal a bigger gear at the World's because of the efforts he had made in Italy. Wiggins was part of a 34-strong group of riders who were controversially eliminated on stage 18 of the Italy's Grand Tour, a gruelling mountain stage run in appalling weather. Just three more days remained in the race and with Milan practically on the horizon, not reaching the finish must have been frustrating.
'The Giro was hard, and I found it quite tough mentally as well. But it was good; it was another step in improving as a road rider and learning more about myself... it was a good experience. It was disappointing at the time not to finish the race but that is just the way it worked out, really. The rules were there and they (the race organisers) stuck to them. In some ways, I was actually pleased to get home for the weekend, I sort of had enough by then anyway.'
First a trackie
A very useful ally
Photo: © Hennes Roth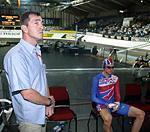 Wiggins is, like compatriots Sean Yates, Chris Boardman and David Millar, a rider whose forte is against the clock. It is easy to put this success down to the British tradition of time trial riding, yet this assumption is a misleading one. 'I never rode a lot of time trials as a kid', he explains, instantly dashing that theory. 'I have only done one ten and one twenty-five (mile time trial) up until this year. I didn't come from a time trialling background. I was always racing on the track, probably because my father was a track rider.'
'I started there at twelve years of age, and went on from there to do some road riding, in the form of criteriums. But I was very much a track racer, first and foremost. I had the ability to ride everything... .I was an eleven second sprinter as a junior, I could ride a fast pursuit, I had a turn of speed more than a sprint that I could sustain over long distances and so I was good at the kilo. I just seemed to be good at everything, really. I am world champion at the pursuit, but I still believe I could be world champion in three other disciplines. These days you have to specialise, though... it is so competitive that you would end up with nothing if you try to do everything.'
Balancing the demands of road and track affects his training programme to a degree. 'I suppose there is a little trade-off with my climbing,' he says. 'At the moment I really just train to what I am good at, which is time trials, races on the flat, leading sprints out and things like that. I don't think I am ever going to be a super climber, and I don't really want to waste a few years trying to find out if I am. I will just see how it develops. When I am going really well, I can climb okay over the short climbs, but I don't ever think I am going to be a mountain pass rider or anything like that. For the moment, I am quite happy with how things are.'
Listening to Wiggin's assessment of his talents, comparisons with the career of Boardman seem inevitable. He is still only 23 so it is difficult to make predictions, but his achievements thus far point to a future as a rider who is Olympic medal material on the track and the potential winner of prologues and time trials in stage races. Heading to Credit Agricole therefore seems a logical destination, as it was with this team and its predecessor, Gan, where Boardman spent his entire career. Wiggins announced a one-year deal at the end of August and is confident that with them, he will be able to have the ideal run-up to next year's Olympic pursuit.
Moving on
Moving on to Credit Agricole
Photo: © Hennes Roth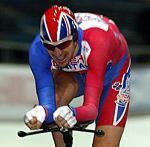 'Credit Agricole are very happy with my plans. I think I will be able to have more of a specialised programme next season, as opposed to a situation of 'we will do this and then you can do that'. It tended to change a bit this year, I never really had the full... well, the team (FDJeux.com) were really good to me in a lot of ways, but I did get a few moments where the key points in my programme to the World's were changed. That kind of upset me a bit. But I wasn't world champion then - whether they didn't have full confidence in me to do the job, I don't know.'
'Obviously now being world champion, I will get a bit more say in what I want to do next year. Credit Agricole are 110 percent behind me, they are doing cartwheels at the moment as to what I want to do next year, which is great.'
When I spoke to Wiggins, he was about to take a flight to Paris and meet the team for their 2004 photo shoot. As such, he hadn't spent a lot of time around the new set-up, but was confident he had made the right choice. 'Credit Agricole certainly seems like a good team so far', he enthused. 'That said, it is quite a French team this year, there are no Aussie guys. One of the disappointments in leaving FDJ was leaving the three Australians there. I really had good friendship with them, but I have to move on, really. I wasn't happy at the team and I wasn't going to stay there... I couldn't imagine another year with them, really.'
'It is another step, as they say. You have to move on at the right time. I am not too nervous about the change, I am actually looking forward to it and quite excited about it all. I am excited about taking the responsibility on now... I will be 24 next year and I am really going to start to try to fulfil the... em... the hype about me. I am supposed to be the next big thing, really, so I will see how far I can take it now.'
All going to plan
Speaking to Wiggins, you have the feeling that he has it all methodically plotted out. His targets short-term, his goals long-term, and the route which will take him there. He is hesitant to make any grand predictions, but it is nevertheless clear that he is aiming high. Olympic medals, world championship wins, good results in prologues, short time trials and road races; all are part of the big plan for this ambitious young rider.
So far, he is happy with how his career is progressing. 'It is all going to plan, really. It is hard sometimes looking at what I have done and taking it all in... a couple of years ago I was a junior but now I am world champion and a Tour de L'Avenir prologue winner. But there are a lot of other (good) things which have happened this year, like placing 50th at the Tour of Flanders. Coming in for 23rd place with Zabel and riders like that was like a victory in itself for me. That was a race I watched since I was a kid and coming up the finishing straight after 270 kilometres was a surreal experience. It was a childhood dream of mine to be racing there.'
'Getting to Arenburg in Paris-Roubaix in the front group still with 50 miles to go was also important. I crashed there but would have otherwise have been almost certain to arrive at the track in a good position. I wouldn't have won or anything like that, but I would have finished that race as well. That was a disappointing time, but in another way, because I was still there, it was like a victory in itself.'
His reverence for the monumental classics is probably due in part to the career of his father, Gary Wiggins. A European-based Australian pro, he rode events such as the Tour of Flanders and Paris-Roubaix, as well as six day races and the world track championships. 'From the start I remember him racing. He did mainly the Six-days and the World's. That was why I started racing on the track when I was young, because of him.'
Wiggins' road season is finished - he used the free time to recently move into a new house in Shevington, Lancashire - but the track season is very much part of his immediate plans. 'I have a few six days on my schedule, starting in Amsterdam in a couple of weeks and then going right through to the end of November in Ghent. They are an ongoing part of my season and very much objectives of mine. The atmosphere of the Six-day is brilliant, it is really good.'
Then, after his winter break from racing, Wiggins is planning a steady build-up for next season. He is confident in Credit Agricole's full backing of him in his plans to build towards the Olympics. Short time trials will be a focus in stage races, and also, possibly, the Tour de France and its prologue. 'I hope the Tour ends up being on my schedule, it certainly is the plan at the moment to do it. It would be another step in my career and in my development. I am looking at the prologue at the moment... it is course-dependent, really (whether he aims for it). All I know at the moment is that it is in Liege... being there, it could be up a hill or on the flat. We don't know yet. My approach will depend very much on the course.'
Athens on the agenda
"No-one is invincible"
Photo: © Hennes Roth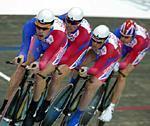 After that, the Olympics. Confidence buoyed by his rainbow jersey, Wiggins will be gunning for a big ride in the individual pursuit in Athens. The team pursuit is also a big target - he was part of the bronze medal-winning team in Sydney, and this year took silver in a world championship dominated by the Australian squad. The Aussies smashed the world record and put over three seconds into the GB team in taking gold, but Wiggins refuses to be intimidated.
'Obviously, they are the best in the world at the moment and are the world record holders. No-one is invincible, though... .they have to go there next year and defend their crown. But we are going to be one hundred percent there as well... it is the Olympics, it happens once every four years and everyone raises their game. It is a pressure time for people... let's just wait and see what happens. They are not invincible, we are going to be there fully prepared to win the gold medal. I know they are as well, it is going to be a close one. So we will see what happens.'
An interesting scenario would be if world time trial champion David Millar elected to ride. To date, the Scot has little track experience but, on paper at least, his power output and skill against the clock would be a fantastic asset. Does Wiggins think he has the makings of a good track rider? 'I don't know, really', he answers. 'Certainly, he has got the physique and the engine to do it. Whether he can apply it to the track or not remains to be seen. I think he can, he has proved as a prologue rider he is the best in the world, and so it is just about re-training it to the track.'
'I spoke to him recently about it, actually. He is interested and keen to do it, but whether he has time to do it is another thing. He obviously has a lot of commitments with the road. I think it would take a bit of time for him to adapt to the track... I don't know if he would have the time to do that, to be able to sacrifice his other road commitments to find the time into trying to become good on the track. It is very difficult to say.'
Time will tell if Millar decides to try his hand at the boards, but what is certain is that Wiggins' passion for it remains as bright as ever. When most riders are putting thoughts of racing to one side, he is counting down the days until he takes out the fixed wheel and starts tearing around the velodrome once more. The Six-days are coming; he's looking forward to the atmosphere, the adrenaline, the cheers and the challenge. Wiggins has the makings of a highly successful road rider, but equally he will always have a big place for the track in his schedule. What's more, you can expect him to excel in both.
See also: 2001 interview with Bradley Wiggins
Other Talking Cycling Interviews