An interview with Ben Brooks
Going back to a stronger Jelly Belly in '04
Brooks with a bigger Belly in 2004
Photo: © Casper Casparian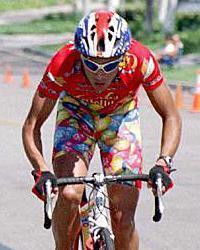 After a strong debut season racing in the USA, Australian Ben Brooks is heading back to the US to rejoin what will be a strengthened Jelly Belly squad in 2004. Gerard Knapp reports.
This year, the young Australian was "probably one of the stronger guys" in a team that made life difficult for the more established US teams. Brooks - who is also an accomplished track rider - rarely hesitated to attack on climbs or chase down the top riders in the US peloton, such as his move with eventual race winner Chris Horner (Saturn) in the T-Mobile International in San Francisco last month.
The pro racing scene in the US next year will somewhat resemble that of Spain - a buyer's market for race teams with available funds - as there are plenty of good riders on the market following the withdrawal of major sponsors.
"With Saturn ending and Prime Alliance winding up, the market is super-tough," Brooks told Cyclingnews. At the same time, Brooks said Jelly Belly is doubling its budget for 2004 and the team is expected to pick up some new riders, although he couldn't point to any at this stage of the year. "Things tend to happen a lot later in the US compared to Europe," Brooks said of the silly-season contract negotiations.
"The team has plans to be bigger next year and Danny (Van Haute - team manager) said his phone had been running hot for the past two weeks."
Brooks said Jelly Belly had offered him a better contract for 2004, so he'll be heading back to California next year. In his first year of racing full-time in the US, Brooks was a key part of a team that surprised many. "I really enjoyed it. It's a great team and the sponsors were great." The Orbea bikes he rode this year "were awesome and they're really interested in supporting the team."
Prior to riding for Jelly Belly, Brooks, 24, was part of the ill-fated Linda McCartney squad and then spent a year riding for Team Down Under, a Belgian-registered team which features many Australians on its roster.
No worlds in '03
Tore 'The Grafton' apart
Photo: © Mark Gunter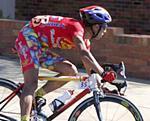 Brooks was also hoping he may have had the opportunity to join the other Australians who will be lining up in Hamilton later this month for the elite men's road race of the World Championships. "I would have loved to have done it," he said. Australia will only enter seven male riders in the road race, although its status in world cycling means it is allowed to enter up to 12 riders.
But Brooks was not contacted by the coaching staff of the Australian Cycling Federation in regard to the world's road race. While disappointed he wasn't among the possible starters, he was also realistic of his overall chances.
"It's the hardest one-day race of the year and it comes another month after San Fran, so it would have been hard for me to keep my form when there's guys coming out of the Tour of Spain and racing regularly in Europe.
"I'm sure I could have been there for a good part of the race to help out Scott (Sunderland) and Mick (Rogers)," he said.
So instead of remaining Stateside in preparation for Hamilton, Brooks boarded a flight for Australia only a few days after the T-Mobile International in SF. Arriving on Thursday morning, he headed north to the NSW township of Grafton, in pursuit of the AUS$3000 first prize on offer in the 228km Grafton to Inverell Classic, arguably Australia's toughest one-day race.
Lining up on the Saturday morning, Brooks proceeded to take the race apart, shattering the field with major attacks on the race's significant climbs. He eventually broke away with two other riders. Unfortunately for Brooks, both of his breakaway companions had team-mates in the chasing bunch, and they were hauled in less than 20 minutes from the finish line. Brooks was unable to respond to an attack as his lead group was caught and he finished sixth.
Brooks and McGee: 2002 Madison champions
Photo: © Justin Britt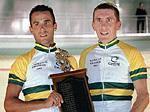 While in Australia, Brooks is also known to stretch his legs in the occasional track race, something he has done since he was a junior. "I did track racing as a kid and still ride it for fun," he said. "There are only a handful of guys that can cross over from the road to the track and still ride at the top level. I certainly don't consider myself a track rider these days," he said of his definition of rider standards, at least for Australians.
"I'm only a 60 kilo guy and I'd have to put on another 10 kilos to be able to ride four minute pursuits, but then I'd probably lose it on the road. So it's just not my go," he said.
Nonetheless, Brooks has shown his ability when he combines his road endurance with his track skills. He teamed up with Rodney McGee in March last year to win the Australian Madison champions title in a quality field that included Olympic gold medallist Brett Aitken and former world Madison champion Erik Weispfennig from Germany.
Brooks will remain in Australia until February next year, taking it easy over the next month or so and before doing some of the major criterium events and possibly track carnivals over the Australian summer, then preparing himself for the Australian Open road championship in late January, the national event where almost all the Australian professionals chase the right to wear the green and gold jersey all year.
Despite the Linda McCartney debacle, Brooks said "I still have aspirations to go back to Europe if the right opportunity arose. But they're few and far between right now. Still, if something came up, I'd jump at it."
See April 2003 interview with Ben Brooks
Other Talking Cycling Interviews