An interview with Ben Brooks
The Choco man cometh to Cali
By Chris Baldwin
Choco's-a-coming to Cali
Photo: © Rob Karman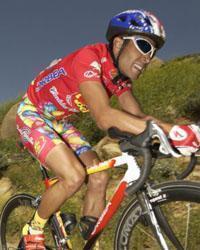 Ben Brooks - or Choco to his mates - comes from New South Wales, Australia, where his chocolate coloured coating provides a perfect barrier to the harsh Australian sun, a climate he enjoys and excels in. So it was hardly surprising then to see Brooks move from Belgium to California to race for Team Jelly Belly and its motley band of giant killers in 2003. Chris Baldwin caught up with yet another Australian prodigy before the start of the Tour de Georgia.
He goes by the nickname Choco ostensibly for the dark hue of his skin. Coming from Australia, he sports a tan that is deep, rich and nearly obsidian. When he began racing in Europe and was bundled up against the elements for maybe the first time in his life, some of his clubmates from back in Hurstville, NSW, began spreading the rumor that he had actually gone pale, and that pink skin was appearing at the edges of his racing kit.
He broke his collarbone racing in Italy in 2000, leaving the Continent prematurely for surgery back home. Then the Linda McCartney squad he had been riding for released him, so he spent his time recuperating well enough to win a stage at the Commonwealth Bank Classic, simultaneously searching for a pro contract.
2002. Another year in Europe, this time with the Belgian-based Team Down Under. But Brooks was ready for something new. Still just 22 years old, the young man with the dark tan packed it up and moved it out, settling in Carlsbad, California to race for Team Jelly Belly and its motley band of giant killers.
Already in 2003, Brooks has shown just what an animator he can be, attacking hard and consistently at the Solano Classic, winning field sprints at Redlands, and just sort of following along with all the other confused riders at Sea Otter. Okay, maybe Sea Otter isn't necessarily indicative of where Brooks' form is, but during the road race at Solano he was absolutely brilliant, charging, recharging, attacking when nobody else in the break would go. At the base of the final climb he was away and steaming up that hill, and only Chris Horner had the nerve to chase. For early April it was an impressive move.
22 and ready for something new
Photo: © Rob Karman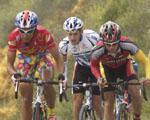 Cyclingnews: How did you get your start in competitive cycling?
Ben Brooks: Basically through my family. My dad raced, my uncles raced, just sort of always been around it as a kid. I guess that I was about 12 or 13 when I started.
CN: Why are there so many talented Australians on bicycles?
BB: A lot of Aussies say this, but if you're prepared to leave Australia and move to the other side of the world, and you give up a great lifestyle like you have in Australia, if you are going to make that kind of sacrifice, you don't want to muck it up. You make the best of every chance you get once you get overseas.
CN: What teams have you raced for?
BB: At home in Australia I joined St. George cycling club, and that's a club I'm still a part of now. My dad basically coached me until I was about 16, and then Gary Sutton from the New South Wales Institute of Sport coached me.
CN: What is your life like off the bike?
BB: Life's good. I've got a girlfriend who I've been together with nearly four years now, and she's actually heading over in a couple of weeks. It'll be great to have her here.
In the off-season I like to water-ski, that's my favorite thing. I follow rugby football…, the Newcastle Knights are my team. That's the only thing I miss. When I'm away I don't get to see any of that, so I keep in contact with it over the internet.
Idling... in the 53x12
Photo: © Rob Karman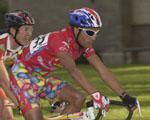 CN: What was your experience racing in Europe?
BB: I raced two years with Linda McCartney, and then last year I was on a small Australian team registered in Belgium called 'Team Down Under'. I didn't have any victories, but I was pretty consistent for about four months of the year. It wasn't too bad.
CN: When did you decide to cross the Atlantic?
BB: Basically I more or less decided middle of the way last year…Brent Dawson is a really good mate of mine and he had a few contacts here and it just seemed like a good avenue for me to go down. I was offered a new challenge and I jumped at the chance.
CN: What's good about San Diego?
BB: It's pretty great. I'm living with Peter Coulsen and Michellie Jones, the triathlete, and they've been great. They've given me a beautiful place to live, right on the water. The training is great here. Today there's rain, but there have been only three days in the last two months. It's perfect training.
CN: What distinguishes American from European racing? From Australian?
BB: I hadn't raced here before and I had heard a lot about it. I haven't really done a lot, I've only been here for four weeks of racing. I think a lot of the best guys here would be competitive in Europe. I think we're seeing that in the Navigators, who have a lot of their guys doing well. There's probably not the depth here, but the good riders would probably win in Europe as well.
There's no real structured racing in Australia, because once the racing season starts all the best guys either head over here or they go to Europe. Even though there's some really good world-class riders, you never really see them race together at home, apart from the national titles. There's not really a professional scene, just a domestic scene for the amateurs, and anyone who's got a contract or is aspiring to be a professional goes overseas.
You wanna come for a ride, JV?
Photo: © Rob Karman
CN: What kind of goals do you have on the road this year?
BB: I just want to have a consistent year, and keep my name up there. It started off probably as well as I could have expected in the first few races. The main goals are Philly and San Fran. They are sort of hilly, long, hard races, which suit me. Hard one-day races are what I really like to go well into, so those two races are the two major goals for the year. I also want to be consistent throughout the rest of the year as well.
CN: What about your Orbea?
BB: I love it. The guys from Orbea are really into the team, and I think they're even going to [ask us to] sample a new carbon bike a bit later in the year. The one we are on now is perfect.
CN: How often do you check Cyclingnews.com?
BB: I check it every day. I'm a bit of a bike pervert, I guess. But I think it's really the best site for anybody involved in racing. Anything you want need to know about any race going on is all in there.