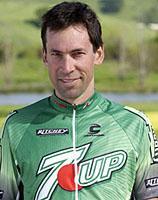 John Lieswyn
Photo: © 7Up/Maxxis
The John Lieswyn Diary
A pro racer who now mostly concentrates on the US domestic scene, John Lieswyn is one of Cyclingnews' most popular and sometimes controversial diarists. He has been racing since 1985 and a Cyclingnews diarist since 1999. John likes both criteriums and longer road races, and seems to particularly like it when the going is hard. He has raced in the Regio Tour, Peace Race, Tour of Poland, Vuelta a Guatemala, Tooheys GP and Commonwealth Bank Classic with success, as well as winning stages in the Sun Tour, Killington and Superweek. In 2003, he is once again riding for 7Up, this year co-sponsored by tyre maker Maxxis.
Season-end round-up
November 4, 2003
I didn't even want to peek at my Cyclingnews email account, expecting that after not logging in for three weeks since world's I'd be roped into reading and replying all day. Everyone buy stuff from Cyclingnews sponsors so they can get faster email servers! Seriously, one reason the mail piles up in that account is that I try to respond to each and every one. Another time consumer is the address book of readers that I am building. You wouldn't believe the cross section of people and countries in that list. From fellow racers, college students, and $7/hr employees to multinational executives, it's really inspiring to know that you all look for my entries. Thank you.
As the season progressed I was having increasing foot pain (unrelated to the sweet custom shoes I wear). It got so bad during the buildup for San Francisco that it felt like I was pedaling on hot, sharp coals. Yet I couldn't back off and there wasn't time to see one of the highly rated specialists like Russ Bollig in Boulder or the one I finally got to see last week, Bill Peterson. So the most I could manage in prep for the World Championships in Hamilton was four-and-a-half hours a day, and that was in the week immediately after the Vuelta Sinaloa.
Vuelta Sinaloa
I wrote about this race last year and not much changed. This time around I wore the yellow leader's jersey for several days instead of just one, and only lost it by one place to a Colombian climber. I'm convinced that had Jeff been in the team car behind, linked by radio and able to see the big picture, that on the one mountain day we could have spent our defensive resources better and I wouldn't have gotten outnumbered six to one on the final climb.
After the final stage there was time enough before my flight home to ride over to the tip of Mazatlan and climb the jeep trail (on road bikes) with Jason. Like every other day, it was so hot that every sip of water was transferred from stomach to skin in seconds. We had to abandon our cyclocross adventure when the path turned into timber and loose stone steps. From this high point we could see the massive cruise shop at dock on the right side of the isthmus, then the old city centre and it's huge stone church, and on the left the hotel studded beachfront boulevard on which we had just raced. The day before I had wandered into that church and said a few prayers before admiring the architecture and the expansive use of granite (for which I have a new appreciation after my Asheville kitchen project). A wedding rehearsal, baptism, and the prayers of a few locals all took place inside the cavernous interior, with no group even slightly encroaching on the space of the other. In a lost lesson to my countrymen, the church was kept cool without the wasteful use of air conditioning by its design and materials. There was even time after the ascent of the radio tower jeep trail to go body surfing before I had to pack up and catch the plane home.
World's
In the thick of it at world's
Photo: © Robert Naish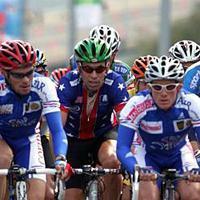 With my success at Sinaloa and what I thought was a sufficient amount of training, I set for myself the goal of fulfilling my duties to the team for the first 200km and the possibility of finishing the 260km race, albeit on what was sure to be fumes in the tank. Having the luxury of not writing this report until weeks later, I've read some of the wondering criticism of the US team performance. One armchair critic said that Horner was the only one to ride aggressively and the rest of the team should have done the same. Much easier said than done!
Och was calling the shots. He's a very smart guy and left Horner out of the early duties that the rest of us US-based riders were rightly slotted into. Some critics said they never saw what work we did, despite walking all around the circuit. Keep in mind that even the most adventurous spectator cannot see more than 24 minutes of this race live, and if you're watching the jumbotron you won't see much of anything beyond the immediate front of the peloton.
Let's just say that the US riders weren't any different from other teams in having a fair share of mechanical trouble! I must have gone from front to back to front of the peloton half a dozen times in the first 150km. I had the speed, strength and savvy to excel on this course but not the endurance, and from feeling great at 150km to my shaky withdrawal at 180km I was reminded how, despite our relatively similar physical capacities, Horner's typical preparation blows mine out of the water. On my last two laps in the race I rode up to Tim Johnson, who was obviously suffering similarly, and asked how he felt. He replied that he was nearly done, but I figured that if we took the remaining ten percent reserves between the two of us perhaps one guy could make it to the finish.
Without regret I drafted Tim as far to the front of the peloton as possible before two climbs. From a forward position I was able to just hang on to the peloton as eighty-odd riders would pass me in the final 500m of each hill. With six laps remaining I was getting so shaky that I decided against trying to hang on any more, mainly because one wrong move at almost 90kph on the descent and you'd be in hospital. When I pulled out, I was surprised to see Mark McCormack already in the tent. My roommate here Ontario, he's had a very impressive year and a stellar ride at San Francisco, but he wasn't 'on' today. We had a TV set in the tent and after changing clothes we watched the finale. I kept walking out of the tent and searching for my wife, whose message on her whereabouts was forgotten by one of the soigneurs. I eventually found her and we finished our seven year anniversary trip with a B&B stay in Toronto before driving our newly-engined 1966 Mercedes roadster home. In a driving rainstorm the whole way!
Showing the pressure at world's
Photo: © Marek Lazarski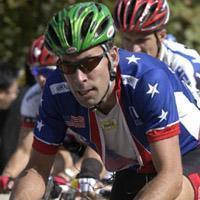 So what was it like being at world's? Before we even started it was amazing how the fans would ooh, aah, and cheer for Hincapie every time he came into their view. It was just as impressive as the hoopla surrounding Armstrong at San Francisco. Once underway, I noticed immediately how many people around the 12km circuit were cheering for me (?!). My name was spelled right on signs thrust over barriers and held high above the thick crowd, as well as painted onto the tarmac on the first climb. The only time I couldn't hear my name being yelled was when I was riding near the unmistakable Hincapie.
I spent a couple laps protecting our number two, my old friend Fred Rodriguez, and despite credentials just as strong (but without the rep of being Lance's lieutenant) there were far fewer shouts for Fred. I'm sure it's nothing to do with resume or personality but more to do with the sheer presence of Hincapie. Even a newbie spectator can recognize the man right away on the bike. For much of the race it was either suicide to attack (it's interesting to note that there were no serious attacks for the first four laps, considering the distance to go) or the precedent set by the Italians was sufficient deterrent against silly moves. With still two thirds of the race remaining the Italians felt a three man early break was too far out (about four minutes) and when they dropped the hammer the gap was more than halved in just 6km. Okay! No funny stuff here. It became increasingly evident that with dry roads this race would be played out on the final two laps and no earlier.
Between climbs we hauled booty over a flat feed zone section, turned 90 degrees left, and reaccelerated before a big descent to the base of climb 2. This climb invariably began tentatively, as everyone knew how it just doesn't get easier as it goes up. A third of the way up there is a jumbotron on the left, a chance to see what the fools off the front were doing, (they were usually already on the descent into the city) and a view of the inflatable white sponsor laden 'bridge' over the road signifying XX number of kilometres to the finish. More important is that the inflatable signified to me the point at which no matter how hard the peloton went, if I made it to there I could hang on over the summit. To me it was the '45 seconds of anaerobic suffering to reach the summit' marker.
I knew my friends from Ventura California were somewhere on this climb but I couldn't spare the energy (even when the pack was just riding tempo) to look about me. Tempo pace ascents had me at 160bpm, while the few full speed laps I was in the race for I was right around 190bpm. It was the point at which the road narrowed, flattened and curved gently to the right over the top that it really hurt. Even though the grade lessened, your body is so oxygen deprived that the acceleration towards the U-turn ahead meant that it felt even worse than the climb itself. On the U-turn every lap I'd check behind me to see where I sat in the bunch. When it was still 180 guys and 200km to go, I was usually in the top half or better and I couldn't see the managers, arms hung outside the windows of their team cars, except the first couple as they came over the bridge we went under. With the skies lightening, wind picking up and blowing orange and brown leaves everywhere, and the sun peeking out, attrition took its toll and my position check returned less favorable answers each lap. With 100km to go I felt like I was going around the U-turn in the same place as earlier, but now instead of a long line of riders behind me I was in the rare (for me as a top-three domestic rider) position of holding down a last 10 guys spot.
At one point the call came over the radio for a couple guys to come back for Fred, who was having derailleur trouble and was getting it adjusted in the caravan. Tim and I went to the back of the bunch to wait, and some of the fans cheering for me must have wondered what I was doing riding amongst the first couple cars in the caravan. I thought momentarily that they must be thinking: "look! JL's dropped and it's not even going flat out yet!" Unfortunately for me, Fred's mechanical came at a time when the Italians felt like chasing something and shortly after he rejoined the bunch it really sped up. Gaps were everywhere and I did a huge 58kph turn over the flat section between climbs to bring Fred to the front. While doing this I heard George on the radio asking for more guys and more protection from gaps. As soon as I got Fred up there, I set about trying to keep George out of trouble and near the front, but the effort was mainly wasted as the Italians decided to turn off the gas and nobody else counterattacked. The race was effectively neutralized again. And that's it; that was my best lap, around 150km into the race.
Downtime
Since World's, I've had three weeks off already. I want to ride again, but I'm waiting until the jonesing is so bad that the indoor trainer will seem like sweet reward. Is it possible? The next few weeks of my winter are still low key. Car restoration was supposed to be finished already. It isn't, but at least the remaining work isn't too hard. Mostly just a new fuel system and she should be ready to drive to Midwestern races next year. A big tile-setting project for my wife's Scottish friend, should take a week. I'll do some short, light riding to get used to new Bill Peterson (www.wedofeet.com) footbeds that should correct a serious right knee wobble and major metatarsal and toe pain. I futzed with shoes and cleats all season, but I should have listened to Crusty Corbett who said from the very beginning that I should start with orthotics. Kinda like the Mercedes mechanic who recommended a new fuel tank BEFORE I did anything else. Oops. I'll get together with my winter coach, Adam Myerson of Cycle-Smart, to devise a program. And that takes me through to camp and hopefully the Tour of Langkawi!
I didn't go to Australia OR New Zealand this year. Despite the cold rain falling in the Southland Tour right now, I'm keenly following the coverage on Cyclingnews. It's hard not being there to defend my title.
I'm very lucky to have a job in the tight market for next year. My fingers are crossed that Schuler and Willett pull something together for the good of the sport and for my colleagues who aren't contracted yet. A press release from my new team is forthcoming.
Email John at jlieswyn@cyclingnews.com