Recently on Cyclingnews.com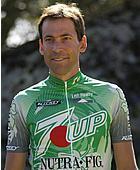 John Lieswyn
Photo: © Phil Jolley
The John Lieswyn Diary
A pro racer who now mostly concentrates on the US domestic scene, John Lieswyn is one of Cyclingnews' most popular and sometimes controversial diarists. He has been racing since 1985 and a Cyclingnews diarist since 1999. John likes both criteriums and longer road races, and seems to particularly like it when the going is hard. He has raced in the Regio Tour, Peace Race, Tour of Poland, Vuelta a Guatemala, Tooheys GP and Commonwealth Bank Classic with success, as well as winning astages in the Sun Tour, Killington and Superweek. In 2002, he is riding for 7Up/NutraFig.
Mexican radio
3rd El Debate Tour of Sinaloa, Mexico
Rather than doing a two hour criterium in Miami that I've done before (even though it's well-compensated prizelist-wise), I jumped at the chance offered by Gustavo Carillo to do the nine-stage, 3rd El Debate (Deh-bah-teh) Tour of Sinaloa. Sinaloa is a mid coastal state across the bay from Cabo in Mexico. Sponsored by a newspaper based in Los Mochis, this race is run as professionally as any 2.5 UCI stage race or better. For a USD$15 entry fee the organizer provides about USD$50,000 in prize money, flights from Mexico City, hotels at least 2 star and for the first two nights 5 star, meals, 2 assistants, and a vehicle. I guess it wouldn't be Mexico if the van weren't a decrepit seat-less rust bucket, but we definitely aren't complaining about that. We don't have to spend any real time in it since all the stages are circuits or point to point and I don't think we have any transfers to make.
Our assistants have to sit in that contraption without air conditioning for three hours a day following the peloton at 45kph so we owe them a huge debt of gratitude.
The trip actually began in fine style when Mexico City airport closed for five hours due to a massive storm. Kevin, Charles, and Jason McCartney had made it in before the closure and hung out in the internet cafe. Kev said he didn't notice the storm until he saw workers squeegeeing out rivers of water in the terminal. And then the power went out.
Mexican President Fox just rescinded the government's attempt to acquire land for a new airport, to the approval of 73 percent of the population. The business community and travelers are going to miss out though. Anyway, my plane circled, waiting for the airport to reopen, until we were nearly out of fuel and then proceeded to Tampico to refuel. We finally landed in Mexico City (the world's largest city) four hours late. Then my bike didn't come off the belt and I had to fill out a claim. Then I missed the connecting flight to Los Mochis by just five minutes. After waiting an hour for a handwritten hotel voucher and another hour for a shuttle bus, I got to the Holiday Inn to find they didn't have any rooms. They bussed me to another hotel 20 minutes away where they wouldn't accept the voucher. I waited another 20 minutes for the shuttle to come back, then 20 minutes drive back to Holiday Inn where they had magically found a room for me. Things got better from then on, as the room was not your USA Holiday Inn, it was stunning. In the morning breakfast was unbelievable and also paid by the airline. I hung out in the airport for 10 hours trying to locate my bike and waiting for the one flight a day to Los Mochis, at 8pm. Gus was also on that flight, his story was similarly convoluted. His plane landed at an airport 40 minutes from Mex City during the closure, refueled, and flew four hours all the way back to Dallas. Poor guy. Neither of us got to bed before 2am.
Stage 1
Back to the racing.
My bike showed up three hours before the start of stage one, a 100km 3pm (read: 100 degrees F) circuit race in Los Mochis. Hellishly hot, dusty, dirty, pockmarked streets characterized this urban circuit. The peloton stopped after two laps thanks to being led the wrong way on three consecutive corners. We held a very short protest and then rode one lap slowly to allow the organization, police, and each other to learn the course. I felt really bad; bloated and stiff from travel. Charles said I was beet red in the face. We all developed some degree of head pounding heat stroke, but Jason had it the worst and eventually vomited a few hours after the race.
At one point I was following a top contender across a gap to a small break when he hit a hole, unclipped, and crashed heavily. It was a yard sale all over the road right in my way, and I barely made it around him. There were more crashes that we all miraculously escaped being involved in. Our biggest excitement mishap-wise was my late race flat tire, and we recovered easily in a quick team chase. On the last 5km lap I attacked with another guy and we stayed away for 3km, but were swept up. Jesus Zarate (Mercury in USA, Choco-something here) won in an impressive 1km to go solo move, while Charles got us a good caravan position with fourth. Only 45 guys finished in the front group thanks to flats, crashes and the heat.
I got into our room's huge tiled shower fully dressed and with my bike, and washed my clothes, bike, and myself all at once. That's a top ten race as far as finishing filthy.
The food is excellent but we're buying tins of tuna for extra protein. The portions are quite small.
Stage 2
Zarate's team and the team of one of the race's top sprinter (I'm still learning the team names, sorry) rode hard on the front for 105km today, bringing back every breakaway attempt. Tecos-Turbo tried to get away repeatedly but it wasn't going to happen when the two leading teams had it dialed up to 60kph at times. I was in one breakaway that looked good for a while but I swear that the camera helicopter's beating rotors were making a headwind for us. Today was another massive crash fest, and again we managed to escape injury. Although the race began at 8am and ended around 10:30am it was still blazing hot by the finish. In the 106th kilometer we took over.
Jason had flatted with 8km to go and was in the caravan, Gus was at the back trying to see if he could help Jason, and the remaining three of us were sitting seventh through tenth until the last 1500m. I took it for about 700m as hard as I could, Kev took it to 300m, and Charles won over Zarate and Wendy Cruz (yeah, that's a guy). Zarate is still in the lead, and that's fine with us for now.
Today's host town is pretty squalid but still much more advanced than most 'first worlders' would expect of rural Mexico. After all, I'm sitting here in an Internet cafe, everyone seems to have plumbing, electricity, and tile floors. Huge stores carrying all the basic consumer goods a KMART would have hide behind dilapidated facades. And the people are super friendly.
Until stage 3 then!
John