Recently on Cyclingnews.com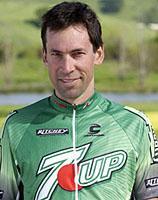 John Lieswyn
Photo: © 7Up/Maxxis
The John Lieswyn Diary
A pro racer who now mostly concentrates on the US domestic scene, John Lieswyn is one of Cyclingnews' most popular and sometimes controversial diarists. He has been racing since 1985 and a Cyclingnews diarist since 1999. John likes both criteriums and longer road races, and seems to particularly like it when the going is hard. He has raced in the Regio Tour, Peace Race, Tour of Poland, Vuelta a Guatemala, Tooheys GP and Commonwealth Bank Classic with success, as well as winning stages in the Sun Tour, Killington and Superweek. In 2003, he is once again riding for 7Up, this year co-sponsored by tyre maker Maxxis.
US Elite National Championships - A missed shift here, a lapse in concentration there
Race 2 - May 21: Elite men's time trial, 34km
On the podium (far L), but underdone
Photo: © Andy Lee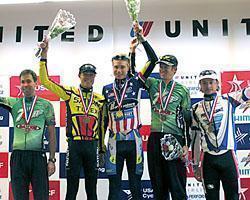 Very hilly! Beautiful course. Rode there in the morning with Jason and Doug, over climbs veiled in thick fog. By the start, the fog had lifted but the temperature didn't come up any. It was really cold for May, about 50 F. I rode conservatively because the extreme difficulty of the course, basically setting my body on autopilot around 172 BPM. For comparison, my silver medal ride in 2000's TT nationals I averaged 184. Today there was no touching the super ride of Chris Baldwin.
But the second to eighth placings were within mere seconds. From my teammate Jason's bronze medal performance down to Doug, I'm sure we all second guessed ourselves about where we could have eked out another couple seconds and a higher placing. A missed shift here, a lapse in concentration there. Anyway, I managed 4th but I'm kicking myself for what I felt was a substandard performance. When you cross the line absolutely smashed you know that you gave it everything, but within a few seconds of finishing I felt pretty fresh. Perhaps it was because I was being conservative for the hills that I crossed the line with reserves untapped.
Jason was frightening when he finished; ropes of saliva and goop hung from his chin like a wet beard. He has always had trouble with gag reflex when going all out, and today wasn't any different. Yuck! Chad makes him clean his own bike, I hear… Jason is really coming into his own this year on team 7UP/Maxxis. We are all stoked for him, proud and reassured that he will be a major part of the team this season after we lost Charles over the winter.
May 22: Day off
Both United flights were jam packed, not one empty seat. Took the next day off the bike just to catch up on home stuff. Mowed the lawn, trimmed the hedge, cleaned the gutters, fixed the chimney, walked the dog, paid bills and responded to 75 emails. That didn't leave time to breathe!
Email John at jlieswyn@cyclingnews.com