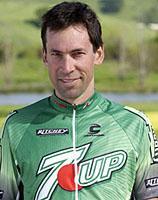 John Lieswyn
Photo: © 7Up/Maxxis
The John Lieswyn Diary
A pro racer who now mostly concentrates on the US domestic scene, John Lieswyn is one of Cyclingnews' most popular and sometimes controversial diarists. He has been racing since 1985 and a Cyclingnews diarist since 1999. John likes both criteriums and longer road races, and seems to particularly like it when the going is hard. He has raced in the Regio Tour, Peace Race, Tour of Poland, Vuelta a Guatemala, Tooheys GP and Commonwealth Bank Classic with success, as well as winning stages in the Sun Tour, Killington and Superweek. In 2003, he is once again riding for 7Up, this year co-sponsored by tyre maker Maxxis.
Joe Martin Stage Race - A win for the team
Stage 4 - May 11: Fayetteville Criterium, 90 minutes + 3 laps/60 minutes + 3 laps
Saturday morning circuit road race. Three laps of a hilly course on winding two lane country roads for a total distance of 92 miles.
Still feeling rough. There were just two early attacks and both consisted of just one rider each. The three pro teams in attendance (Jelly Belly, Saturn and of course my team 7UP/Maxxis) are on the same page: if the road opens up into a crosswind situation, we'll all drop the hammer simultaneously. It's not discussed nor planned in advance, but we all can see the tree branches bent over double, so no pro rider is going to be caught napping at the back today. Ivan is patrolling the front for his teammate and race leader Eric Wohlberg. Soon I join him in setting tempo, because if I didn't we'd be going 14mph. When there are few pros in attendance the natural tendency of the rest of the peloton is to follow just the pros. Anybody else can ride up the road with little or no response.
Lap 1: After the climb there is a split with Brice and I in it, Adam Bergman (Bianchi-Grand Performance) has made it as well, but not Steve Cate (Mathis Brothers). What this means is that for the 4th-8th overall placings Steve Cate would be the loser should this break succeed. I have to give credit to his Mathis Brothers team: this amateur team is riding awesome, and they weld the peloton back together very quickly.
Lap 2: I'm at the back of the bunch getting bottles from the neutral car when an attack of Jason Waddell (Mathis Brothers), Ivan, and Adam Sbeih (Sierra Nevada) gets a gap. This is a dangerous trio, and we've missed it. Nobody rides at all in the main bunch and the break has five minutes by the start of lap 3.
Lap 3 (final lap): On the climb a series of attacks whittles the bunch down to a dozen or so, with all the top 10 overall riders present. Here is where our missing the lap 2 break was costly: we are obligated to chase as Sbeih and Waddell would overtake Brice while Steve Cate (having Waddell up the road) is entitled to "sit on" and draft. Despite the huge time deficit, I'm successful in convincing the rest of this group that working smoothly together is preferable to constant attacks and we roll the 5 minutes back in just 20 miles. On a slight pitch with 3 miles to go our Jason McCartney attacked strongly and rode through the break to win the stage and garner valuable time bonus seconds. He has ridden himself into the lead, but we know that given the opportunity Eric Wohlberg will try to retake the lead in tomorrow's criterium. It's up to McCartney to have a strong afternoon time trial and then just stick to Eric's wheel like glue in the crit.
The three of us plus Eric Murphy (Mercy Fitness) have lunch at an outdoor Mexican café and then go over to Brice's parent's Radisson hotel room for a power nap. When we awaken and pull the drapes the visibility outside is zero. Lightning flashes and rain is beginning to fall. After a stop at a local coffee shop, we head for Stage 3.
New Urban comment of the day: parking in downtown Fayetteville is metered. Around the country progressive city planners are looking at ways to eliminate the hassles (real and perceived) of shopping and eating downtown. As my wife will tell you (she got a parking ticket yesterday on Main Street in Ames) metered parking is one reason she thinks of the big box stores and their abundant parking before she thinks of Main Street. We didn't oversleep the meter and escaped a ticket. Today anyway.
Stage 3 - May 10: Devil's Den State Park Hill climb ITT, 2.5 miles
It's raining, I'm not in the top three, and I'm beat. I know everybody's legs are tired from 92 miles this morning, but it's no consolation at the moment and I'm just a bit short on motivation. I think the TT goes really bad since I never got out of a really easy gear, but it turns out I was sixth, 28 seconds down on my teammate and winner, Jason. It's another late night but at least we get to sleep in tomorrow!
Stage 2 - May 10: Fayetteville-Fayetteville, 92/68 miles
A 2.5 mile city circuit with four hills and 12 turns per lap. Very technical! Predominantly narrow streets, with pavement irregularities and potholes clearly marked with orange spray paint. It's going to be a Johnny L type course for sure. Our plan? Number One is to watch over our teammate and race leader McCartney. Number Two goal: There is no stage money, so if Saturn's speedster Ivan wins in front of a major Saturn dealer / booster, no skin off our back. In return he'll help me to set up a platform ahead of the pack for our sixth place overall Brice to hopefully bridge up to without the guys who are fourth and fifth (still Cate and Bergman). Anybody else who isn't a danger to McCartney is welcome to tag along, if they can hold onto Ivan's fierce pace! I'm able to keep up with him, but the only other guys who can are all busy watching each other in defense of their respective GC positions. Brice tries repeatedly but Cate and Bergman are too strong, and eventually Ivan and I lap the field.
No major changes to the GC and McCartney has won the overall! I'm really happy for Jason because he was so depressed after getting drubbed in California this March/April. I told him that crashing hard at training camp would put anyone behind the eight ball, but he was pretty worried nonetheless. He's looking forward to showing off the crystal goblet and giant check to his biggest fans at home, his partner Andrea and her son Max.
I heard some grumbling about pros coming to their race and taking all the money. I understand: we grumble too when Saturn gets first and third at the Tour of Georgia, taking the lion's share of the $150,000 prize list. These are the teething pains that long-running events like this 26th annual Arkansas stage race go through when transforming from regional to national level. If the organizer Bruce has his way, the race will continue to grow with TV exposure next year and a bid for the 2004 Olympic Trials.
Email John at jlieswyn@cyclingnews.com