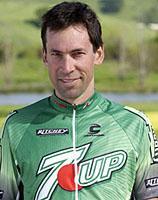 John Lieswyn
Photo: © 7Up/Maxxis
The John Lieswyn Diary
A pro racer who now mostly concentrates on the US domestic scene, John Lieswyn is one of Cyclingnews' most popular and sometimes controversial diarists. He has been racing since 1985 and a Cyclingnews diarist since 1999. John likes both criteriums and longer road races, and seems to particularly like it when the going is hard. He has raced in the Regio Tour, Peace Race, Tour of Poland, Vuelta a Guatemala, Tooheys GP and Commonwealth Bank Classic with success, as well as winning stages in the Sun Tour, Killington and Superweek. In 2003, he is once again riding for 7Up, this year co-sponsored by tyre maker Maxxis.
Joe Martin Stage Race
Stage 1 - May 9: Fayetteville-Fayetteville, 113/70 miles
Motorcycle Eric
Fayetteville is home to the University of Arkansas and 58,000 people. It is about 45 minutes drive north on a brand new (and expensive looking) freeway of my teammate Brice Jones' home in Fort Smith. The gorgeous forested rolling hills around here might even be called mountains, and the final climb of today's 113 mile opening stage gained more than 2,100 feet in about 4 miles.
The day began with Eric Murphy's oats and egg white flapjacks and coffee, though the latter may have been a mistake considering the heat and distance that we would soon face. Brice's dad runs an air compressor business and using his connections has a brand new GMC Denali (that is top of the line, with four wheel steering, leather, dual climate controls, satellite radio, every gizmo you can imagine) and this was our comfortable ride up to the start. Not having grown up with trucks, I managed to drop the tailgate on my right thigh. It was a hard enough hit that I fell on my ass and nursed the leg for a few minutes. However I cannot use the 'tailgate falls on thigh' as an excuse today.
With varying degrees of success and failure I subscribe to a philosophy of training between races in season that can be summed up as: not touching my bike. Pile on a seven hour car drive yesterday and I felt absolutely wretched the entire four and a half hour race. About 50 miles in, the peloton just split. I was counting on the glacially slow pace we'd been maintaining, but essentially Adam Sbeih and a few Mathis Brothers team riders put the hammer down on the front and I was on the wrong end of the split.
Fortunately for 7UP/Maxxis my teammates weren't sitting on their heads and made the 18 man front group. In despair I watched as the main pack could not or would not try to get back into the race, and all I could do was hope for a really big climb to come soon so I could try to go across. Finally a small hill appeared and I gave it everything. What a difference a week makes: I was groveling at a pace 5km/h slower than when I was on raging form in North Carolina. Ivan Dominguez (Saturn) and Kirk Albers (Jelly Belly) came across to me. For ten minutes we swung between 10 and 30 seconds behind, ultimately conceding that we couldn't do it. The rest of the field had found sufficient motivation to chase us down where they'd been crawling earlier. I was so frustrated that I launched into a tirade of derisive attacks on the mostly amateur guys in the bunch. They didn't deserve it. Just call me Big Mouth.
Up the road Jason, Eric and Ben put the wood to the remaining four guys on the big climb. At Artist's Point, where there is a sweeping vista of the forests and a view of the winding river below, Brice made an attempt to bridge up to the trio. He closed more than half of his 40 second deficit but it was still 18 seconds at the summit. With Wohlberg dialing it up in full TT mode Brice wouldn't be able to finish the job, and he had to go back to Steven Cate and Adam Bergman.
Thanks to Kirk, seven of us left the field behind at the 65 mile point, and we caught all but seven of the leaders. Eric Wohlberg rode like a motorcycle to win while our Jason McCartney finished third (behind Ben Brooks of Jelly Belly) and is still in position to win overall. Brice rode well to take fourth, and I was ninth but I'm out of contention for higher placings, having lost seven minutes to the leading trio.
There is only 13 hours from the finish of today's race before the start of the 92 mile morning stage tomorrow. I'm hoping that with a little ice, ibuprofen, and sleep I'll be far better tomorrow. I'm looking forward to a big day in support of Jason and Brice. Despite having an off day I'm really enjoying myself in the very interesting state of Arkansas! As regards my dubious training philosophy I asked my wife to make sure I get on my bike every day next week before heading out to the Housatonic Classic in Connecticut.
Email John at jlieswyn@cyclingnews.com