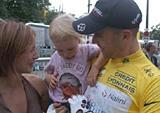 Yellow fever at the 2003 Tour
Photo: © Sirotti
Riding the big fat wave to Athens: The Brad McGee diary
Bradley McGee can ride a four kilometre individual pursuit faster than some elite squads can ride as a quartet, averaging close to 60 clicks an hour for four minutes, all on his own. Scary, isn't it? But Brad doesn't just want to be master of the chrono; he wants that and more.
Back home Down Under
Riding the big fat wave into Athens
The 2003 season is already a memory and the base miles are building up for next year. I was to enjoy nearly eight weeks off the bike after closing the season in early September with a fifth place in the Grand Prix Eddy Merckx along side Cookie.
Having struck success in the tour of Holland on the final day and securing second on GC, it was agreed with team management to cut the racing season short, follow up testing on an ongoing insulin/blood sugar irregularity and head home upon gaining a proper diagnosis.
Already looking good for 2004
Photo © David Magahy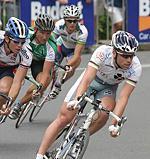 It was quite well-followed by media throughout the Tour that I was suffering a mysterious bout of sugar lows. The 'story' was well-followed, but details often were forgone for a catchy headline. No, I was not and am not suffering a 'rare blood disorder' nor will I will be forced into 'early retirement' (just clearing up a few of the more concerning misadventures here before I explain further). You could imagine the concern of my family to read such reports during the three-week slog around France.
Sure, I was in a world of trouble on some days as all of us who have experienced a hunger flat/low blood sugar/hypoglycemia - call it what you wish - could understand. What was so concerning was the timing that it could strike. Within 40km on some road stage days and also after 25km during the second time trial! Sunken eyes, loss of concentration, cold sweat and poor vision mixed with constant begging from mind and body to simply stop - oh, and not to forget the sugar cravings! My entire existence would be screaming to STOP and yet there would be just one little flame of hope and ambition burning deep down inside. I kind of like this little battler inside me who rose to the occasion on so many occasions. Alone he was not, as on most occasions I would have a team-mate or two drop back and offer help. Legends they are and they will never be forgotten.
After a series of tests in Paris post-Tour and following a '40 hour famine' in a Nice hospital a few weeks later, it is believed I have the tendency to overproduce insulin following meals, which leads to a drop in blood sugar. Insulin is very important in reloading the muscles and great that I have it firing for post-race recovery, but early in competition or even pre-race can cause devastating results.
I have been offered medication as one solution but believe, like my physicians, that I can lick this problem through diet. In a simple summary, I have to go low GI pre-race then follow normal (but greater attention) for post race (high GI within 30mins). I used to laugh at stories of the 'old days' where riders would tuck into steak and eggs before racing - I'll have mine under easy and beef on the rare side thanks!
Back to the basics
Photo © Karen Forman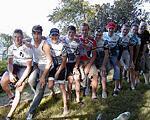 With a good break and solutions found for this problem, I have jumped into the pre-season for 2004. Having the time to properly plan and organise the coming months have been essential as already, as the miles increase and racing begins, there is no more time to ponder. I have pulled together a team of back-up personnel that will give expert assistance along the way to what will be my biggest year ever. With the Tour de France and Olympic Games plus further desires to stomp in the early season, I can not afford to slip a week here or a few days there 'off the line'. Injury, sickness or any other problem can always occur but with solid back up and good organization, the effects are limited.
So, apart from the standard issue back-up offered by a top line professional team, does an elite rider need to include in his support crew? Coach, trainer, massage therapist, nutritionist, sports scientist, doctor, bio-mechanic, strength conditioning coordinator and then the list continues into non-cycling specific backup with management and financial services.
We are enjoying a very solid training bunch out in Sydney's west at the moment. My brother Rod has placed members of our young riders squad (FDJ/NSWIS) in the area who combine with us and a few other pros in Trent Wilson and big Steve Wooldridge. K's are passing with ease as all have similar programs and most can involve a sauced up story or two to keep things interesting. Some, like young Willo's, are better then others!
Looking towards the New Year and short-term goals, I will undertake the biggest block of Australian racing for my pro career. Already I have raced in Noosa, Brisbane and the Gold Coast for the crew at USM. These crits are super well-organised and enjoyed by all... well, being so early in the pre-season 'enjoy' is not a term I use to describe the lung-ripping sensations experienced for most of the 60 minutes.
December 27 will be the second edition of the Launceston Classic, again well run and a lot of fun. Especially the post race dinner.
For January, I will be one of the five FDJ pros lining up with big intentions before combining with the young fellas at FDJ/NSWIS to attack the Nationals for nothing short of the champions' jersey. No rest after that as the TDU will be also taken on but not before an Olympic squad qualification attempt set for sometime between theses races. Check out my web site for the exact date and place, as I may be in need of a little encouragement on the day.
After busy pre-season, I hope to turn this into a successful early Euro season before taking a short break. Next up will be a big push for more TOUR success, using races like Tour de Suisse or Dauphine. I would really love to be able to challenge for GC in such a race.
All going well with qualification and team selection, I will be riding the big fat wave from the Tour into Athens with nothing but gold as my intention. The IP is the main priority but also the road and teams pursuit have been discussed. I see these races, as 'national service', so if the selectors think I can help Australia win then my hand is held high.
As one season passes into the next (2004 is my seventh year pro!), one can get lost in an eternal mission for form and success. This is why it is so often needed to take a step back, think, plan and then attack to make most of our potential.
You've just got to love it.
[Brad has also been busy with a training camp just outside Sydney. Read about it here.]