Tales from the Peloton - November 30, 2003
FDJeux.com/NSW Institute of Sport training camp
French pro team's Australian contingent gets ready down under
By Karen Forman
The FDJ/NSWIS bunch kicks back
Photo: © Karen Forman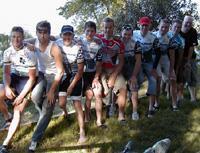 Tucked away at the end of a five-kilometre-long, steeply inclined corrugated dirt road in the pristine but incredibly remote - at least by Sydney standards ­ Hawkesbury River Valley, the grandly named Ponderosa Water Ski Park is the ideal location for a professional cycling team to hold its season start-up training camp.
For a start, situated a good 90 minutes drive north west of Sydney and requiring a detailed map to locate, it's far from the prying eyes of media, rival teams and the dangers of city traffic. Public access is limited to visitors of those folk who have paid for one of the 24 permanent caravan sites which offer outstanding views and easy access to one of Australia's great water playgrounds…although it can be a bit embarrassing when holidaying kids on bombed out, fat-tyred "deadly treadlies" show you up on your skinny-tyred road racer as you battle those corrugations.
Next, it's smack bang in the middle of some challenging training terrain, the dirt entry road which promises to bottom out the average sedan struggling uphill in first or second gear not withstanding. And finally, it offers a myriad of opportunities for all-important R&R after training. Like water skiing and fishing.
If you think it sounds idyllic, then you're right. That's why the Australian component of the French FDJeux.com team chose Ponderosa for their four-day joint pro and junior training camp, which finished today.
Canoes and campers
Photo: © Karen Forman

Seventh-year pro Bradley McGee and his brother Rod, who manages FDJ's Australian-based junior development squad of the same name, are no strangers to the place. Their parents have had one of the aforementioned caravan sites for the past seven years or so and the family has become a popular addition to the small community which for the most part has little idea that the bike riders amongst it are among the best in the world.
Owner and founder, local character and bush fire brigade stalwart Barry Cartwright, isn't surprised.
"Well they don't say anything; they're pretty quiet about it," he tells Cyclingnews when we visit the camp. "But I suppose you can tell, with all those fancy bikes they have. Still, they can't go better up the hill than the kids on their old bombs with fat tyres. Hehehe."
You don't get much more Australian than the Cartwrights. They named Ponderosa so because of the TV program Bonanza because "they're also Cartwrights". And Barry and his wife Aileen are a hospitable couple, insisting on making up fresh corned beef and mustard sandwiches, washed down with a pot of tea, for Cyclingnews while we await the return of the team from their morning 160km ride.
This is the second year FDJeux.com has held its season starter here.
"It's good training territory and it's quiet and remote," Brad says.
Baden can paddle too
Photo: © Karen Forman

Ironically, it wasn't so remote that cycling's drug testing authorities weren't able to locate Brad for a drug test. McGee arrives back in street clothing and sporting a new bandaid on his arm just after teammates Baden Cooke and Matt Wilson get back from their ride and sit down on camp chairs to cool off. Baden looks like he hasn't done a thing. Matt says "that's normal for Baden, everything's easy for him," but Baden maintains the camp has "been a good opportunity to put a line between the end of last season and the start of a new season."
"I am now riding, eating, drinking and thinking cycling," the Tour de France green jersey winner says. "I am totally motivated to get back into racing."
A couple of hours later, they are joined by team newcomer for 2004, Mark Renshaw, moving up from the young team, along with an exhausted-looking Rod and FDJ young team members David Tanner, Richard Moffat, Chris Sutton and Kieran Cameron who promptly tear off their jerseys and leap into the river with a surprising amount of energy. Baden, meanwhile, heads off for a paddle in a canoe with the team's logistics coordinator, Fabrice Vanoli, out from France for three weeks to hand over the bikes and team clothing FdJ is providing to the junior team under the arrangement mooted by Brad two years ago. Also on the camp are Steve Wooldridge, who will join Comnet in Germany next year and Trent Wilson, who just finished up with iteamNova.com and is set to join Selle Italia in 2004.
Rod McGee does it all
Photo: © Karen Forman

"I hope you've got sunscreen on," Rod, as organiser of the joint camp, hollers after Baden, as he sets about organising a late lunch for his charges. He's tired and it's no wonder. As well as organising the rides and other camp activities including a visit by Sydney corporate team building company The Edge, a session on career and education development, maintaining bikes, organising French lessons with Fabrice and a fair share of the cooking and cleaning, he has also been doing something that most team directors don't ­ riding with the team.
Matt, who survived Hodgekins disease and made a comeback to cycling after successful treatment, says the camp has helped him get back into the swing of things as well as a "welcome home to Australia".
Like Baden and Brad, he is based in Nice, France during the racing season, but looks forward to returning to Australia for Christmas.
For Brad, the camp has had great fitness benefits. "Yesterday I did four hours and I have never done four hours in my first week back in training, ever."
He said the camp had been a good start for the trio, who along with Mark, Austrian Bernard Eisel, recent signing Swede Thomas Lovskist, French rider Jean Cyril Robin and Carlos Da Cruz, will contest the Tour Down Under in Adelaide in January before returning to Europe for the team presentation.
"It's a long way from Nice," he says, looking around at the purple blossomed Jacaranda trees, the golf practice hole in the middle of a field freshly mown by Aileen and the river.
"Isn't it great?"
Rod is too busy to answer. He's at the sink, cutting up vegetables for dinner. Young Keiren, who is from country New South Wales, is trying to show Fabrice how to light the campfire while Matt is riding circles on a mountain bike, trying to find someone to go for a ride with him.