Recently on Cyclingnews.com

Hitting the big time: The Allan Davis Journal 2003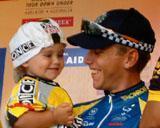 Allan with daughter Brooklyn
Photo: © Jeff Quenet
Welcome to the Allan Davis Journal for 2003. The ex-Mapei espoir has finally hit the big time with a two year contract on Spain's number one team, ONCE-Eroski. Six years with the Australian Institute of Sport has groomed young Allan from a national track champion to a cunning road rider and a potential Classics superstar. Follow Allan as he embarks on the ride of his life.
Vuelta just around the corner
Oiartzun, Spain, August 31, 2003
G'day Cyclingnews readers,
Things have been busy for me the last few weeks. After a short break from racing some really good training at home in Spain, I started racing again at the Hamburg World Cup, the Tour of Burgos, then Zurich and then the Tour of Holland.
But then I got the unfortunate news of ONCE ending their sponsorship a year early! Anyway, I'm still thinking positive and having good morale for the end of season races.
My next race is the Tour of Poland, which starts on the 8th of September, so basically I am just training at home until then, and hopefully with luck, trying to give my team a hand at getting a result. With the Vuelta just around the corner, I have a good feeling about Igor Gonzales de Galdeano and the ONCE/Eroski team having a really good race!
Anyway all the best to you all, and until next time,
Alby