Interview: Dr Mario Zorzoli
The Chief Medical Officer of the cycling's governing body, the Union Cycliste Internationale, speaks candidly in the wake of further doping scandals that once again threaten cycling.
By Anthony Tan
Ever since the Festina affair in 1998, the Union Cycliste Internationale (UCI) has been confronted with attacks of a different nature - from riders, teams and the press, wanting to use cycling's governing body as a scapegoat for the proliferation of doping scandals.
Some of it may have been justified, but for the last four years, the UCI has spent approximately 10 percent of its budget in the fight against doping, and from April 1 last year, the urine test to detect EPO was introduced.
Although unwilling to speak about individual riders, Dr Mario Zorzoli, the UCI's Chief Medical Officer was willing to discuss the doping revelations that marred the first weeks of the Giro, UCI blood testing practices and DynEPO, the latest variant on its much-abused predecessor.
Jan Ullrich, the latest rider to test 'non-negative'
Photo: © AFP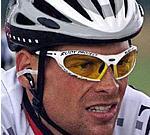 Cyclingnews: Dr Zorzoli, what do the initial health checks by the UCI involve at the start of the major races such as the Giro d'Italia? Can these checks detect use of banned substances?
Dr Mario Zorzoli: We conduct health checks on all riders before the start of a (UCI-sanctioned) race four times a year. These are just a general health check that is similar to what an average person receives from his local doctor; however the main purpose is to make sure a rider is fit to ride in the event.
The health check is not enough to determine whether a rider is using banned doping substances. However, we can determine whether a rider is using synthetic haemoglobin, such as Hemopure, or unusual anomalies - for example, a number of riders in the Giro d'Italia showed high levels of ferritin in their bodies; an unusual anomaly, but not a banned substance.
UCI believes rider behaviour has changed
According to a story carried by Associated Press July 2, the UCI believes there has been a "change in the behaviour" of professional riders since blood tests were introduced to control the use of EPO.
The UCI has issued a report on the haematocrit testing conducted so far this year, according to AP. The report reveals that the UCI carried out 1,171 haematocrit tests in 2002, and has found the average haematocrit level to be 43.5 percent. The average was 45.5 percent in 1997 and 1998.
In its 1999 report following the World Conference on Doping in Sport, the UCI said that testing of 700 top cyclists in 1988 - before EPO use became a problem - the average haematocrit level was 43.5 percent.
A high haematocrit value indicates a rider may be using EPO, and riders who show a level above 50 percent are suspended for two weeks for health reasons. Twenty riders were suspended in 1999; in 2002 so far there have been two suspensions.
The more complex urine test, which positively identifies EPO use, has been used 120 times.
"While we have won the battle against EPO and its new form ... new challenges are appearing on the horizon," says the UCI report, co-authored by UCI Antidoping Commission member Leon Schattenberg and UCI Chief Medical Officer Mario Zorzoli.
In the week before the Tour de France, the report comments on the findings of health tests and medical supervision in last year's race, saying that nine of the 124 riders tested in 2001 had used asthma medication, a figure below that of the general population. All 38 riders who had traces of corticosteroids had an approved reason for their use, the report adds.
"With good physical and psychological preparation, proper food and hydration ... and physical care appropriate to assist with recuperation, the use of medicines can be limited to a minimum," the UCI said.
CN: Has any rider been implicated for using synthetic haemoglobin this year?
Dr. MZ: We warned the cyclists at the start of the year against using synthetic haemoglobin such as Hemopure, as overuse will cause kidney failure. So far no cyclist has been caught using this drug by the UCI. What I do find unusual however, is that Hemopure is only commercially available in South Africa, yet a biopharmaceutical company in the United States developed Hemopure, and the human trials to allow for production in the US and EU have been completed.
In terms of its benefit, Hemopure is not nearly as effective as EPO, as it only lasts for a couple of hours and has a higher tendency to cause kidney failure.
CN: There were two riders recently found positive for use of NESP. Can you think of any reason why riders would use NESP, even though it is easily detectable?
Dr. MZ: No, this is something I cannot understand; we warned cyclists about using NESP at the start of the year, alerting them to the fact that we would be testing for this drug during the drug controls throughout the season. The ones (who have been caught) are either na´ve, or think they can still escape the drug controls.
CN: Until the Giro d'Italia, it's been a while since a rider was implicated for the use of cocaine - I can only remember the cases of Salvatore Commesso in March 2001 [who did not test positive for it] and the cyclocross rider Daniele Pontoni in March 1998. To your knowledge, does cocaine have any peformance-enhancing effects in endurance sports that the public may not be aware of?
Dr. MZ: I cannot think of any reason why a rider would use cocaine other than for mental stimulation; to my knowledge there is no performance-enhancing effect that the drug provides.
CN: Is there a reason for not using blood testing more often during races? Is it a capacity or resource issue?
Dr. MZ: In fact, we conduct blood testing more often than most people think.
Riders are now subject to both blood and urine testing at nearly all major UCI races in Europe. This year, during the one-day races, we blood test between 50-60 riders on the morning of the race, between 7-8am. During stage races such as the Giro, Tour or Vuelta, we conduct blood testing three days before the start of the first stage as part of the compulsory health monitoring by the UCI before a major stage race.
We call each round of blood testing a "mission", and during a Grand Tour, each "mission" would involve (blood) testing between 30-50 riders. So you can see that by the end of each Grand Tour, we manage to test all riders at least once, and many twice. Before the Giro d'Italia, the UCI had already conducted around 2,300 blood tests.
Furthermore, a rider does not have to show a high hematocrit for the UCI to conduct a urine test or even a second blood test. For example, if a rider's hematocrit increases from 38-43% (based on a previous blood test), this would be enough of an anomaly to validate further investigation. With regards to urine testing during stage races such as the Giro, the standard protocol is for the winner of the stage to be tested and two random selections; in addition we can also decide to pick someone else if we wish.
CN: Do the haematological profiles for each cyclist compiled by the individual team doctors ever determine whether a further blood or urine test is necessary?
Dr. MZ: No, the UCI does not receive health reports of individual riders conducted by the team doctors. These reports go straight to the department of forensic medicine at the UniversitÚ de Lausanne in Switzerland, where the reports are analysed and further discussion, if necessary, takes place between the team doctors and the professors.
There is no involvement by the UCI - it was decided that an independent laboratory was necessary to handle these matters. All health reports from the UCI are conducted by the UCI, and we have reports on individual cyclists dating back to 1997.
Stefano Garzelli feels the heat after testing positive for probenecid in this year's Giro
Photo: © Sirotti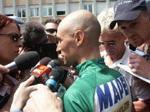 CN: Do you agree that it's strange for a rider to test positive for probenecid without trace of any other doping substances, as happened with Stefano Garzelli at the Giro? Is there any reason why a rider might use or have been prescribed probenecid on its own?
Dr. MZ: No, this is very unusual - Probenecid is used to mask human growth hormone (HGH); however HGH is not suitable for endurance athletes. Generally speaking, a sprinter might obtain a small benefit from using HGH, but definitely not a climber, and a sprinter still needs to get over all the hills, so HGH is unsuitable for endurance athletes.
CN: From what has occured at the Giro this year, it appears that a rider who is tested non-negative for a diuretic such as probenecid can continue racing until the counter-evaluation, yet if a rider tests non-negative for EPO or NESP, they are immediately withdrawn. Can you explain the UCI's rationale behind this difference?
Dr. MZ: I am not aware of the exact rules - these are defined by the UCI anti-doping committee; however generally speaking, a rider does not have to stop until the B sample is also non-negative.
[Editor's note: Following this interview, the UCI changed its rules so that riders will be prevented from continuing in a stage race if their A sample is positive.]
CN: Are you aware of any new forms of EPO other than NESP?
Dr. MZ: If you're talking about DynEPO, we're already on this one.
Our understanding is that there are legal problems between the manufacturer of DynEPO and the existing manufacturer of Epogen (Amgen), so the drug will not be available until 2003. From what we have heard, DynEPO is produced naturally by human cells, not animal cells, so in theory, it would be undectectable by the urine test.
However some experts have told us that DynEPO, although produced naturally via human cells, is not produced by the kidney cells - which is where natural human EPO is produced. So based on this distinction, we may still be able to pick up use of DynEPO via the urine test. Of course, the blood test will still be able detect this (use of DynEPO) - remember that we have records of riders' blood levels dating back to 1997, so we will be still be able to pick up any anomalies in based on one's reticulocyte and hematocrit levels.
Read the feature on DynEPO: A new form of EPO undetectable by the French urine test