Recently on Cyclingnews.com
An interview with Thor Hushovd
Ready to carve out a niche
Thor Hushovd
Age: 24
Date of birth: January 18, 1978
Place of birth: Grimstad, Norway
Height: 1.83m (6'0")
Racing weight: 81 kg (178 lbs)
Strengths: Time trialling, sprinting
Turned pro: 2000 (Credit Agricole)

Major Results (1998 onwards)

2002 - Credit Agricole
1st, Stage 18, Tour de France
1st, Time Trial, Norwegian National Championships
1st, Stage 2, Tour de L'Ain
3rd, Road Race, Norwegian National Championships
5th, Stage 17, Tour de France
18th, Omloop Het Volk
23rd, HEW Cyclassics Hamburg
33rd, Paris - Roubaix
70th, Gent - Wevelgem
73rd, Milano - San Remo
81st, Ronde van Vlaanderen
2001 - Credit Agricole
1st, GC, Prologueue, Stages 1 & 4, Tour de Normandie
1st, GC, Prologueue & Stage 3, PostGirot Open (Tour Of Sweden)
1st, GC, Paris - Correze
1st, Stage 5, Tour De France (TTT)
2nd, Stage 3, Tour de Normandie
2nd, Stage 1 & 2, Paris - Correze
3rd, Stage 1, PostGirot Open (Tour Of Sweden)
4th, Stage 6, Tour de Normandie
4th, Stage 1, Tour De France
4th, Paris - Tours
5th, Stage 5, Paris - Nice
5th, Stage 6, Bayern Rundfahrt
7th, 7th stage, Tour de Normandie
7th, Stage 3 & 4, Bayern Rundfahrt
8th, Stage 4, PostGirot Open (Tour Of Sweden)
8th, Stage 1, Tour, Poland
8th, Stage 3, Paris - Correze
9th, Stage 5, Etoile de Besseges
9th, 7th stage, Paris - Nice
9th, GP de Villers Cotterêts
10th, Prologue, Paris - Nice
11th, Gent - Wevelgem
46th, Ronde van Vlaanderen
48th, Milano - San Remo
95th, HEW Cyclassics
2000 - Credit Agricole
1st, stages 3, 4 & 5, Ringerike Grand Prix
1st, Stage 1, Tour de l'Oise et de Picardie
1st, Stage 1, Tour de l'Ain
1st, Stage 6, Tour de Normandie (TTT)
2nd, GC, Ringerike Grand Prix
2nd, Grand Prix de Denain
2nd, Stage 2, Bayern Rundfahrt
2nd, Stages 1 & 6, Tour de la Région Wallonne
3rd, Stage 4, Bayern Rundfahrt
3rd, Prologue PostGirot Open (Tour Of Sweden)
3rd, Stage 4, Tour de l'Oise et de Picardie (TT)
3rd, Stage 3, Tour de l'Avenir
4th, Stage 1b, PostGirot Open (Tour Of Sweden)
4th, GC, Bayern Rundfahrt
4th, Giro della Provincia di Siracusa
5th, Stage 3, Tour de l'Oise et de Picardie
5th, Stage 3, Bayern Rundfahrt
5th, Hew Cyclassics, Hamburg
5th, Stage 1, Tour de l'Avenir
6th, stage 1b, Bayern Rundfahrt
6th, Stage 3, Tour de l'Ain
6th, Stage 2, Tour de l'Avenir
7th, Stage 4, Tirreno Adriatico
7th, Stage 1a, Bayern Rundfahrt
7th, Norwegian Road Championship
7th, Olympic Time Trial Championship
7th, Stage 6, Tour de l'Avenir
9th, Stage 8, Tirreno Adriatico
9th, Stage 3, PostGirot Open (Tour Of Sweden)
17th, Stage 4, PostGirot Open (Tour Of Sweden)
19th, Stage 5, PostGirot Open (Tour Of Sweden)
22nd, World Time Trial Championship
63rd, Paris - Roubaix
75th, Paris - Tours
109th, World Road Championship
1999 (U23)
1st, Annemasse Bellegarde
1st, Grand Prix de Vougy
1st, GC and 3 stages, Tour du Loir et Cher
1st, GC and 3 stages, Ringerike Grand Prix
1st, stage, PostGirot Open, Sweden
1st, 2 stages, la Mi-août Bretonne
1st, 2 stages, la Transalsace
5th, GC, Ronde de l'Isard
6th, World U23 Time Trial Championship
11th, Paris - Bourges
1998 (U23)
1st, World U23 Time Trial Championship
1st Overall, U23 World Cup
1st, Paris - Roubaix U23
1st, Paris - Tours U23
1st, Grand Prix de Villers Outreux
2nd, Grand Prix des Nations U23
2nd, stage, Loir et Cher
2nd, stage, Montpellier - Barcelona
4th, GC, Montpellier - Barcelone
5th, GC, PostGirot Open (Tour, Sweden)
5th, European Time Trial Championship
5th, World Road Championship U23
7th, GC Ronde de l'Isard
1996 (Junior)
1st, Norwegian Road Championship
1st, Norwegian Time Trial Championship
10th, World Time Trial Championship
1995 (Junior)
1st, Norwegian Time Trial Championship
Personal stuff

Movies: "English-speaking movies with Norweigan sub-titles [laughs]. Normally I like James Bond - they're good fun."
Music: "Not when I'm racing, but when I'm training, I like to listen to almost everything."
Food: "I like Norwegian food the best! My favourite is special meatballs with potatoes and smoked salmon."
Books: "I like detective stories, but in Norwegian only, so I can read them faster!"
Other hobbies: "I've gone hunting heaps this winter - I've shot three reindeers already!"
Future aspirations: "I would like to start my own company, so when I stop cycling, I can work if I want to, and if don't feel like it, I can go and do what I want! [laughs]
Norweigan-born, six feet tall, 178 pounds, blonde hair and big, glistening white teeth. No wonder they name this strongman of the peloton "The Viking". While his axe may have morphed into the form of a Look carbon bike, Thor Hushovd is just as hungry to carve up the opposition next Spring, as Anthony Tan discovers.
"I'VE SHOT three reindeers already! First we hang them up for drying, then we cut off all the skin and cut up the meat, and then we eat it!"
If Hushovd maintains this success in the forests of Grimstad, Santa's going to be considerably underpowered this Christmas.
Although the same can't be said for Hushovd himself. The precociously talented individual attributes much of his success to his superior strength, and while less than loquacious in nature, his results speak for themselves. Junior National Time Trial Champion at 17 years old, National Champion both on the road and time trial one year later, then in his first year as un under 23, Hushovd stunned the cycling world, becoming U23 World Time Trial Champion and World Cup champion at a tender age of 20, including victories in Paris-Roubaix and Paris-Tours.
Teenage prodigy
Photo: © Sirotti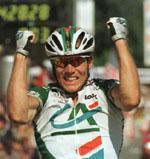 In Europe, when a young cyclist shows promise and results beyond their years, the sport often runs in the family. However, one can hardly call a well-built father who was once ski jumper the perfect heritage for cycling success.
"Though I do have a brother, three years older than me who started riding when he was 10," says Hushovd. "My parents drove him to all the races, and we used to treat the races like small holidays on the weekend."
Now this is beginning to sound more familiar.
His last statement says it all: at early ages, tireless parental support is far more important than a cycling pedigree, and when little nine year old Thor decided to have a crack at the sport, Hushovd's parents did exactly the same thing as they did for his brother for six more years.
Says Hushovd admiringly, "They were so good; they followed me to every race from 10 to when I was 15 or 16 until I found a bigger team. My Dad was the mechanic, driver and sponsor - he was everything," chuckles Hushovd.
It wasn't just his father who was willing and able either; former Norwegian pro and Tour de France stage winner, Dag Otto Lauritzen, lived a few kilometres down the road and offered young Thor plenty of advice. "He was a big hero for me; when I was young, he was very important," remembers Hushovd.
With considerable talent, backed up with bundles of support and advice, turning pro must have appeared a formality, right?
U23 World TT Champion
Photo: © Gunnar Mjaugedal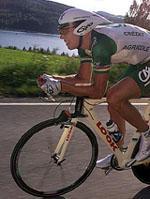 "No, not at all," he says. "In my team [Norway's Junior National Team], we talked about it with each other, but I had no idea it was possible. I only saw a couple of riders pass through the team to turn pro, so I knew it was going to be hard. But I said to myself I would try."
While success at the national level was a great motivator, Hushovd knew it was important to prove himself on the world scene to fufil his dreams as a pro cyclist. Victory in the U23 World Time Trial Championship and overall victory in the World Cup made the dream a reality, and he was soon snapped up by frog squad Credit Agricole.
Uncharacteristic for a neo-pro, Hushovd delivered results almost immediately. 15 podium places, including six stage wins and second overall in one of his home tours, the Ringerike Grand Prix, was evidence of a rider possessing a physical maturity beyond his years. He even finished his first Paris-Roubaix, Paris Tours and World Road Championship, and straight away developed an affinity for the Classics.
"I think for me, it was easier to go from under 23 to professional because I was very strong, so the step was not that hard," explains Hushovd in a matter-of-fact sort of way.
When questioned about the difference between the under 23 and the professional "Hell of the North", Paris-Roubaix, Hushovd lets out a big Viking bellow: "Oh, that was a big step; to win an under 23 race compared to a professional race, it's a huge difference!"
A World of hurt in Zolder
Photo: © Elmar Krings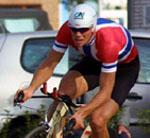 There's more than a hint of modesty here. It was only his first year in the pro ranks, and most neo-pros hop off well before the Arenberg Forest; you don't finish in the middle of the pack with an elite group of riders unless you've got a bloody big motor.
Spurred on by a successful entrance into the professional peloton, Hushovd trained harder than before, and in 2001, he had a cracker of a season. Nine victories, including three wins in highly-ranked stage races and an unforgettable team time trial in the Tour de France - of which Hushovd was a key protagonist - confirmed his initial success was no fluke, and expectations as a future Classics specialist were rife.
2002 was by no accounts a disaster, but Hushovd's winning streak was slashed by two-thirds. His bad crash in the Prologue of Paris-Nice, just as he was coming into form certainly didn't help. Maybe expectations from his director, peers - possibly even himself - were a little too high. Maybe it was a simple case of eagerness spilling into overtraining?
"I did train a little more than last winter," acknowledges Hushovd, "but I did almost the same preparation."
"I had one big win [stage 18 in the Tour de France], but I didn't have the form to have that little bit extra at the end of the race to win. I'm not exactly sure what happened," he says with a sense of both honesty and confusion.
Hushovd may be a touch perplexed about his apparent lack of success this year, however, there's not an inkling of puzzlement about what he needs to do to improve next year.
"I have already changed my training to focus on the Classics," he says. "Before, I used to go to the gym for strength training, but now, I will be doing all the power and strength training on the bike so that I spend more hours on the bike. I have a good feeling about this."
With Arvesen (L): Brothers in arms
Photo: © Gunnar Mjaugedal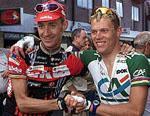 The Viking adds that the road season now starts earlier than ever, with his first race being the Tour du Qatar in the Middle East. Starting earlier will also enable him to be in optimal condition for the Classics, and when he's firing on all cyclinders, Hushovd doesn't see why it's not impossible to win Classics, time trials and road stages in major tours, as well as some lower-ranked stage races. And as Hushovd rightly says, he's done it all before.
Asked whether his focus on the Classics was a motivator for initially citing a possible move to Danish squad EDS-fakta (and joining his good friend Kurt Asle Arvesen), Hushovd admits he made an error. "I wasn't sure what I was doing," he says.
It's refreshing to see such honesty, and signals that Hushovd's mental maturity is following his physical development. Also refreshing - for Hushovd at least - is an apparent change in attitude from Credit Agricole directeur-sportif, Roger Legeay, concerning the team's plans for 2003.
"I believe Legeay wants to make some changes, to build a team for both the Classics and the Tour de France. I know Legeay loves the Classics, so I hope he will build the right team to target these races," says Hushovd.
Regardless of the rumours, there's no animosity between rider and manager. Hushovd says he likes Legeay, likes the team, and likes the team spirit. "Maybe fakta wasn't the best team, but I want to be on a team that focuses 100 percent on the Classics, because that's my main goal - to be a good Classics rider."
By restating his goals, Hushovd appears to be sending out a little warning to Monsieur Legeay: make the change or suffer the consequences in 2004.
More battles with Cipo in 2002
Photo: © AFP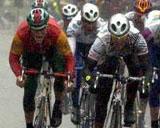 Speaking of the future, Hushovd is ambitious yet realistic. Realistic for a rider of his talent, that is. A top 10 in one of the World Cup races in Spring, and one more win than his brilliant nine victories in 2001. "If you start to win, it's much easier to keep going," says Hushovd, speaking of the mental momentum that professional riders so often speak of.
"And I think that's possible - I'm two years older and two years stronger," he says. "In a few year's time, I hope I can be top three in Paris-Roubaix or the Tour of Flanders."
"I want to win one of the Classics more than I want to win a stage in the Tour," says Hushovd when asked if a stage win in the Tour is no longer an objective.
"But on the other hand, most of the people in Norway only know the Tour de France, so for them, a race like Paris-Roubaix is nothing," he says, citing a characteristic applicable to almost every country excluding Belgium.
I'll take that as a no, then.