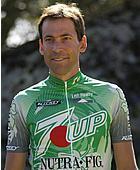 John Lieswyn
Photo: © Phil Jolley
The John Lieswyn Diary
A pro racer who now mostly concentrates on the US domestic scene, John Lieswyn is one of Cyclingnews' most popular and sometimes controversial diarists. He has been racing since 1985 and a Cyclingnews diarist since 1999. John likes both criteriums and longer road races, and seems to particularly like it when the going is hard. He has raced in the Regio Tour, Peace Race, Tour of Poland, Vuelta a Guatemala, Tooheys GP and Commonwealth Bank Classic with success, as well as winning astages in the Sun Tour, Killington and Superweek. In 2002, he is riding for 7Up/NutraFig.
Crit Month
After the Solano stage race at the end of March I had over two weeks "off" at home in Ames, Iowa. Cool thing is, there are races both weekends! Week one I hardly rode my bike. Burnout after two months on the road.
April 6: Spring Circuit race, Altoona, Iowa
Just 35 miles, but it couldn't have been much longer. The typical April winds are gusting at 35mph and the field shatters on lap twp of six. The two major regional teams do battle until I somewhat unfairly (big fish in small pond) line it out in the gutter and drag away just strongman Lee (nickname is "Socks" - he's the only racer who wears calf height tube socks). For training I'm now doing a full-on time trial. Lee fights valiantly to stay with me but must settle for second half a minute back, while everyone else gets lapped.
Two days later I get the worst stomach flu I've ever had and end up in bed for three days. Paranoid that I'm falling way behind my competition, as soon as I feel better I go for a four hour ride alone in the fierce winds. Riding in Iowa in April means leaning at a 30 degree angle into the wind, bracing yourself for the passing of an occasional car or truck and the associated momentary change in the wind. I do my favorite ride out to the Des Moines river valley, past Seven Oaks Ski Area where I hit 56mph on the descent before the wind gusts scare me into backing down, and stop in Boone for a snack at the Dutch Bakery. I'm not sure if it was related to the stomach flu, the wind, or my run-down immune system but the next day I was laid up again, this time with a mild strep throat. Two more days off.
April 13: Veishea Criterium, ISU Campus
Another "pro"/1/2/3 all-category race. Still can't swallow or breathe well, but I'd promised my training partners that I'd come out and race with them and try to coach their team, the ISU Cyclones. Major lessons taught today were: 1) figuring your team's representation in breaks as a percentage; 2) bridging the gap to a break in which your team is under-represented is better than towing the field up to it; 3) don't pull the field
April 14: Veishea Mountain Bike Race, Peterson Pits
Bought a one day license to race expert, as I'm sure this will be my only foray into mountain bike racing this year. I rode to the start, seven miles with another unbelievable south tailwind. OK, I know that I've never competed in a NORBA national level event but MTB racing seems to be all about time trialing. Wind, the underpinning of tactics, isn't much of a factor below 18mph. The change of pace was fun and the race was short enough to blow out more cobwebs without digging myself into a deep hole physically. Still waiting to feel normal.
April 20: Shelby Criterium, Shelby NC
I tried to ride to the Des Moines Airport on Thursday. Leaving for work, Dawn popped back in to say (surprise, surprise) "it's windy, you should leave earlier!" It's normally a three hour ride including the time it takes to lock up my trailer and do the Clark Kent. So I allot an extra half hour. Haha. Forty-five minutes into the ride it's a certainty that it's going to take five hours to get there in this wind, and I'll miss the flight. I'm not going to pull a Jonas Carney. With a U-turn I'm doing 35mph with the tailwind - trailer, luggage and all. Back at the vet school Dawn is on receiving and can't get out, but our friend Gillian (a veterinary ophthalmologist) takes a couple hours out to drive me down, and I make the flight.
Our host and the race organizer, Mike Keeley has done a great job bringing the race back in these difficult economic conditions after the loss of the major sponsor. With a reduced prize list but still excellent spectator and rider attendance, the show goes on. Last year I'd suggested holding a kids race just after the pro event to bring more people in. Mike got advice from Tym Tyler in Ohio for this, and it's a big success with 150 kids participating.
After three weeks of barely riding, I unsurprisingly felt like doggy doo in the main event. Picked up a few hundred in primes and got the Monroe Tire Michelin car tires prime, which comes in handy as I just traded my 180,000 mile Honda for a 89,000 mile Saab and could use some new rubber for it. 'Course with a team, you have to buy major prizes out of the team split. There was a break without any 7Ups but Prime Alliance was chasing it down in the closing laps because they weren't happy with the chances of their man in the break. Two to go, Jamie Paolinetti pulled the same move he made last year and took off solo from the break. Meanwhile Gord (Mercury) and Jonas (Prime Alliance) blasted out of the field to try and bridge the gap. Kevin felt great and went with them. Unfortunately for these three sprinters and their teams, Navigators chased this move down. Jamie stayed away to win the $750 last lap Gambler's Prime and the race for Team Schroeder Iron while Team 7UP/Nutra Fig placed both Pineda brothers in the top 10.
April 21: Old Town Roswell Criterium
First year event. Great organization, nice crowd, excellent city and police support. Couldn't understand why all the businesses downtown were closed since there were a few thousand racers and spectators walking around trying to spend money. Must be a Southern thing. These small business owners must realize that Wal-Mart doesn't close on Sundays, and even churchgoers use Sundays to go shopping.
This course is like Athens: narrow, two long straights and two short ones. Little hill on the back stretch. Despite starting at the back I feel tons better than yesterday and find my way into the break with Henk Vogels (Mercury), local favorite Chris Pic, Dave McCook (Prime Alliance) and Michael Johnson (Schroeder Iron). Dave isn't pulling; must not like his chances against Henk and me. Henk is doing 33mph on his turns while I can muster 31 and the others are hardly pulling at all. Navigators has missed the move and mounts a full on chase. They take our 30 second lead down to 27, but that's the biggest dent they make. Henk and I both have the same thought: initially keep Dave around to prevent a Prime Alliance chase, but then attack him in the closing laps to eliminate the top sprinter in the break.
When Henk and I start attacking, Chris and Michael get dropped but not Dave. We keep trading attacks until Dave is cracking and has to make a difficult decision: agree to take third or get dropped and potentially leave his team without anyone in the break and no chance to catch up with so few laps remaining. Dave picks the former, Henk and I start working smoothly again. At two to go the bell rings for a $250 prime. Henk and I are eyeing each other now. The game is on. He's saying that Gord's gonna win if we are caught. It's a bluff, but its kinda working on me. Recent history puts money on PA's Jonas Carney or my guy Greg Henderson. Plus I'd seen Gord hit the barriers (stay upright) and clutch his shoulder on lap three, so who knew if he'd be a factor? I figure guaranteed second is better than a field sprint until team 7UP/Nutra Fig is winning field sprints consistently. So as the Mercury-led field is closing fast on us with half a lap to go, I wind it up and bring the three of us in. With 300m to go I'm even thinking maybe I can still win, but the reality is Vogels is riding too well right now.
Greg flew past the Mercury train in leading out Oscar Pineda, who took second in the field sprint behind Jonas. Can't be too down on second and fifth.
April 27: 23rd Athens Twilight Criterium
The big show of US crit racing. The rain is holding off, crowds are typically huge. One big difference: the organizers have eliminated "invited cat 2" riders and the field is just 115 instead of over 150. That ends up making the race a lot safer, and there are almost no crashes.
Same break as at Roswell. Henk, Dave and me. Fourth man is Andy Crater. After last week Dave absolutely sits on, even actively slowing us when he can. Andy doesn't pull much. Henk is flying. I'm thinking Dave is making a mistake: he's the fastest here and he has a big team to lead him out if we lap the field. Our lead goes 10, then 20, 30, 35 seconds. It begins to stabilize as Prime Alliance takes over the front of the chasing field and ups the pace back there. Meanwhile in the break I'm questioning myself. In this group, the way I feel tonight (not that good) I could end up fourth if we stay away. Henk is frustrated at the lack of help and he's attacking. Every pull I take I'm coming two bike lengths off the back of the break. This isn't good. For the first time in years I'm considering the prospect of getting dropped from a break.
As I back off the throttles that becomes the death knell for us. Dan and Kevin do their best representing us in further attacks but Twilight is going to be a field sprint. Kev is the sick man this week so with a few laps to go he withdraws from the action. He was getting so woozy that he'd run into Hayden and nearly taken both of them down. That reminds me: at one point (as I'm getting overtaken from an effort in a short-lived attack) I'm going backwards (not literally) and I get clobbered from the left rear. Zoom, now I'm going the same speed as the bunch but just not in the same direction. I'm moving forward and right, I smash into Dave McCook but he holds it up without even flinching. After the race I'm reminded of the incident by a gash on my arm. The 40 guys left in contention are all really good bike handlers!
Gord wins, Dave and Jonas second and third. For Team 7UP, we manage to salvage something as our Kiwis take fourth and fifth. On the cool down lap I ride up to Greg. He's like a fish out of water, he can barely pedal up the slight hill on the back stretch. Can't breathe, he says. Now that's a full out effort.
Athens is always a huge party after the bike race. Jonas is wandering around with his camcorder taking footage for a private documentary he's making. Now many people will say 1) it'll end up on the internet or 2) that's dumb. What they don't know about Jonas is that he's really talented at film-making. I remember when we lived in Boulder that he made a hilarious minute short movie using a Pokey figure. It was far more inventive than Beavis and Butthead type stuff.
Steve Sevener (hydroponics business owner and former bike racing stud) is a local and has arranged a big party at his house: DJ, keg, jacuzzi, everything. He's passing out directions on slips of paper which say it starts at 10 and goes 'til whenever. It's almost 2am when I motivate him to pull out of Bar 183 and as soon as he goes, 30 people are going with him. The party rocks at Sev's until 4am and the cops roll around.
April 28: Sunday industrial park crit.
Lots of hung over riders. I feel pretty good though. I didn't drink much last night (or is it this morning?) and actually slept almost five hours. The caliber of the field isn't half of last night's, so it wasn't too hard to make the break. I'm starting to collect a lot of second places this month as I don't quite come around breakaway mate Hilton Clarke (Schroder Iron). So I take second, Juan Carlos Pineda is third, while Hayden and Greg collected seven of the ten $100 primes on offer. Spending money!
Next: Tour of the Gila, Gila, Gila (you have to have been there to get that one J