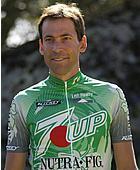 John Lieswyn
Photo: © Phil Jolley
The John Lieswyn Diary
A pro racer who now mostly concentrates on the US domestic scene, John Lieswyn is one of Cyclingnews' most popular and sometimes controversial diarists. He has been racing since 1985 and a Cyclingnews diarist since 1999. John likes both criteriums and longer road races, and seems to particularly like it when the going is hard. He has raced in the Regio Tour, Peace Race, Tour of Poland, Vuelta a Guatemala, Tooheys GP and Commonwealth Bank Classic with success, as well as winning astages in the Sun Tour, Killington and Superweek. In 2002, he is riding for 7Up/NutraFig.
Tour of Southland
New Zealand, November 4-9, 2002
Stage 6 - November 7: Balfour - Riversdale Time Trial , 15 km
TT'ing to the lead
Photo: © Tom Balks

I tried everything to stay calm. Read my "Dune" book. Meditated. Looked at 80 year old black and white framed pictures of this little pub on the walls. Finally it was time to start and I felt totally relaxed, as I did when I took 2nd at TT Nationals and 2nd in the TT at the Tour de Beauce (my only really good TT results ever, in 16 seasons).
Zoom. Riding Hayden's ancient but reasonably aero TT bike in the 56x11, I was ticking over at 185 heart rate - a good 5-8 beats higher than usual for me when in the middle of a stage race. At 7km into the 15km event, I got the first word of my progress: up 22 secs on both Blackgrove and Guyton. But I also got the first sensation of something else going on: it seemed that the seatpost was slipping down ever so slightly. At 10km it was becoming really difficult to maintain power with the increasing compression of my leg angles. The marking tape let go and the post began to slip down faster with the road vibration.
My calm as ever team manager "Ski" drove up alongside for a moment, to tell me that I was now 36sec up on not my target of Guyton but on race leader Chris Horner! I pointed at the seat pillar and he shouted back "it's only 2km to go, ride it out (you softie)!"
At the end it had slipped halfway down into the frame, perhaps 3 or 4 inches, but I had pulled out a good ride to win by 11sec over my TT benchmark Eric Wohlberg. (He did spend about 75kms tt'ing on the front of the field yesterday, so I'll depreciate my result somewhat for that!) I'm now in yellow, yeah baby.
Stage 7 - November 7: Gore - Invercargill, 104 km
The team defended it for 104km in the afternoon, allowing a small break to go up the road and take the stage honours. Hilton Clarke won by a tire width over Gordon McCauley, who is mounting a bit of a charge up the overall standings with his daily forays into the breaks. We are going to have to start watching 'ol Gordy.
Stage 8 - November 8: Winton - Te Anau, 156.3 km
Battling hard
Photo: © Tom Balks

This stage is a challenge for any team, in any year, that is trying to defend the race lead. Blackmount pass comes at 100km into the 154km stage, which is late enough that the leader's team would be softened up but too far from the finish for an isolated yellow jersey to maintain control.
Hayden made the early break to lock up his sprint ace jersey and get over the hill ahead of the climbers. My teammates Ben Robson, Kevin Monahan, Brian Fowler, and friends Jaarod Poad and Anthony Chapman joined in dragging the peloton through a frigid headwind towards Blackmount.
After 80 odd kms, Bruce Ross and the UCI commissaires had us all pack up into vans to traverse a 1.3km section of roadworks and got the reluctant peloton back out on our bikes on the other side. I stood at the edge of the road in loose shale, trying to relax enough to take a leak. It should have been easy, since a typically idyllic New Zealand streamscape burbled by just meters in front of me and the entire rest of the peloton was doing the same thing.
It wasn't like there were cameras on me or anything but stage fright and the cold had me standing there for probably half the "intermission". My entire body was shaking fairly violently from the cold despite being wrapped in blankets during the short transfer - I must just be a wimp compared to these tough bastards down here. Nobody else seemed to be shaking like a leaf!
The break was given their 2:50 lead and then we were released. Once we got going again, Kevin went straight to the front and resumed the pacemaking, while I warmed up quickly and felt completely ready for the climb. Horner, Guyton, Yates, Blackgrove, and all their men lit it up right from the bottom of Blackmount. After nearly 100km of pacemaking my guys were justifiably dropped and Horner knew it right away, coaching his guys that they didn't have to go 100% on the climb. Once isolated I could be attacked more effectively on the flat than on the hill, where as one of the strongest I had a bit of an advantage.
Over the top Swiss rider Phillip Schnyder attacked and I went with him, under the faint hopes that the two of us might cross the now less than 2 minute gap to the leaders without my chief competitors. Wrong answer, back together again. For the next half hour they attacked repeatedly. Unable to follow every move, I chose to follow Horner because he had the most teammates around him to help get us back into the race should negative tactics take us out of it.
Gordon McCauley
Photo: © Tom Balks
Blackgrove got away in a little group, then Guyton in another group. I breathed a big sigh of relief as Fowler and Monahan caught up and immediately set about bringing the now 25 strong main bunch back up to the 3 distinct groups ahead of us. Unfortunately another short, steep hill appeared which Horner, Wohlberg and Rogers used to drop my two guys.
Now there were six including myself and we finally dropped the negative tactics to try and get back to Blackgrove & Guyton. Take four of the strongest guys in the race and you get a blistering pace: we ate up a 2 minute deficit in about 5 km! It was during this chase that Hayden dropped back to help, so once the leading three groups were all back together I had one teammate to help.
Right then the energizer bunny of this stage race (NZL road & TT champ McCauley) attacked with Matt Yates (not the Yates who was high on GC) and Ryan Russell. This would be the winning break. The negative tactics (top GC guys looking at each other) finally ended for good when word came back to those guys wired for sound that McCauley was riding his way into yellow and right over the tops of everyone.
Everyone but Blackgrove (McCauley's Zookeeper's Cafe teammate) pulled through hard for the last 7kms or so, and we crossed the line fairly hammered after a day of three seasons, gale force winds, hills and fierce bike racing. Russell and McCauley were up to like 6th and 4th on GC now, but the top three teams on GC were still the same.
Mission accomplished for us Winton's Middle Pub guys: we had to sacrifice 2nd on teams GC, Fowler's and Monahan's top 10 individual GC places, and a shot at the stage win, but we still had yellow with just 2 stages and one day to go.
Riding to the motel we saw a street sign pulled out of the ground (concrete footer and all) by the powerful wind gusts. Te Anau is our only night away from the Middle Pub. Most of the teams are staying at the same motel. Dawn and I had our own room, with a large window overlooking the snow capped peaks and the lake. The winds howled all night, whistling through the cracks in the window frame, but I slept soundly.
Stage 9 - November 9: Te Anau - Lumsden, 80 km
Nearly there
Photo: © Tom Balks

We had to pull the whole way (usually the leading team pulls until the last 10 k or so, whereupon teams who missed the break but still want to have a crack at the stage either help out or take over altogether) and Wohlberg earned a well deserved stage victory.
Stage 10 - November 9: Winton - Invercargill, 64.4 km
Crosswinds blew it apart from the get go in this short 60km stage. My guys struggled up to the front and set a reasonable 50-55 km/h tempo. Shoulda been fast enough to discourage attacks, but I have to give credit to Guyton, Horner, Blackgrove, and McCauley. They all had several goes at cracking us.
Horner's teammate Michael Johnson would go out about 50m ahead of us and struggle into the wind solo, setting up a platform for Horner to jump up to. I felt great and marked all these attacks. The one major hill of the day appeared and Wohlberg threw it down hard, trying to drop my teammates. All it did was set me up, and I went over the top in a small group containing all five GC leaders except Wohlberg's teammate Horner. We looked at each other for a split second, realized we all had a chance to not only solidify our standing but also go for the stage, and we dropped the hammer. Horner apparently tried to cross alone, got halfway, and blew.
The big GC movers here were Russell and Blackgrove, but I think Guyton figured he would have a chance to attack me from a smaller group where I had no teammates. Which he did, but I always responded quickly. The only danger I could think of was the chance of a flat tire, but that was something that could take me out of yellow just as easily if we were all together and back in the pack if the flat occurred say 5km to go or something.
Trophy time!
Photo: © Tom Balks

Guyton jumped out of the last turn and his acceleration took me by surprise. I had to settle (wow, I can't believe this - 5 days ago I figured I didn't have the fitness to finish top 10!) for second on the stage, but the overall win was wrapped up.
I told the press that while I was thrilled to be the first non-Australasian winner in 46 years, it was much more than an American victory in the Tour of Southland. My team was 3/5 Christchurch riders, and I couldn't have done it without them. It was great riding with the legendary Brian Fowler, and I made lots of new friends. Winning makes the tough weather a lot easier to take.
Dawn and I now have a couple days to visit with friends (the Grants, my hosts from last year) and tour Dunedin and Christchurch (horse race on Tuesday) before I go home for sinus surgery and rest.
I'm captaining 7UP again next season, and besides getting my sinuses fixed the other big news for me is that I've selected Adam Myerson to be my first one on one coach, EVER. Look out!
Until next year, then!
John