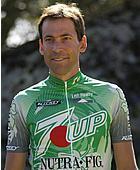 John Lieswyn
Photo: © Phil Jolley
The John Lieswyn Diary
A pro racer who now mostly concentrates on the US domestic scene, John Lieswyn is one of Cyclingnews' most popular and sometimes controversial diarists. He has been racing since 1985 and a Cyclingnews diarist since 1999. John likes both criteriums and longer road races, and seems to particularly like it when the going is hard. He has raced in the Regio Tour, Peace Race, Tour of Poland, Vuelta a Guatemala, Tooheys GP and Commonwealth Bank Classic with success, as well as winning astages in the Sun Tour, Killington and Superweek. In 2002, he is riding for 7Up/NutraFig.
Tour of Southland
New Zealand, November 4-9, 2002
Stage 1 - November 4: Computerland Criterium, 24 km
John Lieswyn
Photo: © Tom Balks

My broken rib from the crash in the Ft Smith mountain bike race 3 weeks ago has healed to the point that while I still can't get a full breath, at least I'm able once again to get out of the saddle and pull on the bars with my torso. I wasn't expecting much from myself, not having ridden over 80km in a month and basically having taken several weeks off. I'd spent time in Asheville NC working on my house there and driving my '66 Mercedes roadster from NC to our short term home in Iowa. I gotta thank my Asheville Bicycle Racing clubmate Bruce Berry for his excellent wrenching on the old gal, he probably saved my life! (The suspension was dangerously loose until he found and corrected the problems)
A few days after getting home with the Benz I was packing up again for the trip to New Zealand. Dawn and I are excited to finally get some quality vacation time together. The first couple days we spent at my teammate Hayden Godfrey's house in Christchurch. The weather was perfect! Following that we drove over to the west coast and went heli hiking on Fox Glacier before zooming down to Winton in the Southland. I felt a bit like Mika Hakkinen in the little Nissan Sunny rental car - hope the speed cameras don't catch up to me...
In the criterium I attacked fairly often before getting clear at 2 laps to go with Gordon McCauley. We worked together before I jumped him coming out of the last turn, and I managed a totally unexpected win!
Stage 2 - November 4: Invercargill - Bluff, 52 km
Another short stage in the afternoon. I told my teammates to go for it because I was fairly sure I wouldn't be the fastest climber today - I'm lacking endurance even for a 75km race day. Kevin went up the road and saved the day for us with a fine 2nd place finish to Pete Rogers. Kev is climbing better than ever! GC man for us now!
Stage 3 - November 5: Invercargill - Tuatapere, 98.4 km
Stage 4 - November 5: Tuatapere - Winton, 94.7 km
Two rain stages. In the morning I broke away with eight others including my teammate, eight times Tour winner Brian Fowler ("Chook"). Coming to the finish line he jumped first and led it out from 150m to go, and I had a broad grin on as he posted it for us and I took 3rd...
In the afternoon I was fully expecting a hard race for myself especially. More rain, wind, and a total of nearly 200km... and I'm definitely not ready for the distance. Thanks to Hayden and Kevin I hung on by a thread through fierce gutter fest crosswinds.
Stage 3 results
Stage 4 results
Stage 5 - November 6: Lumsden - Crown Range, 136.8 km
Horner and Lieswyn
Photo: © Tom Balks

I'd recovered beautifully overnight and looked forward to the climb of the Crown Range. Hayden and Chook got away early again. Hayden swept up the sprint points and he's building quite a lead in the sprint ace competition now, while Chook was the race leader on the road for most of the stage.
Horner's team and race leader Scott Guyton's team had a spat but they finally got together to minimize the damage that the break was causing to the overall. For the next two hours the leaders' teams chased hard, but the gap came down very slowly. The skies sprinkled a bit of cold rain on us as we snaked in a long single file line down the lakeside highway towards Queenstown.
Wohlberg, Johnson, Clarke and Rogers were killing themselves for Horner and by the base of the Crown Range the gap was down to 2:50. Wohlberg is particularly impressive, considering he is racing on a severely compromised immune system. A couple days ago he couldn't climb a set of stairs and now he's groveling at the front, pulling his team along at 48kph into the wind.
Rogers took the last pull as we made the turn onto the main climb, 3km to go, and then Horner hit out hard. Initially U23 leader Heath Blackgrove and yellow jersey Guyton hung on gamely, but ultimately I was the only guy to hang on to Horner. (once a rib starts to knit there seems to be a morning that you wake up and feel nearly normal, quite suddenly! I can breathe deeply again, woohoo!).
Horner is now in yellow, but as we both know from last year ANYTHING can happen so his team will have to be vigilant for the last five stages. I'm now about 19sec behind Guyton in 3rd overall, so I have my work cut out for me in tomorrow's time trial.